Hear What's Next in IP Audio Innovation at InfoComm 2019 | Telos Alliance
By The Telos Alliance Team on Jun 6, 2019 3:31:22 PM
Hear What's Next in IP Audio Innovation at InfoComm 2019
Traditionally, Telos Alliance has been known for broadcast audio products, but our IP Audio solutions have applications beyond broadcast. And that's what we will show InfoComm attendees at this year's show, delivering new capabilities to pro AV workflows. Visit us in booth 7083! In the meantime, here's a sneak peek of what we have on tap.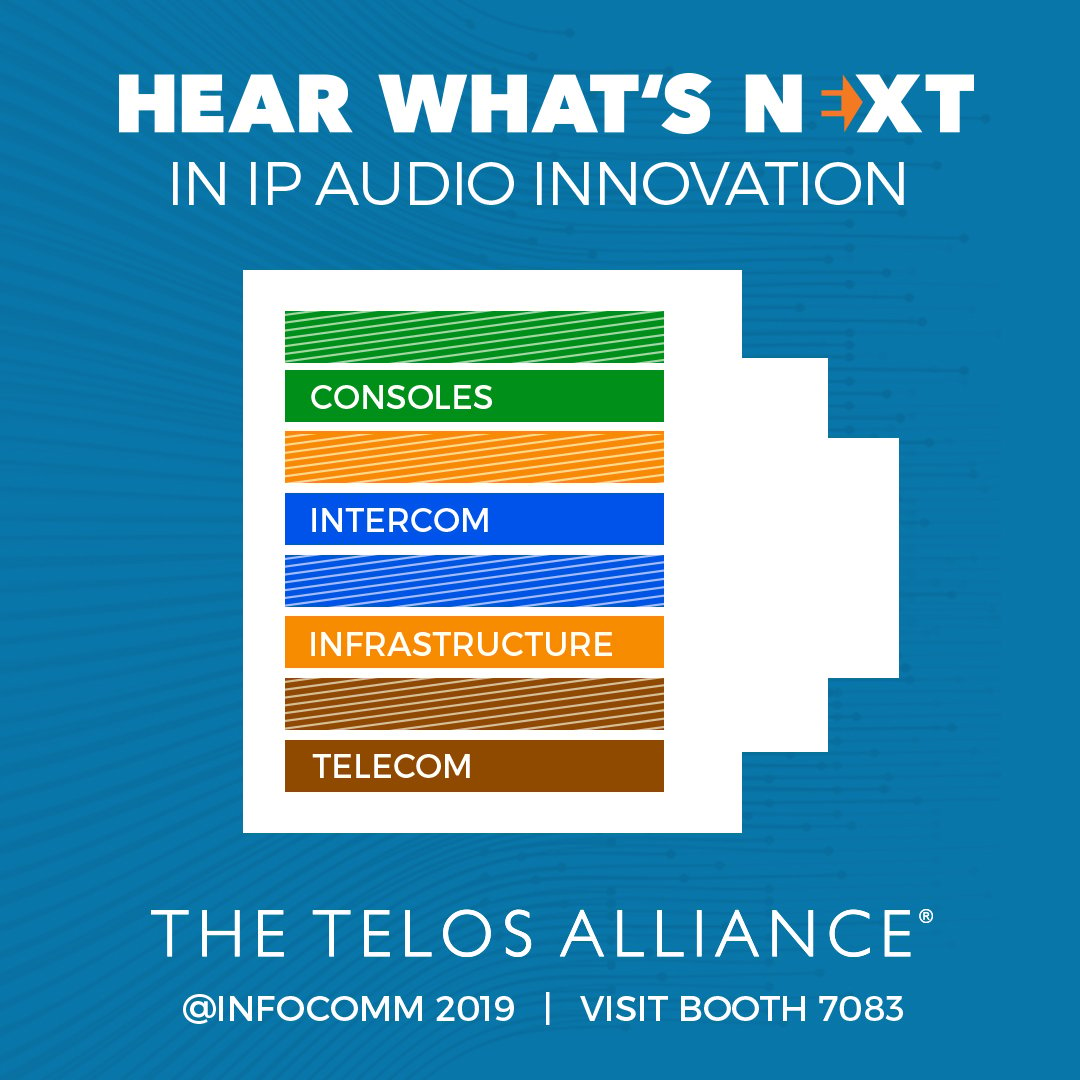 We'll serving up IP Communications and IP Audio Mixing Solutions to the pro AV market at InfoComm, including updates to the award-winning Telos Infinity™ IP Intercom platform and the new Axia® iQx IP Audio Console.
As the pro AV industry moves towards adopting broadcast standards, the Telos Alliance is leading the charge by implementing those standards into its solutions. In fact, Martin Dyster, Telos Infinity Project Director, will be giving presentations on this very topic with "SMPTE ST2110 and Intercom," at AIMS Booth 375 at 1:45 PM, June 12 and 13. You don't want to miss Martin's talks!
"More than ever, customers are demanding solutions over products and partners over 'manufacturers'. As IP workflows have become standard in the pro AV industry, the Telos Alliance—with its long history in the development of IP audio and reputation as globally recognized audio experts—is uniquely positioned to deliver solutions that address this market's needs, including communications and mixing built on an IP backbone," says John Schur, President of the Telos Alliance TV Solutions Group.

Communications Solutions Built on IP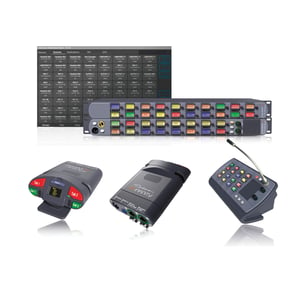 Telos Alliance invented AoIP for the broadcast market, but the utility of its award-winning Infinity matrix-free IP intercom extends beyond market borders into the Pro AV space, with applications for House of Worship, Esports, Corporate AV, Education, Hospitality, Live Venue, Security, and more. Updates to the Telos Infinity IP Intercom platform include Infinity Link, which seamlessly extends Infinity's reach and usability by providing site-to-site connectivity over WAN and the Internet. Direct communication is no longer bound by the speed of a dedicated network, effectively bringing the rest of the world directly into the matrix-free Infinity ecosystem. Built on the latest standards-based VoIP and Livewire+™ AES67 AoIP protocols, this design provides more capacity as the system grows, eliminating previous concerns about running out of ports on a matrix.
Also new to the Telos Infinity platform and designed for intercom systems of all sizes and applications is Infinity Dashboard Advanced. This optimized configuration and system management tool has an extended feature set, including SAP/AES67 advertising and discovery and offline configuration, unlocking the full potential of the Infinity matrix-free IP Intercom System.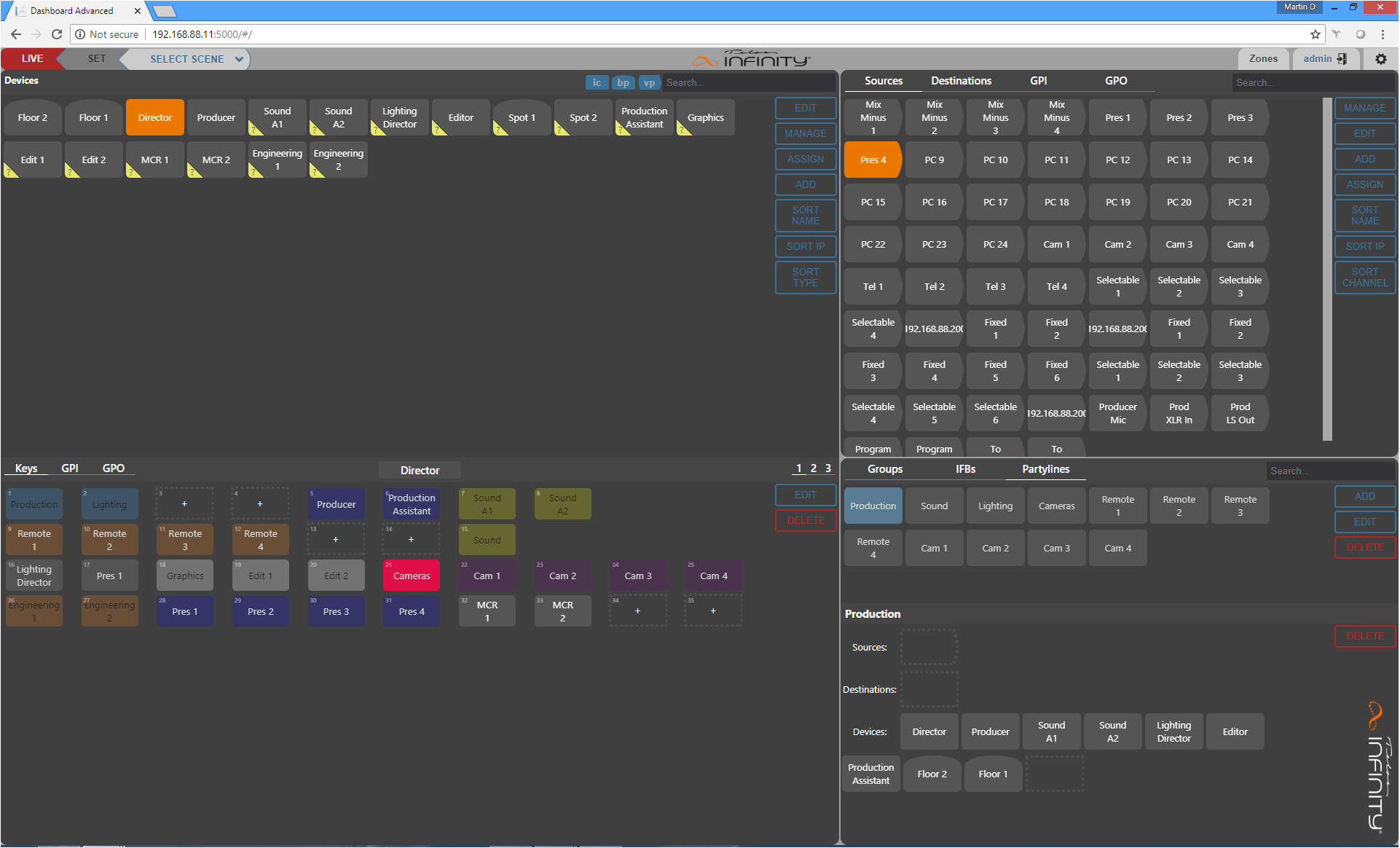 Infinity Dashboard Advanced
IP Audio Mixing Solutions
The Telos Alliance will also be demonstrating IP Audio Mixing Solutions at InfoComm, including the new Axia iQx IP audio console, which uniquely combines a surface and mix engine in a single unit. This approach makes the iQx far easier to set up quickly, piggybacking off existing network resources. iQx is great for nontraditional audio setups, such as a temporary studio for a special event, mixing remote audio, as a backup TV console, and more. Designed for AES67 and ready for SMPTE ST 2110, iQx is standards-based, allowing AV integrators, installers, and consultants to bring in sources from all over the world. Control is not just a local thing either, as iQx can be controlled from the remote site.

Axia iQx IP Audio Mixing Console
You Might Also Like
Telos Infinity IP Intercom Links Studios
Omnia MPX Node Premieres at NAB 2019
Telos Alliance has led the audio industry's innovation in Broadcast Audio, Digital Mixing & Mastering, Audio Processors & Compression, Broadcast Mixing Consoles, Audio Interfaces, AoIP & VoIP for over three decades. The Telos Alliance family of products include Telos® Systems, Omnia® Audio, Axia® Audio, Linear Acoustic®, 25-Seven® Systems, Minnetonka™ Audio and Jünger Audio. Covering all ranges of Audio Applications for Radio & Television from Telos Infinity IP Intercom Systems, Jünger Audio AIXpressor Audio Processor, Omnia 11 Radio Processors, Axia Networked Quasar Broadcast Mixing Consoles and Linear Acoustic AMS Audio Quality Loudness Monitoring and 25-Seven TVC-15 Watermark Analyzer & Monitor. Telos Alliance offers audio solutions for any and every Radio, Television, Live Events, Podcast & Live Streaming Studio With Telos Alliance "Broadcast Without Limits."
Topics: infcomm 2019, infinity link, axia iqx
Subscribe

If you love broadcast audio, you'll love Telos Alliance's newsletter. Get it delivered to your inbox by subscribing below!