Major Telos VX Install Saves Big Money at WGN | Telos Alliance
By The Telos Alliance Team on Jul 26, 2017 11:30:00 AM
Major Telos VX Install Saves Big Money at WGN
Bill Murdoch is Chief Engineer at WGN Chicago, a major News / Talk station in the Windy City. With a significant amount of talk programming it's always been essential for WGN (720 on your AM dial) to have lots of phone lines coming into your facility, and quality audio so callers are heard loud and clear. But all those phone lines can create quite an expense.
Enter the Telos VX system.
WGN features a large Telos VX installation, and the system has resulted in much streamlining of phone service throughout the plant. "We have two engines—one as a main and one as a backup—and two Asterisk servers, and about a dozen POTS lines coming in, with about 15 VSets across multiple studios, and five call screener positions," Bill explains. He says with so much live talk programming at WGN, the staff would be in big trouble if they didn't have the phone capacity they have, along with the flexibility offered by the VX system. That flexibility is a huge plus, and Bill says they also have the VX phones set up in several production rooms, which allows the ability to do a show or newscast from those rooms, if such a need would arise. "If you're in a production room and need to bring up the lines, it's easy to do," Bill remarks.
An interesting thing about the WGN setup is they switch the current air studio a lot, but the VX has worked perfectly for the studio mobility. "It's been helpful to have the shows on the phones, so you can switch studios and have it go right to the production lines instead of using the on-air lines. We have different lines set up for different shows, so we always have redundancy no matter what," he points out. "In addition, when we switch studios, we have the system automatically switch the on-air lines from studio to studio as needed. So the chance of someone grabbing the wrong set of lines is significantly reduced."
In addition, WGN has one show set up just for contests, with twelve lines all dedicated to the contest lines. "When we have a big contest, it's easier to switch from the normal air lines to all-contest, and the 'Next' feature gets us to the 72nd caller in a much less painful way. When we're done with the contest, it's easy to get back to the standard lines. The flexibility is near limitless.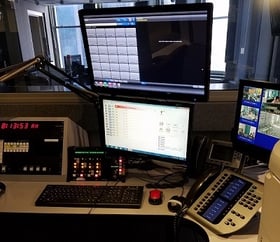 WGN was one of the early adopters of the VX system after previously using a competitor's system. When it came time to switch to the VX, the installation took place in the middle of a move from one floor to another in 2012. Despite this, Bill says the install went off without a hitch. "It went very smoothly," he notes. "We had both of the Joes around (Joe Mauk and Joe Talbot, Telos VX System experts) – and that helped with the process. We hit go and it worked."
The move allowed WGN to eliminate about 20 analog lines, which run about $80/month – resulting in huge cost savings (roughly $1600/month). And while the savings are great, Bill raves about the litany of VX features he and the staff have come to use on a regular basis that make their jobs easier.
One such feature that gets a lot of use is the two-fader op mode, which was specifically programmed for WGN and is used frequently. Bill explains, "If you've got a VIP guest, you can bring them up on one fader and then you can also bring the callers up on the other fader so you can get a good mix of levels. And with the lock feature, you won't lose the VIP while you cycle through callers."
Bill says the call-screening software that comes with the VX has been a huge help as well. The software has the capability to send on-screen messages from the producer to the air talent, and they can easily see which lines are on the air, as they are displayed with different colors representing different line states: ringing is red, on-air is green, hold is blue, and screened hold is purple.
"If you look at it, by canceling 20 POTS lines and it's $80 a month for a POTS line, that's a huge savings, and with exceptional quality and exceptional reliability."

—Bill Murdoch, Chief Engineer, WGN Radio Chicago
As the flagship broadcaster for Chicago Blackhawks hockey, another feature that's come in handy for WGN is the VX system's coupler feature. "We'll set up a bank of lines and we'll have the Blackhawks game on the line with a clean feed, so we can feed it to other affiliates if they need it."
Of course, like almost any broadcast facility, there are a few in-house tricks they've set up using the VX as well. "We also do some internet streaming," Bill says, "and we'll do shows that are solely dedicated to the internet, and we can set up the shows and let people call in and it all works great with the VX."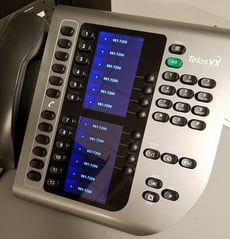 And then there's the added perk of being able to patch in Skype calls. "We took a Skype account and forwarded it to a regular dialup phone line, and then the dialup line shows up on the VX System just like any other caller. So when someone calls in via Skype, on their end it's just them talking into a computer, but on our end it shows up via the VX system," Bill explains. This way, they override the usual Skype codecs, and it sounds like a regular phone call as compared to a Skype call.
It seems the options and flexibility are virtually limitless.
"Before we had the VX system, we needed a lot of relays and wiring to make it work… now it's just some simple button-pushing to make radical changes to the system. On top of that, it's saving us hundreds of dollars a month. If you look at it, by canceling 20 POTS lines and it's $80 a month for a POTS line, that's a huge savings, and with exceptional quality and exceptional reliability," Bill enthuses.
"It's easy to deal with, it's easy to add lines… It's a very pleasant system. It just runs!"
Further Reading
For more on the Telos VX and VX Prime Broadcast VoIP Phone Systems, check out these links:
BIG Performance for Small Facilities: VX Prime Broadcast VoIP System Launches!
Telos VX Prime Broadcast VoIP Telephone System
Telos Alliance has led the audio industry's innovation in Broadcast Audio, Digital Mixing & Mastering, Audio Processors & Compression, Broadcast Mixing Consoles, Audio Interfaces, AoIP & VoIP for over three decades. The Telos Alliance family of products include Telos® Systems, Omnia® Audio, Axia® Audio, Linear Acoustic®, 25-Seven® Systems, Minnetonka™ Audio and Jünger Audio. Covering all ranges of Audio Applications for Radio & Television from Telos Infinity IP Intercom Systems, Jünger Audio AIXpressor Audio Processor, Omnia 11 Radio Processors, Axia Networked Quasar Broadcast Mixing Consoles and Linear Acoustic AMS Audio Quality Loudness Monitoring and 25-Seven TVC-15 Watermark Analyzer & Monitor. Telos Alliance offers audio solutions for any and every Radio, Television, Live Events, Podcast & Live Streaming Studio With Telos Alliance "Broadcast Without Limits."
Topics: Broadcast Telephone Systems, IP Telephony, Telos VX
Subscribe

If you love broadcast audio, you'll love Telos Alliance's newsletter. Get it delivered to your inbox by subscribing below!