BIG Performance for Small Facilities: VX Prime Broadcast VoIP System Launches! | Telos Alliance
By The Telos Alliance Team on Jun 30, 2016 11:57:06 AM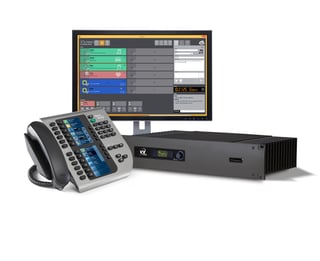 BIG Performance for Small Facilities: VX Prime Broadcast VoIP System Launches!
Today Telos Systems launches the Telos VX™ Prime, a broadcast IP telephone system ideal for smaller facilities with two to four studios. Telos VX Broadcast phone systems are well-known for providing incredible operational power, flexible, adaptable workflows, and superior audio quality on an IP backbone. Now, the VX Prime system builds upon that legacy, offering the same caliber of audio quality and performance to smaller facilities.
Prime is a subset of the regular VX; it's the same everything, but was designed for customers who don't need the capacity of a full VX system, but want the performance and flexibility that VX and VoIP provide. We affectionately call it 'VX for the small guy'.
VX Prime is a great option for new facility builds, broadcasters who want to switch to higher-performance IP phones from older, expensive POTS and ISDN lines, or those looking to add an IP phone to their existing system.
If you're doing more than a single studio, it makes sense to consider future-proofing your facilities by going to VX Prime. Because phone systems are traditionally sold one at a time, the thought process is to replace them one at a time instead of all at once. If you can think about upgrading two studios instead of one, VX Prime gives you more bang for your buck.
"Prime has eight faders and is nonexpandable, so you will want to leave a bit of headroom in your planning. But what makes Prime attractive is you get all the same capabilities and features as the fully expandable VX system, but at a lower price that makes it accessible to small or medium facilities," says Talbot. "For those of you who need more than eight hybrids, the traditional VX will fit your needs."
VX Prime is also compatible with a wide variety of call-management software applications from third parties, and comes with XScreen call-screening software from Broadcast Bionics. For a complete intro to this exciting new product, check out our intro video below, and read on: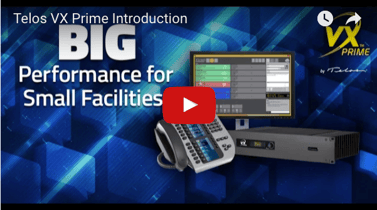 Upgrade to IP and Save
With the VX Prime VoIP system, you get the chance to change the phone service coming into your building from POTS to VOIP. Because the cost of IP phone lines is far less than that of traditional ISDN and POTS lines, VX Prime will end up paying for itself and continue to save you hundreds, if not thousands, of dollars each month on these expensive older phone lines.
Flexible Use
VX Prime is great if you share studios between stations or use studios for different purposes. For example, you can change the phone numbers in a studio by pressing two buttons. "Maybe a facility has a couple of stations, and one big studio is used for the morning show on one station, but the afternoon show on another. . . For the phones, that's now simple to do," says Talbot. There's also no restriction to the number of SIP lines or phone numbers that can come into the VX Prime system. Even if you aren't ready to upgrade your facilities to SIP, VX Prime is flexible enough to be integrated easily into your current analog system.
Superior Audio Quality & HD Voice
VX Prime has native support for the G.722 HD Voice codec, meaning it can make qualified mobile phone calls sound detailed and clear, improving caller speech quality and intelligibility, which is a huge benefit in an increasingly mobile world. "You can use it with a smart phone app (there are many to choose from; some are free) and do remotes with good quality, or news reports from the field using HD Audio," says Talbot. Meanwhile, Smart AGC ensures consistent audio caller levels, while Dynamic Digital EQ (DDEQ) by Omnia adjusts EQ automatically to ensure call-to-call consistency and intelligibility.
Simple Setup
If you already have an existing Livewire network (the Telos Alliance's AoIP technology) connecting the VX Prime is as simple as connecting a single Ethernet cable to the VX Prime engine and adding some networked Telos VSet phones. Non-Livewire studios can use a Telos Multipurpose Node for audio and GPIO connectivity to studio consoles. VX Prime provides phone hybrids for each studio, without the need for any additional wiring or physical audio connections. "Economically Prime makes sense for Livewire studios because you don't need to buy any I/O gear aside from the phones," says Talbot.
Support
Finally, like all Telos Alliance products, VX Prime gives you access to our 24/7 round-the-clock support. We get back to you in minutes, not days. VX Prime also comes with the Telos Alliance's standard five-year warranty.
Want to dig a little deeper? Check out the following links to learn more about VX Prime.
Telos Alliance has led the audio industry's innovation in Broadcast Audio, Digital Mixing & Mastering, Audio Processors & Compression, Broadcast Mixing Consoles, Audio Interfaces, AoIP & VoIP for over three decades. The Telos Alliance family of products include Telos® Systems, Omnia® Audio, Axia® Audio, Linear Acoustic®, 25-Seven® Systems, Minnetonka™ Audio and Jünger Audio. Covering all ranges of Audio Applications for Radio & Television from Telos Infinity IP Intercom Systems, Jünger Audio AIXpressor Audio Processor, Omnia 11 Radio Processors, Axia Networked Quasar Broadcast Mixing Consoles and Linear Acoustic AMS Audio Quality Loudness Monitoring and 25-Seven TVC-15 Watermark Analyzer & Monitor. Telos Alliance offers audio solutions for any and every Radio, Television, Live Events, Podcast & Live Streaming Studio With Telos Alliance "Broadcast Without Limits."
Topics: VoIP, voip phone system, Telos VX, Telos VX Prime
Subscribe

If you love broadcast audio, you'll love Telos Alliance's newsletter. Get it delivered to your inbox by subscribing below!