5 Advantages of Switching to a Broadcast VoIP Phone System
We live in an increasingly digital and largely networked world. It's no accident that AoIP is taking radio and TV by storm: the economies of scale, ease of use, and return on investment are undeniable. Traditional POTS and ISDN phone services are steadily being supplanted by SIP- and VoIP-based methods at the service-provider level. ISDN is already unavailable for many new installations, and POTS is moving that way now. A SIP/VoIP phone system offers digital phone services that cost less, sound better, and are more easily managed than traditional services.
Read More
Topics: voip phone system, broadcast voip, sip, voip phones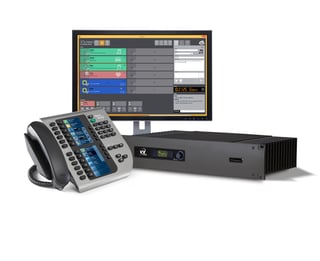 BIG Performance for Small Facilities: VX Prime Broadcast VoIP System Launches!
Today Telos Systems launches the Telos VX™ Prime, a broadcast IP telephone system ideal for smaller facilities with two to four studios. Telos VX Broadcast phone systems are well-known for providing incredible operational power, flexible, adaptable workflows, and superior audio quality on an IP backbone. Now, the VX Prime system builds upon that legacy, offering the same caliber of audio quality and performance to smaller facilities.
Read More
Topics: VoIP, voip phone system, Telos VX, Telos VX Prime
Subscribe

If you love broadcast audio, you'll love Telos Alliance's newsletter. Get it delivered to your inbox by subscribing below!