5 Advantages of Switching to a Broadcast VoIP Phone System | Telos Alliance
By The Telos Alliance Team on Feb 22, 2017 2:30:00 PM
5 Advantages of Switching to a Broadcast VoIP Phone System
We live in an increasingly digital and largely networked world. It's no accident that AoIP is taking radio and TV by storm: the economies of scale, ease of use, and return on investment are undeniable. Traditional POTS and ISDN phone services are steadily being supplanted by SIP- and VoIP-based methods at the service-provider level. ISDN is already unavailable for many new installations, and POTS is moving that way now. A SIP/VoIP phone system offers digital phone services that cost less, sound better, and are more easily managed than traditional services.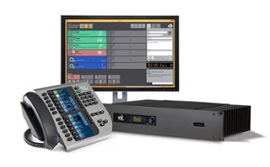 Ever since broadcasters started placing phone callers on-air, engineers have been wrestling with phone systems in broadcast studios. For decades, we've been wiring individual phone lines to single-, dual-, or multiline phone hybrids and line selection controllers in our control rooms and production rooms. It's tedious, labor-intensive, delivers quality inferior to all-digital phone solutions, and—with regard to actual "landline" phone circuits—is actually quite expensive on an ongoing basis when compared to modern alternatives. Now, the nature of phone line delivery and connection is changing. Instead of individual POTS or ISDN BRI lines, our phone connectivity is being delivered as ISDN PRI, T1/E1, and most importantly, by SIP/VoIP over Ethernet. These bulk connections can easily bring 20 or more phone "lines" to us over a single cable. These single-cable connections suggest that, rather than break out lines and wire a few of them to individual studios, we're much better served by a broadcast phone system that handles all these lines together. Such a system lets us assign lines to studios easily, with a simple browser interface, without fussy wiring or awkward phone line patching systems.
Consider, also, that most broadcast facilities are consolidated. It's getting rare that a multiline talkshow system is going into a building with only one studio. Nowadays we have 2, 4, 6, and up to 12 or even more studios under one roof. That's a lot of wiring if you're running individual phone lines to each studio! A talkshow system that serves multiple studios, perhaps with existing studio wiring, makes much more sense.
The Telos VX and VX Prime phone systems are multi-studio, multi-line on-air phone systems that work perfectly and natively with these lower-cost SIP/VoIP telephone services.
Advantages of IP Phone Systems
Switching away from traditional telephony service (POTS, T1/E1, ISDN, PRI) to SIP/VoIP services comes with several advantages:
The Telephony World Is Moving to VoIP/SIP.
Broadcasters *will* be making this change at some point anyway, as ISDN and POTS circuits become unavailable.

IP Broadcast Phone Systems Pay for Themselves in as Little as 18 Months.
Probably the best news for broadcasters looking to upgrade to new phone tech is that IP-delivered telecom service will produce a 100% ROI in two to three years. SIP/VoIP telecom service typically saves anywhere from 25% to 75% over the monthly recurring cost (MRC) of the legacy telecom services it replaces. For a small-market broadcaster with two or three radio stations, this might add up to a few hundred dollars per month. For a larger broadcaster with a half-dozen stations in a market, this figure can easily approach two thousand or more dollars per month in telecom savings. Monthly cash savings in either scenario will easily produce a 100% ROI in two to three years for a new on-air phone system that serves both on-air and production studios. Actual MRC savings will be different for every broadcast facility, as will the amount of hardware involved in a new SIP on-air phone system, but every broadcaster can see a reasonable ROI period by upgrading to new telecom technology.


Audio quality is almost always better with professionally engineered VoIP/SIP. POTS and ISDN are firmly stuck in audio standards that date back nearly 100 years. SIP works with the Public Switched Telephone Network, of course, but SIP also allows new HD Voice services. A new IP phone on-air phone system will make every caller sound better and allow HD Voice calls from station employees and VIP callers. Many broadcasters are doing this right now with dramatically better audio.
Choices Are Multiplied. In many countries, broadcasters have only one choice for traditional telephony services. However, many countries allow VoIP/SIP competition, affording a choice among many providers. Broadcasters benefit from this competitive telephony environment in realized subscriber savings.

More Configurable, More Flexible, More Powerful. VoIP/SIP offers more local control over technical behavior, costs, and volume scaling.
From several different perspectives, it is clear that moving to SIP/VoIP as a telco connection technology is inevitable, and also beneficial to the bottom line. VoIP is used by nearly all Fortune 500 companies. When engineered with some thought to bandwidth and QoS, it is as reliable as traditional technologies, while costing less and sounding better.
Want to learn more about how your broadcast phone system can pay for itself over the course of 1-2 years? Download our eBook, "Broadcast VoIP Telephone ROI."
Related Content
Video: Telephone ROI: Save Significantly Every Month with New IP Phone Tech
BIG Performance for Small Facilities: VX Prime Broadcast VoIP System Launches!
TWiRT 209: Joe Talbot - SIP Tech Update
Telos Alliance has led the audio industry's innovation in Broadcast Audio, Digital Mixing & Mastering, Audio Processors & Compression, Broadcast Mixing Consoles, Audio Interfaces, AoIP & VoIP for over three decades. The Telos Alliance family of products include Telos® Systems, Omnia® Audio, Axia® Audio, Linear Acoustic®, 25-Seven® Systems, Minnetonka™ Audio and Jünger Audio. Covering all ranges of Audio Applications for Radio & Television from Telos Infinity IP Intercom Systems, Jünger Audio AIXpressor Audio Processor, Omnia 11 Radio Processors, Axia Networked Quasar Broadcast Mixing Consoles and Linear Acoustic AMS Audio Quality Loudness Monitoring and 25-Seven TVC-15 Watermark Analyzer & Monitor. Telos Alliance offers audio solutions for any and every Radio, Television, Live Events, Podcast & Live Streaming Studio With Telos Alliance "Broadcast Without Limits."
Topics: voip phone system, broadcast voip, sip, voip phones
Subscribe

If you love broadcast audio, you'll love Telos Alliance's newsletter. Get it delivered to your inbox by subscribing below!