Meet Rob Dye, the Unsung Omnia Hero
By Dave Sarkies on Aug 2, 2017 12:00:00 PM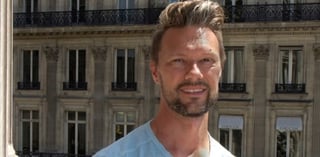 Anytime a new Omnia processor is announced, friends across the industry think of Frank Foti. And that's natural, since Frank is not only Telos Alliance CEO, but the founder of Omnia Audio and still very active in the development of Omnia Audio products—most notably the powerhouse Omnia.11. You might also hear the names Cornelius Gould and Leif Claesson. As Senior Algorithm Developer for Omnia, Cornelius gets applause for devising how to tweak Omnia processors to get just the right sound, while Leif receives accolades as the developer of the Omnia.7 and Omnia.9. But there's another key member of the Omnia brain trust who sometimes doesn't get the attention he deserves—Chief Engineer Rob Dye.
We sat down with Rob recently to get his thoughts on Omnia processors and the Telos Alliance, and to learn a little more about this unsung hero.
What is your history with the Telos Alliance?
I started with Telos right out of college—actually before I even graduated. That was nineteen years ago now, and I haven't found any reason to move elsewhere. There is always some new challenge, we're always pushing the envelope with audio processing, and it's a great working environment with fantastic people.
What is your background in broadcasting / broadcast engineering, if any? Tell us how you got into the industry.
I really had no broadcasting experience before joining Telos. Besides engineering, I'm coming from the music and audio side of things. I actually have a bachelor's degree in music performance and have long been interested in audio and recording systems and electronics. It was my father (and perhaps an old stack of Stereophile magazines) that got me started on that. Since joining Telos, I've been able to learn from some of the best minds in broadcasting, both within the company and at trade shows.
General thoughts on the Telos Alliance? On the broadcast industry?
I am just amazed at how much the company has grown since I joined, and pursued new and changing opportunities. Broadcasting is facing a great deal of change and uncertainty in this digital age. We will have to continue to grow and change to keep up. From my perspective this affects both the products/services that are required by broadcasters and the technologies that we use to implement them.
What areas of new processor development fall within your realm?
That's always a tough one to answer, because it's always a team. I contribute to turning audio processing concepts into reality "by any means necessary." This involves coding, but I do more with software design and architecture—describing how the entire system is supposed to work, and the tools we use to make it. I'm at the center of technical coordination among the engineers, creating and clarifying technical specs and the tasks needed to implement them, and I'm involved in DSP algorithm design, optimization and implementation. I'm not usually involved in final preset development / tweaking, but I've had my hand in that at times as well. I've also contributed to hardware design, PCB placement, and even the occasional graphic element, but I prefer to leave that to people who actually know what they are doing.
What's it like working with Il Padrino on new processing technology?
Though not surprising to anyone who knows him, the most notable thing is what a great, down-to-earth guy he is. He's always open to feedback and new ideas when it comes to audio processing. You'd never guess he owns the place. He also continues to have a passion to "make loud" that's as strong as when I first met him.
What projects have you been working on recently?
I'm really happy with what we've been able to accomplish with the VOLT. Honestly, it exceeded what I thought was possible when we started work on this new entry-level processor.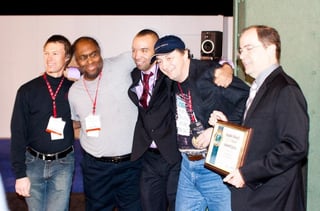 The Omnia team accepts an award from Radio World. From left, Rob Dye, Cornelius Gould, Leif Claesson, Frank Foti, Radio World representative.
And there's a whole team to thank for that; Cornelius Gould, Ed Zmuginsky, Dan Griscom, some outside consultants, and of course Geoff Steadman and Barry Blesser for keeping all the pieces organized and moving forward. We got some additional assistance from others in the company such as Jason Wisnieski and Mark Phillips. Together, we were able to accomplish much more than the "sum of the parts."
Where do you live?
I'm in Saint Petersburg, Florida—across the bay from Tampa. It's an amazing mid-sized city. There's always something going on: music, arts, food, sports, and of course the beaches and watersports.
When you aren't working, you're...
Spending time with my family. We like to walk, run, bicycle, or just relax on the couch. And we make sure to get to Disney or Busch Gardens occasionally. I also enjoy listening to music and play the drums/percussion.
Any family details?
I've been married for nine years to my beautiful wife Joann. Her daughter / my step-daughter, Noelle, will be a high school senior this year. Big changes coming soon... It should be interesting, as we engineers say.
Further Reading
For more about the team behind the Omnia VOLT, and other stories of the talented Telos Alliance crew, check out these stories:
Engineer Roundtable: Behind the Omnia VOLT Audio Processor
He's a Jack of all Broadcast Trades... But we Call Him Jim
Topics: Omnia Audio, Audio Processing, Omnia VOLT
Subscribe

If you love broadcast audio, you'll love Telos Alliance's newsletter. Get it delivered to your inbox by subscribing below!