Retire the Soldering Iron
By Dave Sarkies on Sep 20, 2017 1:00:00 PM
Add SOME COLOR!
Axia customers may not realize that we offer different colored fader caps for our consoles. Seen here is a picture of the Element console at Nebraska's NETV (Nebraska Educational Telecommunications), a state network of public radio and television stations based in Lincoln, Nebraska, provided by NETV's James Duchesneau. As you can see, they've added red caps on the host and guest mike faders, while the six gray caps designate AudioVAULT channels.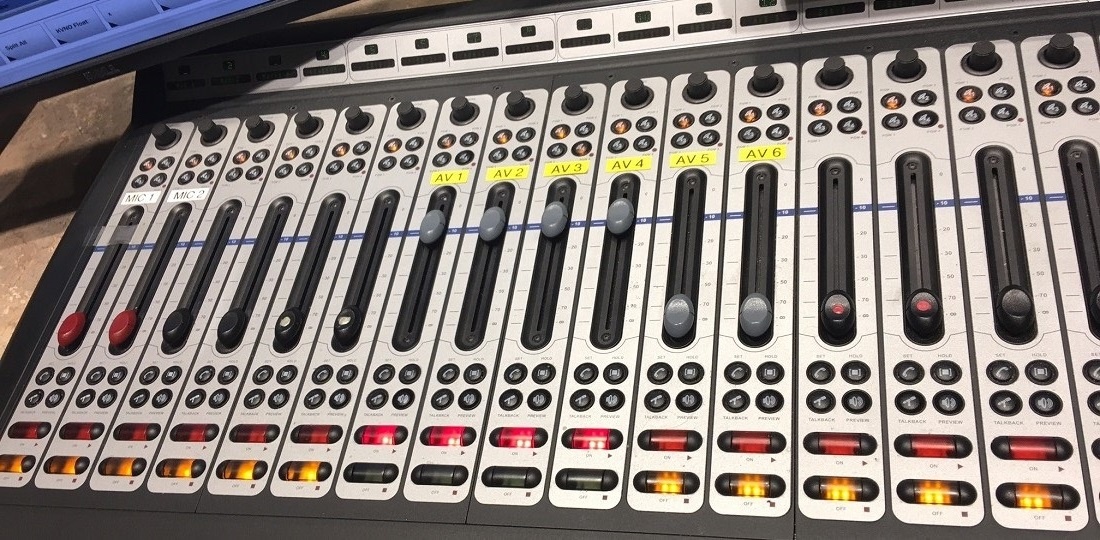 Axia Element console with red and gray fader caps at NETV
Axia has expanded the fader cap color offerings to include red, blue, gray, black, and silver for the Element and Fusion consoles. James says he'll peruse the new color offerings to color-code a few more sets of "static' channels on their console.
RETIRE THAT SOLDERING IRON!
I was talking to several engineers at the Texas Association of Broadcasters show recently, and they shared that with Axia's AoIP concept, they have retired their soldering irons. I guess that could mean cold coffee—but more on that later. With the ease of installation—true "plug and play" with RJ45 connectors and plugs—the days of soldering XLRs and TRS plugs are over.
Our Axia partner Broadcasters General Store offers a full selection of both male and female cable "dongles" that mate all the popular broadcast connectors to molded RJ45 plugs. There's even a mini tip-ring-sleeve adaptor, shown below, for iPad® or other consumer gear connections.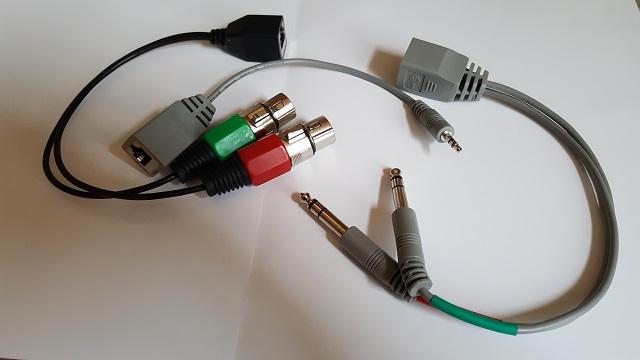 Broadcast General Store Dongles
Now, all you have to solder are the pins on the GPIO port. Well, sort of… NotaBotYet has made your life infinitely simpler with their plug-in GPIO Relay Board for Axia.
This board plugs into the GPIO port on an Axia xNode, PowerStation, or other Axia device, eliminating the tedious soldering of wires to the Subminiature D connector. The onboard relays on the NotaBotYet will permit the five GPIO outputs to control external devices requiring up to half an amp of current. The five relays are open collector Form A contact type, and all the output connections are isolated from each other. This permits the contacts to switch different voltage or signal levels with full isolation.
So, you really don't need a soldering iron to install an Axia console!
Nobody Likes Cold Coffee
And that leaves us with the cold coffee, of which I wrote earlier. Randy Kerbawy handles engineering for West Virginia Radio Corporation. Under VP of Engineering, Noel Richardson, West Virginia Radio Corporation was an early adopter of Axia's Livewire+ AoIP. They cleared out tons of multi-pair cable and punch blocks as part of their conversion.
While visiting with Randy several years ago, pre-Axia, I noticed his solution to keeping his coffee warm, seen here. Randy stacked a couple coffee tins, with the fronts cut out with a nibbling tool, and placed them over his soldering station. A great use for a hot soldering iron, doncha think? But now, with RJ45 connectors, dongles, and the NotaBotYet devices, Randy will have to find another source to keep his coffee warm!
Got an Axia/Livewire+ story to share? Email it, along with pictures, to john.bisset@telosalliance.com. Published submissions will receive a Telos gift pack.
Further Reading
For more Bisset Briefs, check out these selections:
The Bisset Brief: Label those Cables!
The Bisset Brief: Cutting the Cord
Topics: Axia Audio, aoip, broadcast audio consoles
Subscribe

If you love broadcast audio, you'll love Direct Current! Get it delivered to your inbox weekly!