RNC Recap: Cleveland Area Station Finds Success with Z/IP ONEs
By Dave Sarkies on Sep 21, 2016 1:55:00 PM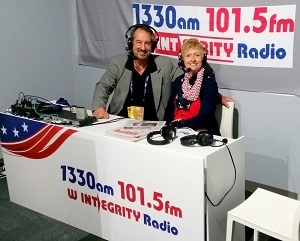 Prior to the recent Republican National Convention, we featured a story with Steve Neumann at WINT in Willoughby, Ohio, about 15 miles east of Cleveland, where the convention was held.
As the convention neared, WINT staff planned to employ a Telos Z/IP ONE IP Codec to broadcast live from the event. We thought we'd check in with Steve for a post-mortem and find out how things worked out at the RNC.
Telos: So how did things go at the RNC?
Steve: "The ZIP ONE IP Codecs were a lifesaver for us. Because of the unknown variables going into that particular building, we had no idea whether or not there was going to be any quality internet available. We didn't know if the wireless signal was going to be adequate to carry a broadcast, but as it turned out, the hardwire via the Z/IP, worked flawlessly. We had no issues whatsoever from the moment we plugged in until the time we disconnected. It was impressive."
How did things go for WINT in general at the RNC?
"It was a crazy several days. The most unexpected thing was to see how flawlessly everything came off from the perspective of the organizers. The event went off so well that if anything, it was anticlimactic. It was a relief, because let's face it, we all had concerns about what could happen out there and questioned 'Do we want to be in the middle of it if something happens?' We're glad we made the decision to broadcast from the event. Everyone that participated from the station enjoyed the experience and found the mechanics of what goes on at a nominating convention to be intriguing."
Any other non-technical highlights?
"It was interesting to see how media row was set up. Other than the major TV networks, all forms of media were consolidated-social media, bloggers, radio, and smaller TV entities-so it was a 'Who's Who?' of everybody from national talk show hosts to celebrities to major players in both major political parties. It was fascinating to watch people, and to see how other stations were doing their broadcasts."

Anything noticeable about the other stations?
"I did see a lot of Telos gear at the desks of a lot of those stations. Obviously Telos is well entrenched in the industry. I can't imagine doing any type of remote broadcast from such a major event without having reliable equipment, and Telos proved its worth."
Thanks Steve! We're glad to hear the Z/IP ONEs performed so well for you and WINT staff had such a great experience at the convention.
Topics: Telos Z/IP ONE
Subscribe

If you love broadcast audio, you'll love Direct Current! Get it delivered to your inbox weekly!