The Bisset Brief: A Network Butt Set
In the days of analog systems, we used a test set called a "butt-in" or simply "butt set" that was commonly used by the phone company. With some serious alligator clips on the test cord ends, you could "butt into" or bridge any audio circuit to monitor the audio...a very useful tool to trace analog signals.
Today, with Livewire+ AES67 networks, engineers use a different type of "butt set." We call it the Axia xSelector. This 1RU rack mount test panel permits monitoring of any source in the network, and in places where there is no console or speakers. A typical location could be the rack room or Technical Operations Center (TOC).
Sources can be easily selected using the front panel rotary encoder knob, read and identified on the high-resolution display, and monitored. The xSelector also features a stereo line level input and output. This lets you connect an amplifier and speakers, or powered speakers to augment the front panel headphone jack in monitoring sources.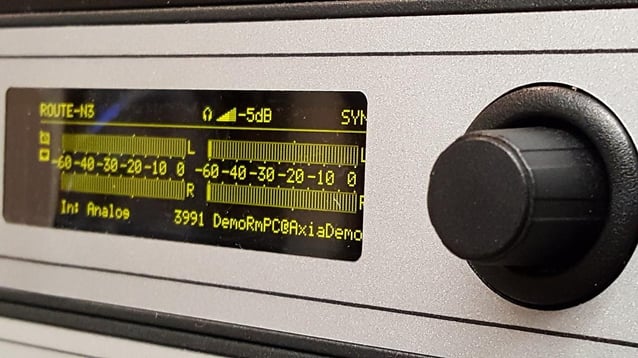 xSelector's high resolution display and rotary selector knob sets up sources easily.
Running back and forth, to and from the studio, when troubleshooting an automation or satellite receiver issue is eliminated with the xSelector. Simply dial up the source and listen. The xSelector also lets you monitor networked audio as it passes from source to xNode to console to your STL. A really useful piece of test equipment. You can "butt-in" to any spot in the Livewire+ AES67 network!
But the product's capability doesn't stop here. Place an xSelector at a news prep area or in the PD's office. The xSelector combines the routing functions of an XY router control panel with the audio outputs of a Telos Alliance xNode. This means you not only have analog, AES3, and headphone outputs simultaneously appearing, but also an analog and an AES3 input. This is ideal for creating and monitoring Livewire+ AES67 network audio.
For the PD, the xSelector also has six front panel selector buttons—we call them "radio buttons." Just like a car radio, these are ideal for instant access to favorite sources on the Livewire+ AES67 Network, or, in the PD's case, monitoring the program feeds of each of a cluster of stations. The film cap buttons can be labeled with the appropriate sources.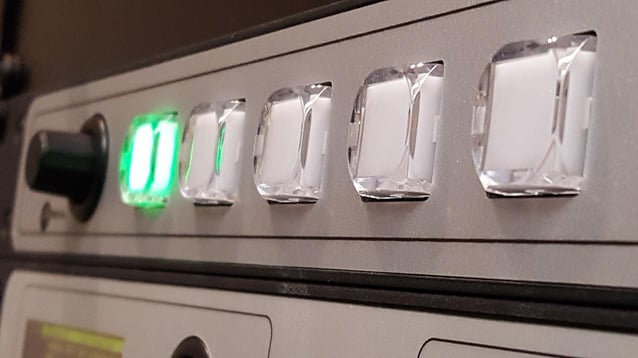 xSelector radio buttons and headphone volume control help your PD monitor program feeds for a cluster of stations.
What else can it do? Well, how about providing two GPIO closures on a DB15 for external control capability. xSelector's stereo outputs can be assigned to output either the locally created audio stream, or a single stereo Livewire+ AES67 stream from the network. Add to this a built-in HTTP server for easy remote control using any PC with a web browser, fanless operation, and dual 100BaseT Ethernet ports for redundancy, and you have a powerful little box for monitoring or ingesting audio where space is at a premium.
Own an xSelector? Let me know how you're using it! Published submissions qualify for SBE Recertification credit and will receive a Telos gift pack! Email your thoughts, along with pictures, to john.bisset@telosalliance.com.
Further Reading
For more installments of the Bisset Brief, check out these editions:
The Bisset Brief: Great Plains Spreads the Word with AoIP
The Bisset Brief: Label those Cables!
The Bisset Brief: Cutting the Cord
Telos Alliance has led the audio industry's innovation in Broadcast Audio, Digital Mixing & Mastering, Audio Processors & Compression, Broadcast Mixing Consoles, Audio Interfaces, AoIP & VoIP for over three decades. The Telos Alliance family of products include Telos® Systems, Omnia® Audio, Axia® Audio, Linear Acoustic®, 25-Seven® Systems, Minnetonka™ Audio and Jünger Audio. Covering all ranges of Audio Applications for Radio & Television from Telos Infinity IP Intercom Systems, Jünger Audio AIXpressor Audio Processor, Omnia 11 Radio Processors, Axia Networked Quasar Broadcast Mixing Consoles and Linear Acoustic AMS Audio Quality Loudness Monitoring and 25-Seven TVC-15 Watermark Analyzer & Monitor. Telos Alliance offers audio solutions for any and every Radio, Television, Live Events, Podcast & Live Streaming Studio With Telos Alliance "Broadcast Without Limits."
Subscribe

If you love broadcast audio, you'll love Telos Alliance's newsletter. Get it delivered to your inbox by subscribing below!