Cornelius Gould, Geoff Steadman, and Rob Dye sound off on creating the world's best-sounding 1RU broadcast audio processor, the newly released Omnia VOLT.
Omnia VOLT is a 1RU processor like Omnia ONE. What is the difference between the two?
VOLT shares some technology with the ONE, including some time-tested circuit design including I/O hardened for harsh environments. That's where the similarity ends. VOLT's new software framework represents a major step forward from the ONE in terms of sound, functionality, and value. VOLT has capabilities we just could not fit in the ONE, like a fifth-band AGC, interactive crossovers, Stereo Enhancer, patch points for watermarking, HTML-5 GUI, and our new QuickTweak system; the list goes on. VOLT will take over as our main 1RU processor offering, and maintains the price point of the ONE. The ONE is a great act to follow. With more than 13,000 units installed, it is the best-selling audio processor ever made, and we'll continue to sell it for some time. VOLT carries on that rugged, built-like-a-tank tradition. Omnia fans are going to love it, and others will be won over.
Read More
Topics: Omnia Audio, audio processors, Omnia VOLT, broadcast audio
When it comes to winning on the air and via streaming, your broadcast audio processor needs to do one thing, and do it really, really well: Make your station sound incredible. It doesn't matter how many bells and whistles your audio processor has, in the end, your listeners don't care about anything but the quality of your content. That means more than simply creating compelling programming. It is about allowing that content to sounds its absolute best. Crisper, clearer, cleaner, and louder, with less distortion and listener fatigue. So how do you accomplish that? With Omnia, of course.
Read More
Topics: Omnia Audio, audio processors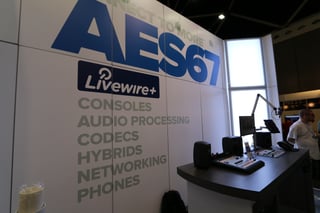 IBC 2016 has come and gone, and this was one of our best shows yet! There were a lot of exciting things happening at both the Telos Alliance Radio stand and our newly formed TV Solutions Group stand. Read on to learn about the latest products, trends, and news. Plus watch our own videos live from the IBC show floor, and make sure to check out the photo gallery at the bottom. Maybe you'll spot yourself!

Read More
Topics: IBC, 2016, aoip, audio processing software, omniasst, audio processors
Subscribe

If you love broadcast audio, you'll love Telos Alliance's newsletter. Get it delivered to your inbox by subscribing below!