Every year the Telos Alliance attends broadcast industry trade shows and events across the globe to introduce exciting new products and innovations. But 2017 was different, as we debuted some of our most innovative products yet, from the versatile Omnia VOLT audio processor to the groundbreaking Telos Infinity IP Intercom.
Read More
Topics: nab 2017, Omnia VOLT, 25-Seven TVC-15, Linear Acoustic AMS, ip-tablet, IBC 2017, Infinity
ATSC 3.0 Next Generation Audio (NGA) System Demystified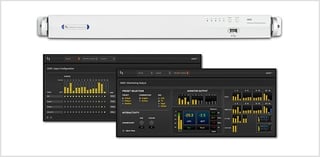 Technology truly is a train that just keeps on rolling. With the world preparing for yet another advancement in personalized entertainment experience, acronyms are being thrown around like dice on the craps table. What does it all mean and how will any of it benefit the consumer?
Let's take a deep dive into what a Next Generation Audio System can really do by looking at what's happening in South Korea.
Read More
Topics: Television Audio, Linear Acoustic AMS, Next Generaton Audio
Around this time every year, we introduce several new products coinciding with the big NAB show in Las Vegas. This year we were rewarded for all our hard work in product development as the proud recipient of three NewBay Best of Show Awards! From Telos Alliance's Radio Division NewBay recognized the Omnia VOLT™ broadcast audio processor and 25-Seven TVC-15 watermark analyzer and monitor, while on the TV Solutions Group side, Linear Acoustic was recognized for the AMS Authoring and Monitoring System. All three products were awarded Best in Show Awards for their innovation, feature set, cost efficiency, and performance in serving the broadcast industry.
"We are honored to receive these distinguished awards from NewBay," says Frank Foti, CEO of the Telos Alliance. "At Telos Alliance we are always pushing hard to create products that not only give our broadcasting family the solutions they need, but that are better, more innovative, and have incredible performance. It's gratifying to see the industry recognize that work."
Read More
Topics: nab 2017, Omnia VOLT, 25-Seven TVC-15, Linear Acoustic AMS
Subscribe

If you love broadcast audio, you'll love Telos Alliance's newsletter. Get it delivered to your inbox by subscribing below!