Visit to Amsterdam and IBC Leads to Search for Best Beer in the World
By Milos Nemcik on Sep 7, 2016 1:00:00 PM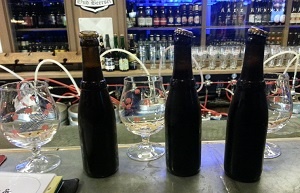 At dinner one night during a previous IBC, a discussion of the "Best Beer in the World" took hold of our table. Of course the beer in question came from a Belgian monastery, according to the internet (100 score on BA). One of the dinner participants was determined to try this beer while still in Europe. With a smart phone search we learned that the beer could indeed be found in Amsterdam. A small contingency at the table decided to break the mold of our traditional IBC routine of show floor hours, dinner, and sleep by venturing out into the greater Amsterdam area in search of this beer. We separated from our dinner party after the bill was paid and pleasantries were exchanged, and walked through the streets of old town in search for the store (the name of which is long forgotten). It was dark, it was late, and needless to say we never made it. The beer store was closed.
Our thirst for the world's best beer was unquenched. Yet we were determined to satisfy it. If we had to hop on a train and meander our way through barley to fin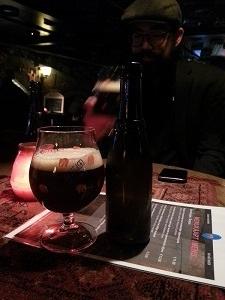 d this Monastery, we would. We invented AoIP, why shouldn't we drink the beer of choice when we want to?!
So where was I? Oh yeah, a dark, small street in old town Amsterdam…Greg Shay, Chief Technology Officer, generated some TCP/IP traffic with his mobile device and learned of an establishment across the Oosterdok that listed the beer in question. Armed with this knowledge, we ventured forth to Oosterdokseiland in search of Delirium Café Amsterdam.
We walked by a sea of bicycle parking, past a three-story floating pagoda-style restaurant, climbed over the canal by pedestrian bridge, hesitated by a salvaged shack-style hip café with live music (or was it a DJ?), and travelled through an art gallery under train tracks to reach this place of beer.
When we arrived, we sat at a booth, each weilding a bottle of the "Best Beer in the World" in what once was a small fishing village of a place, now one of the world's great cities. So many options of things to do and see, you can't fully enjoy it in one visit.
So was the "Best Beer in the World" the best? A beer's palate isn't mine to judge for you, but only for myself. What was the name of this Beer? Allow some mysteries to stay a mystery. Let us know in the comment section which beers you prefer and where you like to find a beer while in Amsterdam during the IBC show. Maybe we will meet you for a pint, and let you in on our little secret.
Adventures in Amsterdam
Want to do a little exploring yourself while at IBC? Check out this post for more Telos Alliance tales.
A Visit to Amsterdam's Red Light Radio: New World of Internet Radio Based in Notorious Spot
Topics: IBC, The Telos Alliance
Subscribe

If you love broadcast audio, you'll love Direct Current! Get it delivered to your inbox weekly!