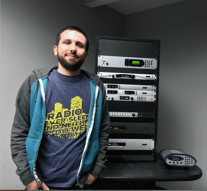 It's a new year, and the Telos Alliance has added two new members to its growing family. We welcome Brett Patram, new Support Engineer, and Dave Collins, US Sales Manager for Omnia Audio. Brett has been working actively in the Cleveland radio market as an engineer for the past eight years. He was the Director of Engineering for Salem Media Group Cleveland for the past six years before joining the Telos Alliance. He is also the current Vice Chair for the local Society of Broadcast Engineers chapter 70.
Dave is originally from Philadelphia, and has been in radio, working as a program director, on-air host, and technical guy, for the last 15 years. Most recently, he worked at a station group in Lebanon, New Hampshire, did the ski and snowboard reports for a network of stations, and was the voice of Dartmouth Sports Network. Dave has engineered thousands of remote broadcasts, including live play-by-play sports, debates, interviews, and live music concerts. Get to know Brett and Dave!
Read More
Topics: The Telos Alliance
Subscribe

If you love broadcast audio, you'll love Telos Alliance's newsletter. Get it delivered to your inbox by subscribing below!