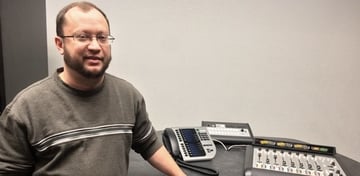 At Telos Alliance, we hire people from all walks of life, but mostly, we hire people who are Passionate About Broadcasting, whether it be TV or Radio! Dave Sarkies, Social Media Community & Content Coordinator, is all about passion. Passion for music, passion for Radio...
What is your defining moment in radio? The moment where you said, 'I have to be a part of that'?
Growing up I was always an avid music fan and sports fan, and the more I listened to radio and heard broadcasters bringing me the latest music and music news and providing the play-by-play action for my favorite baseball teams, the more I realized it was something I wanted to do. I also liked to scan the AM dial at night to see what stations I could pull in from afar. That's when I knew I really loved radio. My broadcast career didn't lead me to great success, but I did a lot of different things, learned a lot, and I really enjoyed it.
What's your background in Broadcast?
I started as an evening and overnight board operator at WYSU at Youngstown State University back in the '90s, then worked at a handful of radio stations in Northeast Ohio and Western Pennsylvania over the course of the next several years. I was a news reporter for several small stations across the region, and also hosted an oldies show for a while.
What is your favorite local radio station?
WKSU isn't exactly local, but more or less. I listen to a lot of NPR, including our friends at WCPN, right around the corner from Telos headquarters. WKSU still has a slight edge, in part because they occasionally feature news from my home area about an hour-and-a-half away. I also listen to a lot of college radio, namely WCSB (Cleveland State) and WJCU (John Carroll University). I love the variety and hearing music you often won't hear on many other stations.
When you are listening to the radio, what song do you always switch off?
I always switch off "You Shook Me All Night Long" by AC/DC. They're a great band, but if I never hear that song again it'll be too soon.
What do I always listen to?
Anything by Rush.
What's your favorite news program?
NPR's Morning Edition. I only hear bits and pieces every morning but I've been a fan of NPR's in-depth news coverage for many years.
What attracted you to the Telos Alliance?
For one, the position of Social Media Community & Content Coordinator seemed right up my alley. But when I realized that I would be doing work I enjoy for a company in the broadcast industry – an industry I'd been out of for some time when I joined Telos three years ago, but still had a fondness for – I was very excited. I unfortunately never met Steve Church, but I'll never forget reading about him in preparation for my first interview with Telos… I felt I totally understood what he had to say about broadcasting being in your blood.
What do you see as the biggest challenge facing radio broadcasters in the industry today?
Keeping up with all the changes in media in general. There are so many ways for people to be entertained these days. A lot of things are clamoring for our attention, and it's difficult for any one of them to break through, but especially the more traditional media like radio. In the few years I've been with Telos though I've seen a lot of stations utilizing streaming audio, social media, live video feeds, and more to compete. And it's working. Radio isn't going anywhere.
When you aren't working, you're...
Listening to music. I'm a big progressive rock fan, but I like a little bit of everyting; pretty much any genre of rock, classic R&B or funk, jazz... occasionally even classical or world music. Or I might be hiking at a local Metro Park. Possibly I'm doing both, if I remember my earbuds...
What's your favorite sports team?
It's kind of a tie… Youngstown State University football and the Pittsburgh Pirates.
Further Reading
Want to know more about Telos Alliance staff? Read up on our team with these blog posts:
The Man on the Front Lines of Telos IP Telephony
Telos Alliance has led the audio industry's innovation in Broadcast Audio, Digital Mixing & Mastering, Audio Processors & Compression, Broadcast Mixing Consoles, Audio Interfaces, AoIP & VoIP for over three decades. The Telos Alliance family of products include Telos® Systems, Omnia® Audio, Axia® Audio, Linear Acoustic®, 25-Seven® Systems, Minnetonka™ Audio and Jünger Audio. Covering all ranges of Audio Applications for Radio & Television from Telos Infinity IP Intercom Systems, Jünger Audio AIXpressor Audio Processor, Omnia 11 Radio Processors, Axia Networked Quasar Broadcast Mixing Consoles and Linear Acoustic AMS Audio Quality Loudness Monitoring and 25-Seven TVC-15 Watermark Analyzer & Monitor. Telos Alliance offers audio solutions for any and every Radio, Television, Live Events, Podcast & Live Streaming Studio With Telos Alliance "Broadcast Without Limits."
Topics: Radio, The Telos Alliance, Broadcasting
Subscribe

If you love broadcast audio, you'll love Telos Alliance's newsletter. Get it delivered to your inbox by subscribing below!