The Bisset Brief: Winter Weather Preparedness Revisited | Telos Alliance
By The Telos Alliance Team on Nov 29, 2017 12:50:00 PM
The Bisset Brief: Winter Weather Preparedness Revisited
Winter weather preparedness is a topic near and dear to our readers' hearts, with some good suggestions from our initial column on the subject. Ray Gorney is the Assistant Director of Engineering for Calvary Chapel of Twin Falls, ID, CSN International, and the Effect Networks. Ray added a very important consideration to that survival backpack we wrote about last issue—prescription medications. For engineers who take prescription or even over-the-counter meds, having a one- or two-day supply in the survival kit is a necessity. It could be dangerous, if not deadly, for some to be without their meds.
Regarding clothing, Ray recommends wearing a liner sock of polypropylene or silk inside wool socks. This makes for a comfortable excursion in the cold. The liner sock will pull moisture from the foot and the wool sock will keep the foot warm, even when damp.
Additionally, the liner sock will help prevent hot spots or blisters, if a hike out is required. Ray always carries extra socks with him in the winter, even during the daily drive. Ray keeps an extra pair of woolen socks in a Ziploc® bag, which keeps them dry, and it provides a fresh change should his feet get sweaty.
K-LOVE/Air1's Scott Todd writes from Minnesota that perhaps even better than some cans of food would be to pack a week's worth of dehydrated foods, such as that found at My Patriot Supply. These foods have a longer shelf life than canned goods, take up less room, and weigh less. The compact size means the food can be kept in your vehicle, and you don't need a can opener! Scott says the only downside is you'll need a bit of water to re-constitute the food, but bottled water is inexpensive, and you probably already have that at your sites. A small pot, several cans of Sterno® canned fuel, and a lighter will ensure the meal won't be served cold.
Creating a Backdrop
Switching gears to LA's Power 106 has been an Axia power user for some years, and has retrofitted one of its production studios to accommodate round-table microphones.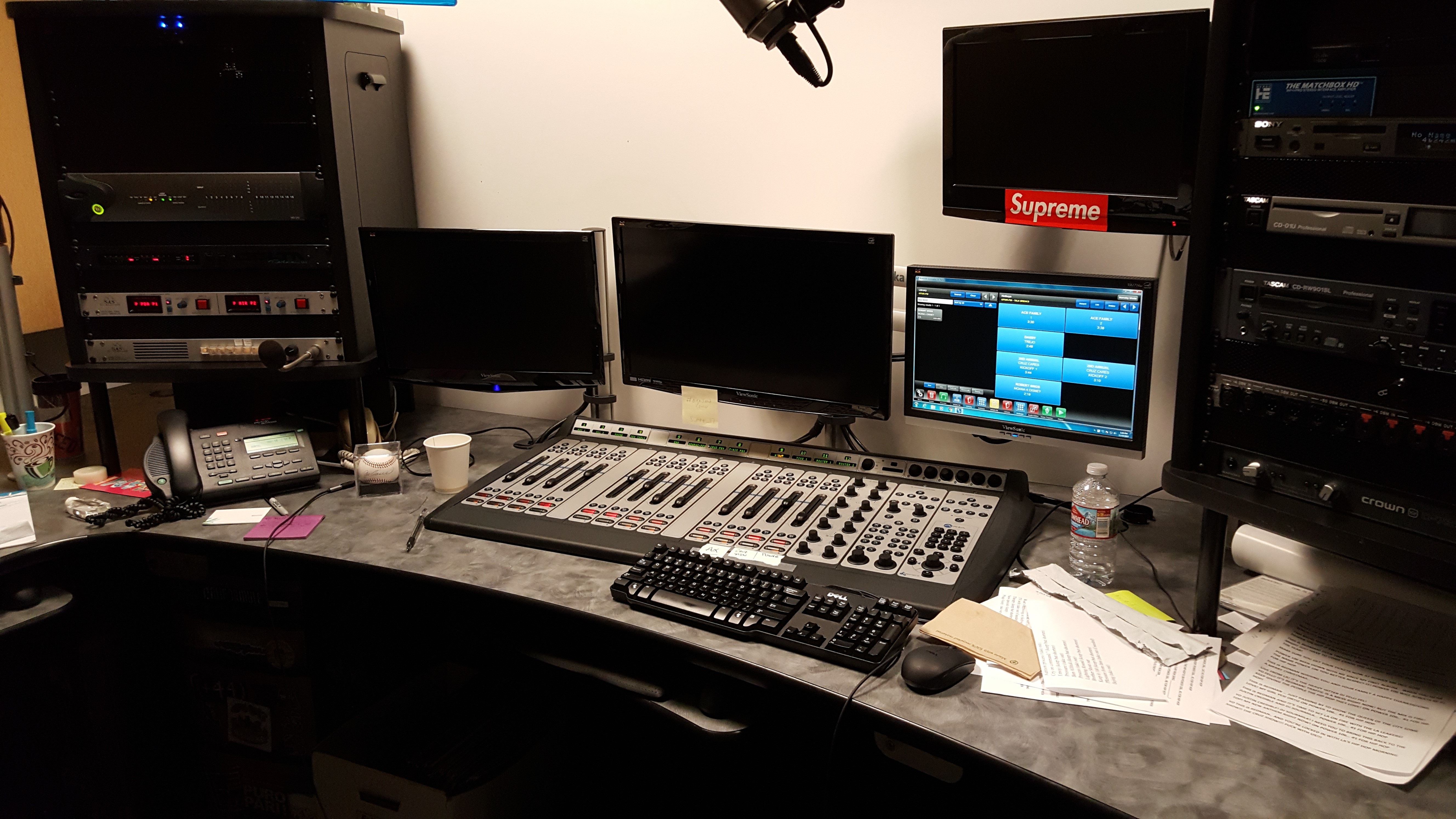 Power 106 production studio with Axia Element console
Engineering Manager Saul Perez has added video to his facilities, and using a custom vinyl logo backdrop, adds another dimension to both his live and taped segments. You can find a variety of inexpensive custom backdrops by searching online for "vinyl backdrop."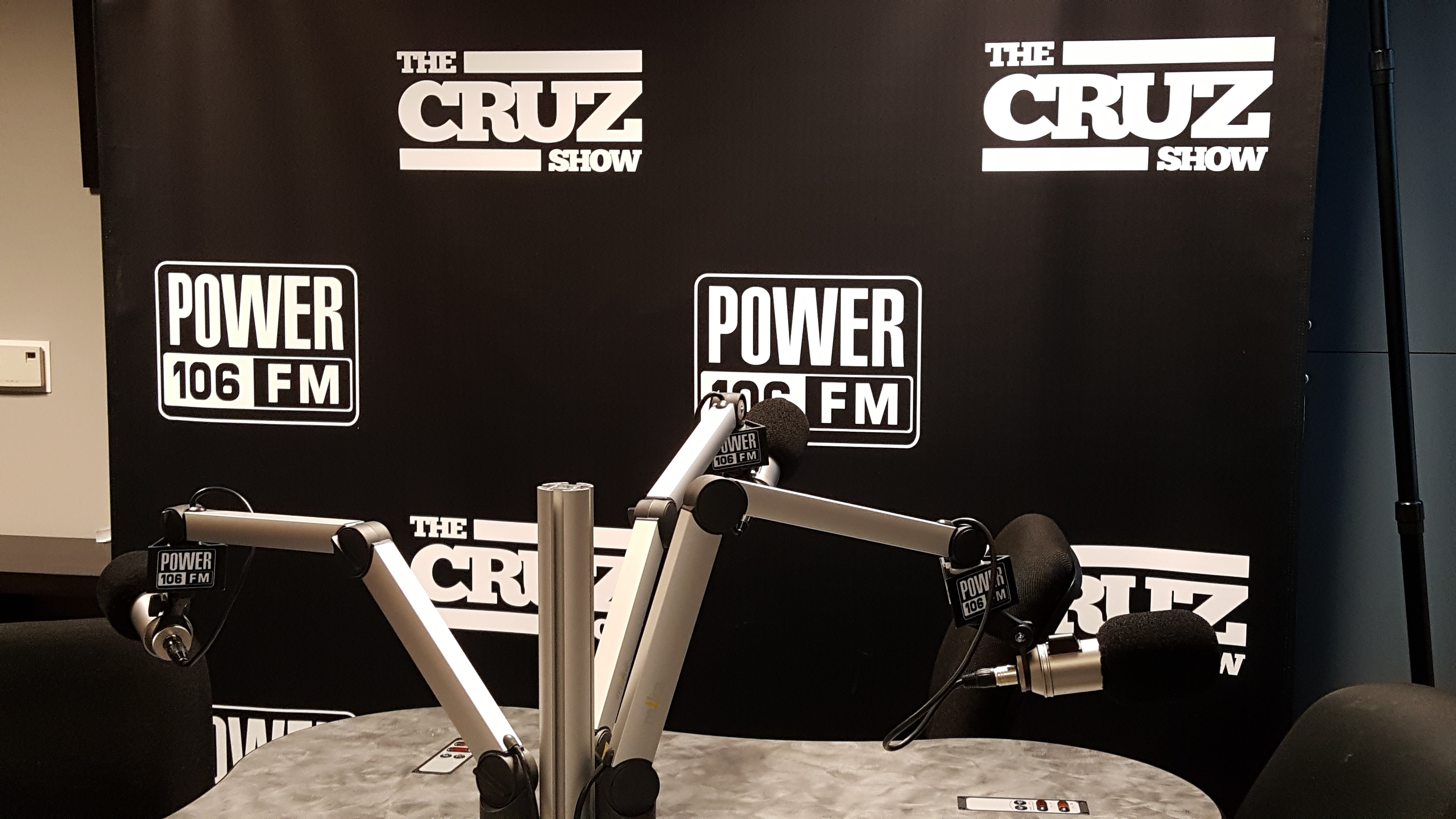 Power 106 Vinyl Backdrop
Got something that jazzed up your studio? Email your thoughts, along with pictures to john.bisset@telosalliance.com. Published submissions will receive a Telos gift pack, and qualify for SBE Recertification Credit.
Further Reading
For the previous Bisset Brief covering other winter weather tips for broadcast engineers, and past installments, check out these links:
The Bisset Brief: The Onslaught of Winter
The Bisset Brief: Great Plains Spreads the Word with AoIP
The Bisset Brief: Label those Cables!
Telos Alliance has led the audio industry's innovation in Broadcast Audio, Digital Mixing & Mastering, Audio Processors & Compression, Broadcast Mixing Consoles, Audio Interfaces, AoIP & VoIP for over three decades. The Telos Alliance family of products include Telos® Systems, Omnia® Audio, Axia® Audio, Linear Acoustic®, 25-Seven® Systems, Minnetonka™ Audio and Jünger Audio. Covering all ranges of Audio Applications for Radio & Television from Telos Infinity IP Intercom Systems, Jünger Audio AIXpressor Audio Processor, Omnia 11 Radio Processors, Axia Networked Quasar Broadcast Mixing Consoles and Linear Acoustic AMS Audio Quality Loudness Monitoring and 25-Seven TVC-15 Watermark Analyzer & Monitor. Telos Alliance offers audio solutions for any and every Radio, Television, Live Events, Podcast & Live Streaming Studio With Telos Alliance "Broadcast Without Limits."
Subscribe

If you love broadcast audio, you'll love Telos Alliance's newsletter. Get it delivered to your inbox by subscribing below!