World College Radio Day 2018 Celebrating Student Broadcasting | Telos Alliance
By The Telos Alliance Team on Oct 11, 2018 10:17:15 AM
World College Radio Day 2018 Celebrating Student Broadcasting
College Radio Day, known internationally as World College Radio day, took place on Friday, October 5th this year, when hundreds of college radio stations came together once again to celebrate the unique medium of college radio. Founded in 2010 by Dr. Rob Quicke, College Radio Day harnesses the combined audience of countless thousands of college radio listeners throughout the world to draw attention to the important contributions of college radio.
The organizers of College Radio Day believe "that college radio is one of the last remaining bastions of creative radio programming, free from the constrictions of having to be commercially viable, and a place where those involved in its programming believe passionately in its mission. College radio is the only free live medium brave enough to play unsigned, local, and independent artists on a regular basis. Indeed, many famous and successful bands today, owe their initial break to being played on college radio."
The Telos Alliance is proud to be one of the sponsors for College Radio Day and embraces the ideals that the day represents. The entire radio industry is made more powerful by College Radio's ability to influence music culture with its unique and fearless approach to programming. As we do every year to celebrate, Telos sent some representatives out into the world from HQ in Cleveland, to visit a few local stations and gift them some swag and donuts! We visited four stations this year, WCSB, WBWC, WJCU, and WRUW. At WCSB we saw Dan "The Grumpy Old Man" while he was busy during his morning show, The Grumpy Old Man Show. Known as "Cleveland's FM Alternative" WCSB prides itself on providing a unique and interesting alternative to the commercial stations in Cleveland and taking part of countless events and community programs.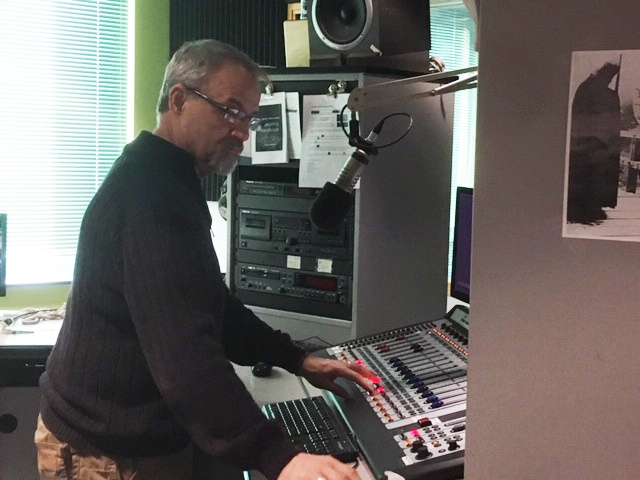 Dan "The Grumpy Old Man" at WCSB 89.3FM
At WJCU, located on the John Carroll University Campus, we met Spencer German and Maria Knepshield. Spencer is the Operations Manager at the station and has been there for the past three years helping to manage the station and make it everything that it can be. Maria was at the helm of the station running the console as part of the daily student run program called "The Heights." To be part of this program students can take an hour and a half credit course called "Radio Boot Camp," which gets them familiar with the equipment and the station, after which they are able to sign up to take shifts.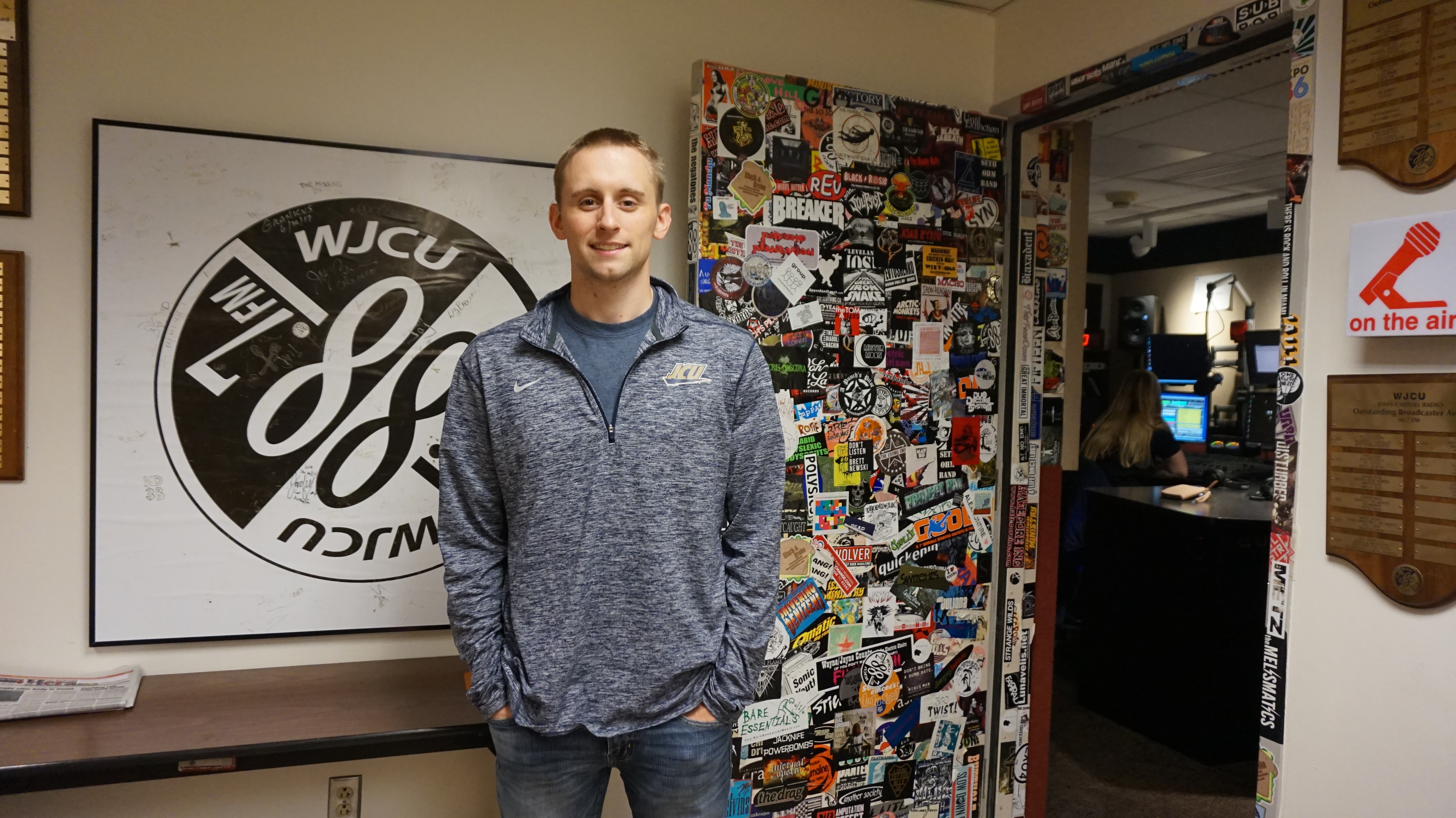 Spencer German at WJCU 88.7FM
Both were very enthusiastic about being a part of student radio and we are glad that they had the option to do so. Spencer told the story about how he spent some time in the commercial sports broadcasting field after he graduated, but that he missed the College environment. He was passionate about being part of the process for new students who had interest in radio to get their feet wet in the field.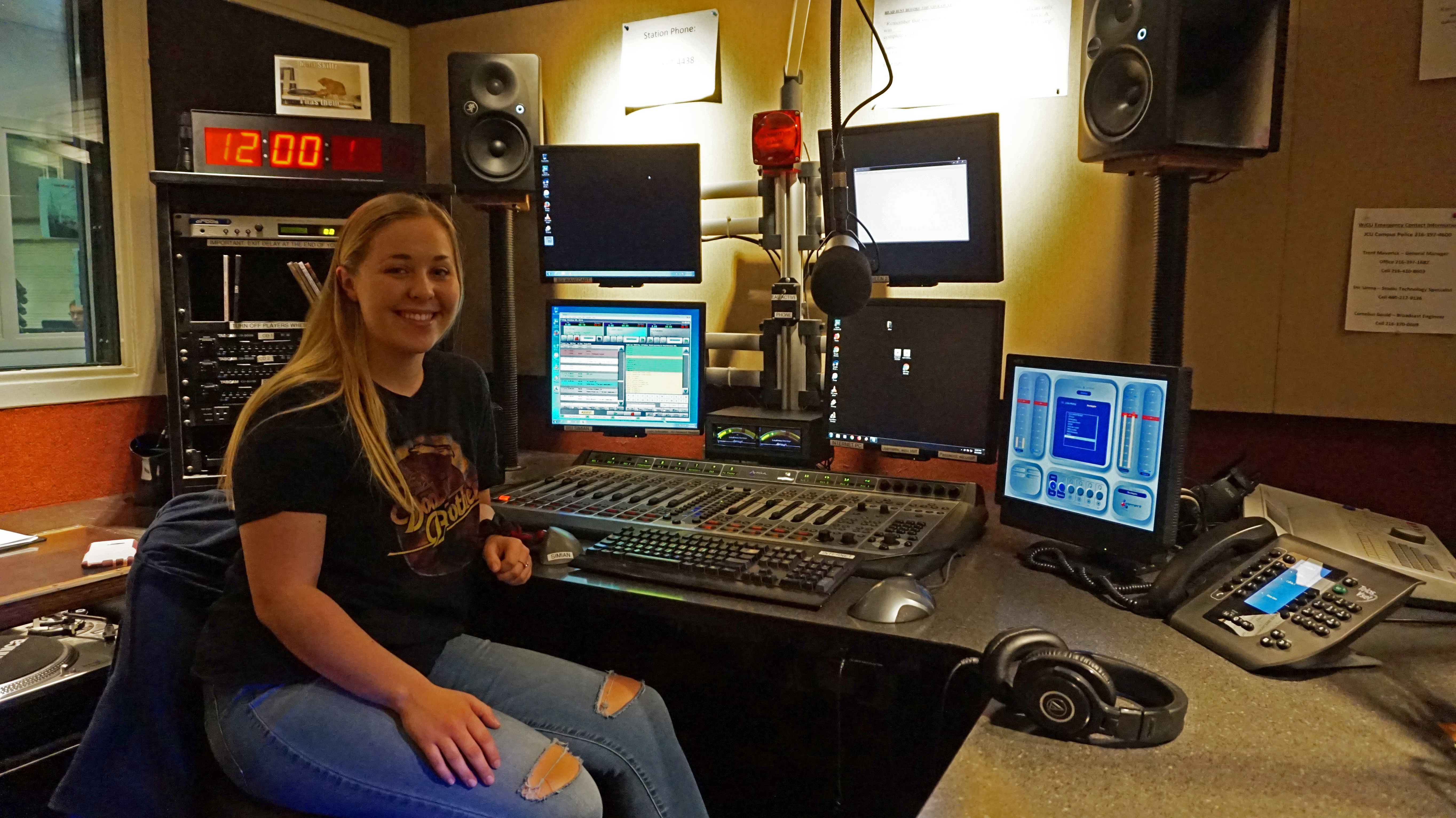 Maria Knepshield at WJCU 88.7FM
Across the city at WRUW, on the Case Western University Campus, we were welcomed once again into the famous basement studio. After catching up with Jason "Jaystone" Parks on how the station has been doing and taking a brief tour of studio "A" before the next show came on, we had the pleasure of meeting one of the stations longtime Community Members, Wade Tolleson. At WRUW, there is a committed base of volunteers who help keep the station going, everything from running shows when there aren't any students available, to working on their ambitious music digitization project.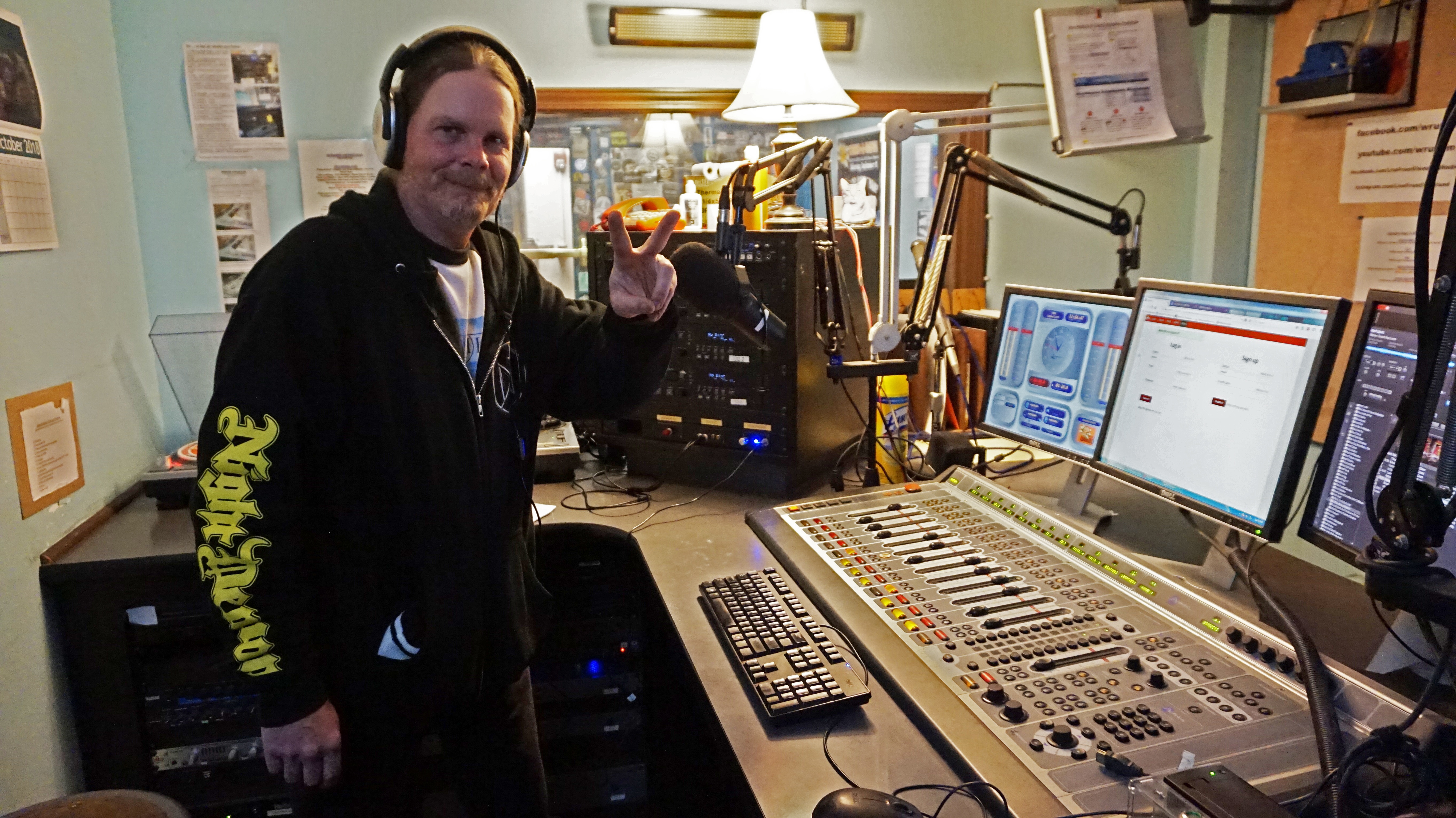 Jason "Jaystone" Parks at WRUW 91.1FM
Wade has been heading up the digitization project and was happy to report that they had finally made up to the letter "N" in the library, working backwards from "Z" of course. Their studio boasts an impressive music collection, with racks and racks of CDs, vinyls, cassettes, and various other formats stretching as far as the eye can see around corners and filling all of the extra rooms in the studio. The station has a "non-rejection" policy and has a strong community presence that has led to not only a collection of commercial music, but also one of the most expansive indie music collections that exists.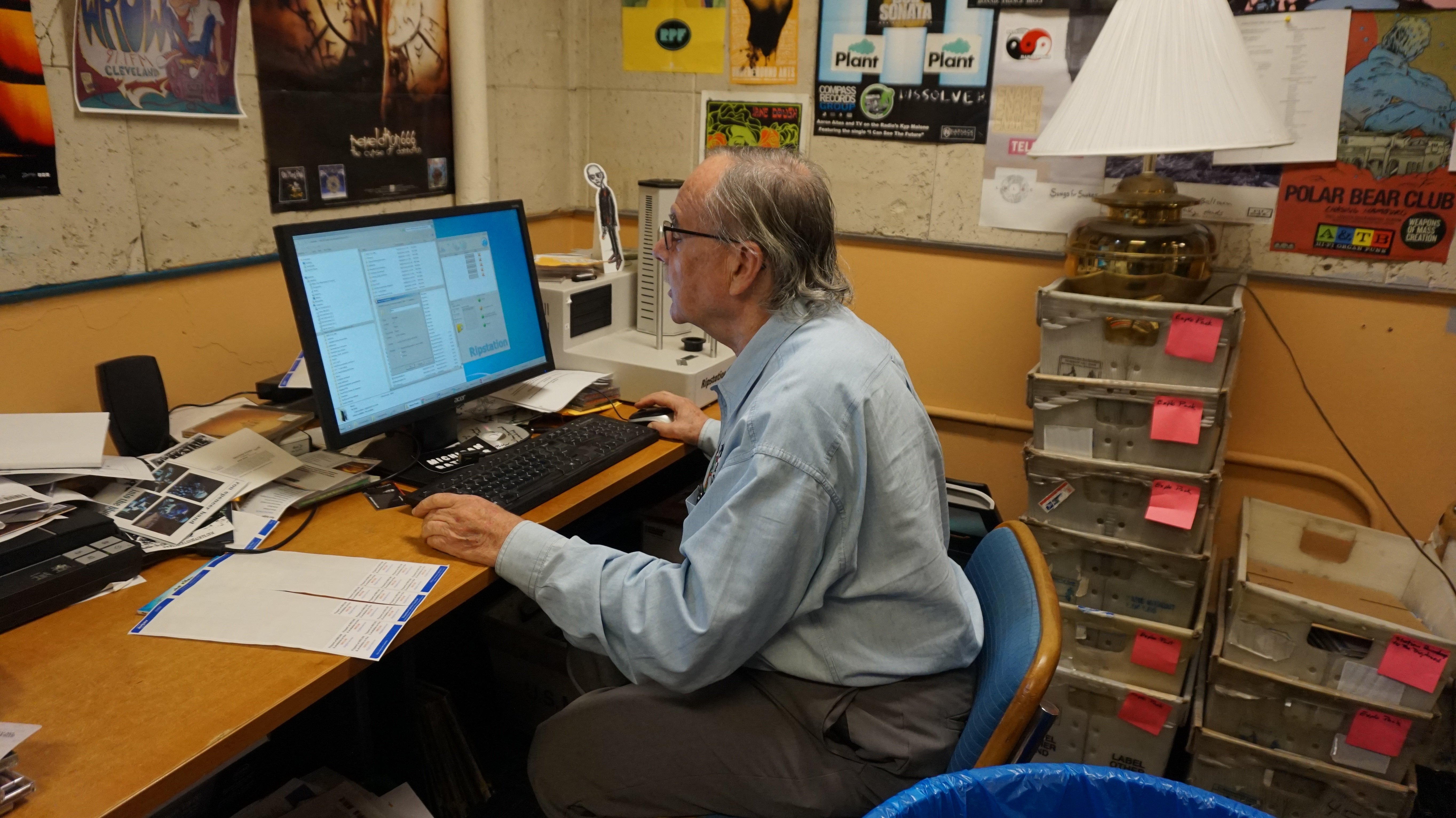 Wade Tolleson at WRUW 91.1FM

In addition to the awesome local station visits, we received pictures from a College Radio Day Celebration at 98.5 WNUW at Pennsylvania's Neumann University, where they commissioned a cake to look like their Axia Fusion Console!! We couldn't believe it when we saw it, but they assured us that it tasted just as good as it looks, proving that you can have your console and eat it too!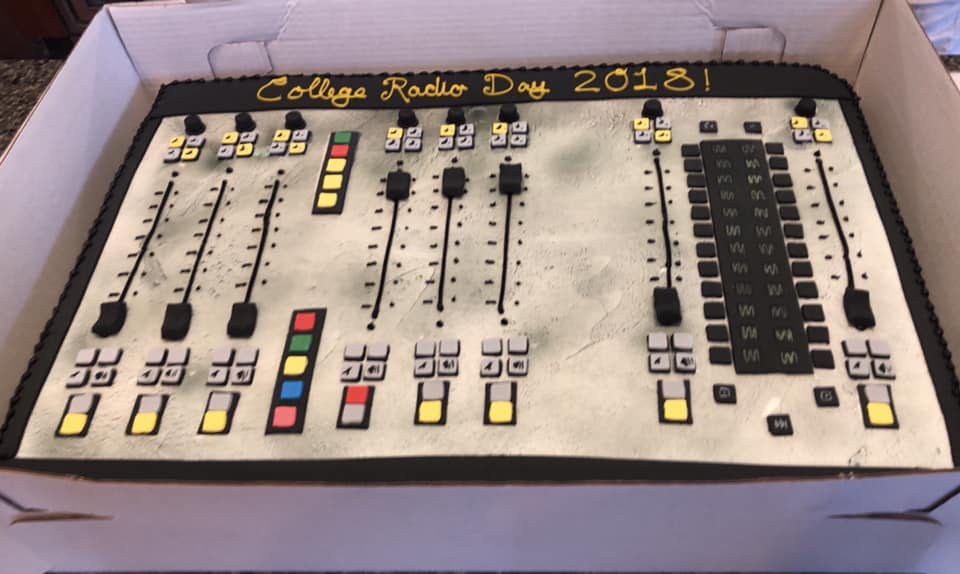 Telos Alliance has led the audio industry's innovation in Broadcast Audio, Digital Mixing & Mastering, Audio Processors & Compression, Broadcast Mixing Consoles, Audio Interfaces, AoIP & VoIP for over three decades. The Telos Alliance family of products include Telos® Systems, Omnia® Audio, Axia® Audio, Linear Acoustic®, 25-Seven® Systems, Minnetonka™ Audio and Jünger Audio. Covering all ranges of Audio Applications for Radio & Television from Telos Infinity IP Intercom Systems, Jünger Audio AIXpressor Audio Processor, Omnia 11 Radio Processors, Axia Networked Quasar Broadcast Mixing Consoles and Linear Acoustic AMS Audio Quality Loudness Monitoring and 25-Seven TVC-15 Watermark Analyzer & Monitor. Telos Alliance offers audio solutions for any and every Radio, Television, Live Events, Podcast & Live Streaming Studio With Telos Alliance "Broadcast Without Limits."
Interested in reading more about College Radio? Check out these other great articles!
-Notre Dame Implements Advanced Axia AoIP Solution at Martin Media Center
-Axia Helps Johns Hopkins' Remote Learning Students Shine
-Students Learn from Telos Alliance Thought Leaders in Radio Textbook
Subscribe

If you love broadcast audio, you'll love Telos Alliance's newsletter. Get it delivered to your inbox by subscribing below!