xNodes Mark the Spot on Florida's Gulf Coast | Telos Alliance
By The Telos Alliance Team on Mar 22, 2017 1:00:00 PM

xNodes Mark the Spot on Florida's Gulf Coast
Fans of public broadcasting outlets PBS and NPR living in southwestern Florida are served by WGCU, where the TV-FM public broadcaster has operated from the campus of Florida Gulf Coast University in Fort Myers for two decades. The station's Director of Engineering, Kevin Trueblood, has likewise been in the broadcast industry for 20 years, though only the last two of those years have been spent at WGCU.
Kevin began his broadcast career in high school, and quickly became interested in the technical side. After a brief stint as a program director, he returned to engineering with a position at Wisconsin Public Radio in Madison before moving to the warmer climes of Florida's Gulf Coast. Although he's spent some time in commercial radio, his first love has always been public broadcasting. Kevin says the work pace is generally slower, and that means more time to do projects right.
For Kevin, a lot of those projects have involved Telos Alliance xNodes.
He uses a pair of legacy 8 x 8 analog nodes as an STL for the main FM service and radio reading service. The link was originally made with Ethernet, but was recently updated to low-latency fiber. He uses the backhaul channels as a confidence monitor for the off-air signals, since off-air reception is not possible at the studios. "For the money, xNodes are the ideal way to go," Kevin points out. "You can get four channels of AES or analog audio each way for less than $3,000 a pair. Other products only give you one, or maybe two channels for that money."
"For the money, xNodes are the ideal way to go."

—Kevin Trueblood, Director of Engineering, WGCU FM-TV
When it was time to build a new TV master control, Trueblood purchased another analog xNode to bring all the analog FM, HD and reading service audio into the new facility. "The xNodes solved a real problem for us," he notes. "The conduits going between the radio and television technical centers were very crowded, and trying to run new multipair through it was going to be tough. With the node, it was simply plug it into the network and all of our sources were there, no extra wiring needed."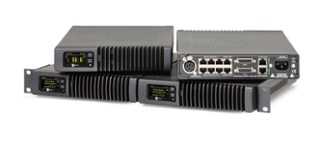 WGCU also uses an Omnia ONE for processing on its HD3 channel, with surprising results. "We run a classical music service on HD3," explains Trueblood. "And despite the fact that HD3 has a lower bandwidth, the sound quality of our HD3 signal is better than the HD2." He adds that the station also uses a Telos TWOx12 talkshow system for its call-in shows, and is currently exploring options for other products, including a complete Axia system, but there are no concrete plans at the moment.
Whatever plans materialize, Kevin is confident the Telos Alliance will have the solutions.
Telos Alliance has led the audio industry's innovation in Broadcast Audio, Digital Mixing & Mastering, Audio Processors & Compression, Broadcast Mixing Consoles, Audio Interfaces, AoIP & VoIP for over three decades. The Telos Alliance family of products include Telos® Systems, Omnia® Audio, Axia® Audio, Linear Acoustic®, 25-Seven® Systems, Minnetonka™ Audio and Jünger Audio. Covering all ranges of Audio Applications for Radio & Television from Telos Infinity IP Intercom Systems, Jünger Audio AIXpressor Audio Processor, Omnia 11 Radio Processors, Axia Networked Quasar Broadcast Mixing Consoles and Linear Acoustic AMS Audio Quality Loudness Monitoring and 25-Seven TVC-15 Watermark Analyzer & Monitor. Telos Alliance offers audio solutions for any and every Radio, Television, Live Events, Podcast & Live Streaming Studio With Telos Alliance "Broadcast Without Limits."
Further Reading
Want to know more about Axia xNodes? Check out these posts.
No Problem in Houstong: Replacing STLs with xNodes
xNodes Link Community Radio for Northern Colorado
Topics: IP Audio Network Routing & Control, Omnia Audio, xNodes
Subscribe

If you love broadcast audio, you'll love Telos Alliance's newsletter. Get it delivered to your inbox by subscribing below!