This original article has been translated from Italian.
Young People and Radio
During this particular period in time, the youth are using their creativity and energy to find solutions that allow radio to serve its audience even better. 19-year-old Timo Piredda, a very young and talented presenter on Radio MFY, has created a special format to entertain people during the quarantine, with the help of Axia from Telos Alliance.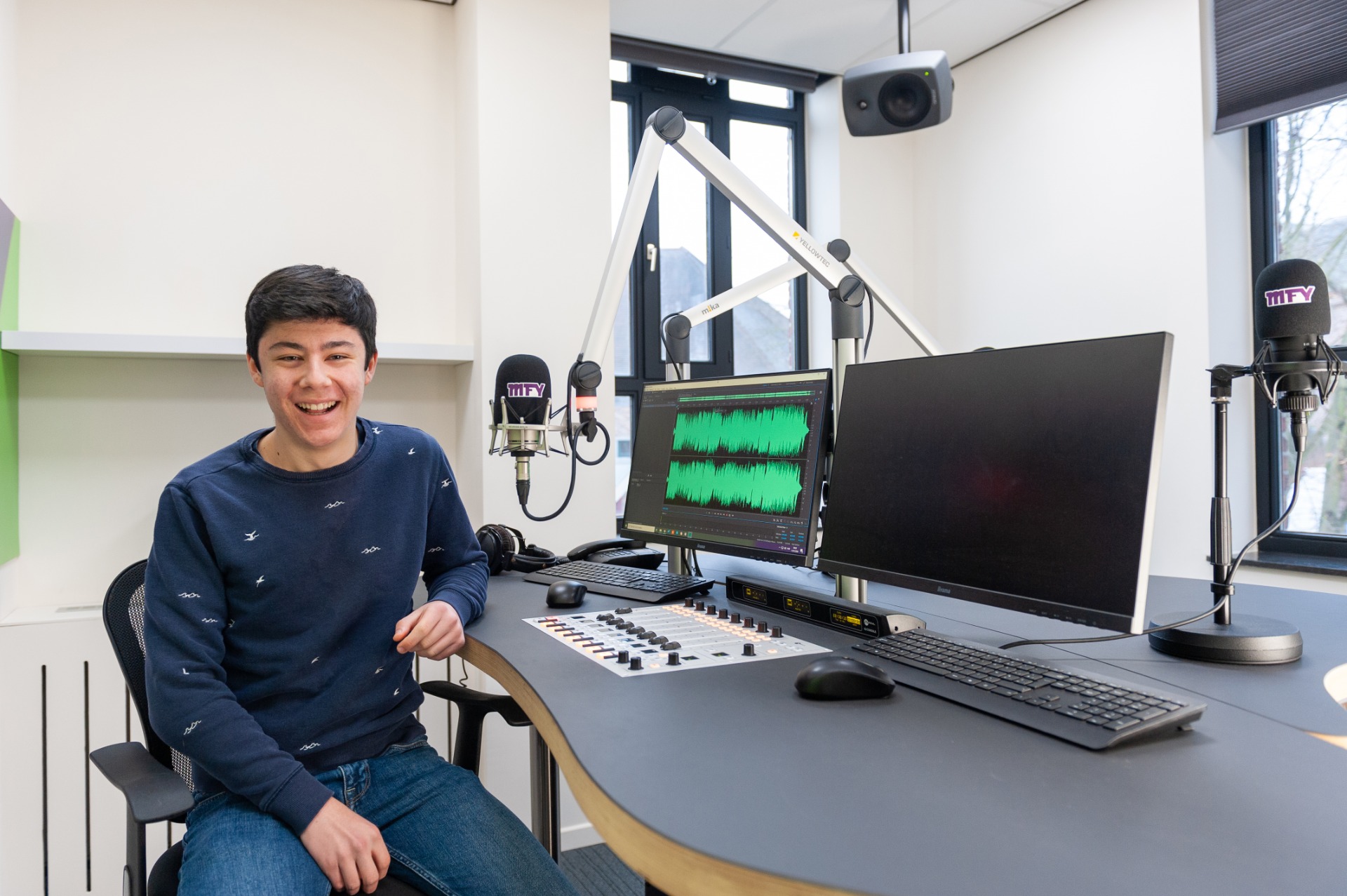 Timo Piredda at Radio MFY with Axia
First of all, it seems that radio is going to be your future. You also attend a school related to radio. Tell us more.
Yes, indeed. I have already been at MFY for more than 5 years now. It's so fun to do, that I decided to study it. I study at Thomas More, a school in Mechelen (Belgium) where we learn to make good journalism and bring that to the radio. It's very important to choose the right news, and also tell it in a way that everybody understands.
I really hope It's gonna be my job in the future! But of course, it's not an easy sector.

Where does your love for radio come from?
I really don't know where my radio passion comes from. I remember that I used to play 'radio-DJ' in my room when I was 11. That was just with a little DJ-controller and jingles played from YouTube. When I discovered MFY I was really hyped about that, and the nice thing about the radio station was that I just could do whatever I wanted. A lot of bad things, but you learn from those bad things. And every time you get a bit better!

Do you love being a host (presenter) or are you interested in radio and behind the scenes?
I really like presenting at the radio station because you have so much control. You start the jingles, the music, etc. You can tell a story to a lot of people, and you can make them laugh. The fact that you do that all while you are in a little studio, that is just magical!
But I also really like radio behind the scenes, like preparing radio shows for other hosts. If you can prepare something really well, it's really nice to hear afterwards!
Besides that, I also LOVE video! Filming, editing and multicam! Last year I was multicam director for a national radio station while they did a big show for charity! That show was broadcasted at the biggest television station in Belgium. It was so nice to do that and point all the cameras - make your own vision.

Do you want to become a star? An influencer?
NOO I don't wanna become a star hahha! A lot of people who are not engaged at a radio station think that, but I just really like making radio. I don't think you become famous from it! Or you have to be a really pretty lady hahahaha!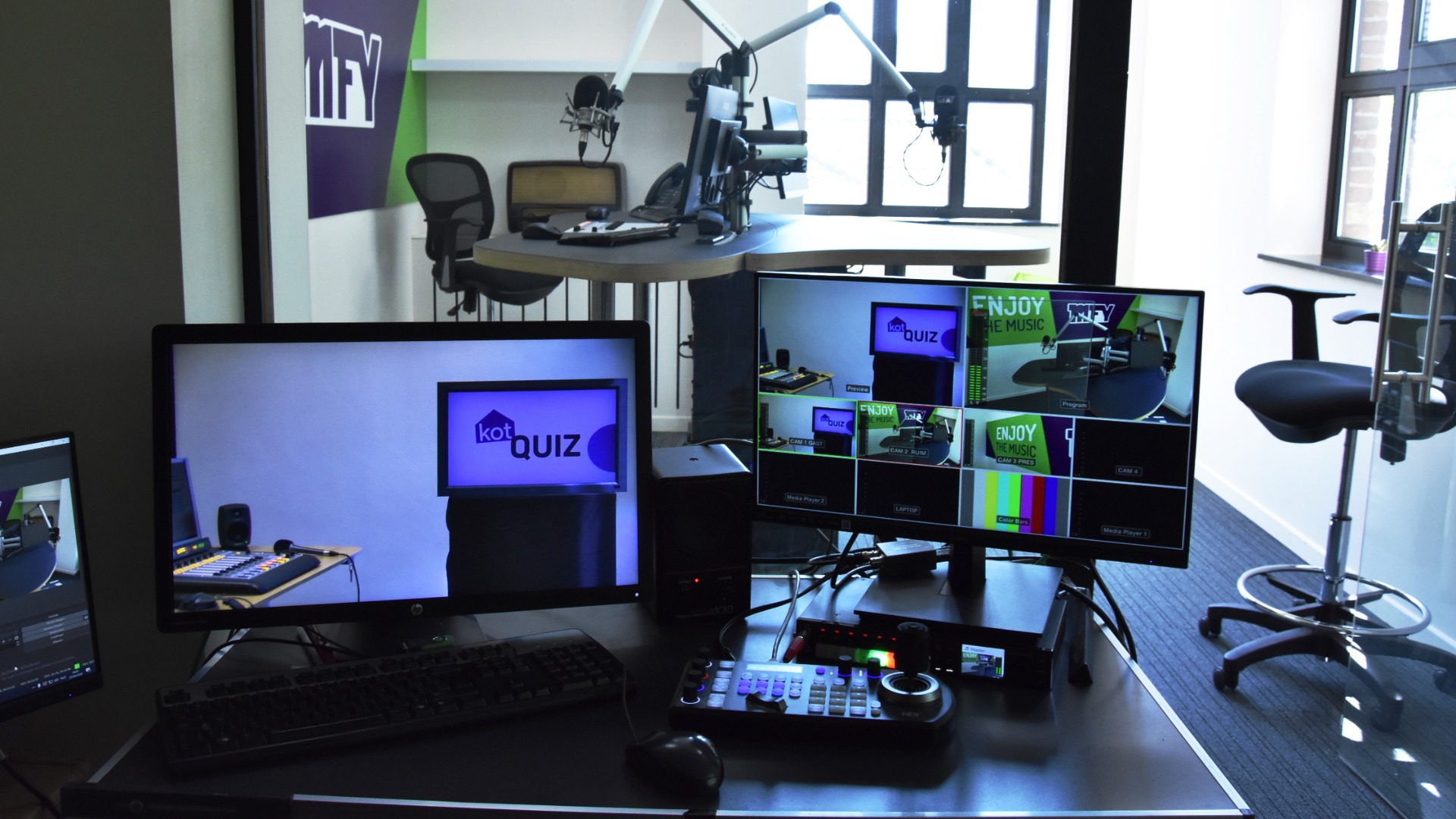 The "kot QUIZ" created for the lockdown
Timo is also a great creative guy, and for this special period he invented something special for his station. Tell us more.
So, at a brainstorm during the lockdown (at safe distance), we had some ideas to do during this weird period. We wanted to give listeners and non-listeners a fun time and something to distract them from this routine. We decided we wanted a quiz, live on the radio. So, it's a radio program that you also can see with visual radio. During the program, a host will ask the quiz questions, and the listeners and viewers can choose the correct answers on the website. We found some sponsors for some nice prizes, and I think it's gonna be really nice. I have extra time because there is no school, so I had a lot of time to make it a nice and fun show. My colleagues will present it. I will direct the video!
We also made a lot of promotions for the quiz. I think that is necessary. We made flyers, and brought them to a lot of mailboxes! Online we made a lot of noise, and I think it really worked. We live in a little region in Belgium, but we already had a lot of responses!

Do you think Axia technology helped you to understand the infrastructure?
I'm more on managing video in this situation, but as Yannick and Lenn said, the Livewire structure is huge and the console is flexible. It helped us a lot in making things more simple and avoiding plugged and unplugged cables everywhere. I personally love being ordered and well organized, and so does the rest of the team!
___________________________________________________________________________________
The following is a video interview with 25-year-old Lenn Melotte, owner of Radio MFY in Belgium. The station was created by him on IP and on FM thanks to GRK's frequencies. Also featured in the video is Lenn's Tech Manager, Yannick Gijbels. Lenn has invested heavily into this project and Axia is his top choice!

Telos Alliance has led the audio industry's innovation in Broadcast Audio, Digital Mixing & Mastering, Audio Processors & Compression, Broadcast Mixing Consoles, Audio Interfaces, AoIP & VoIP for over three decades. The Telos Alliance family of products include Telos® Systems, Omnia® Audio, Axia® Audio, Linear Acoustic®, 25-Seven® Systems, Minnetonka™ Audio and Jünger Audio. Covering all ranges of Audio Applications for Radio & Television from Telos Infinity IP Intercom Systems, Jünger Audio AIXpressor Audio Processor, Omnia 11 Radio Processors, Axia Networked Quasar Broadcast Mixing Consoles and Linear Acoustic AMS Audio Quality Loudness Monitoring and 25-Seven TVC-15 Watermark Analyzer & Monitor. Telos Alliance offers audio solutions for any and every Radio, Television, Live Events, Podcast & Live Streaming Studio With Telos Alliance "Broadcast Without Limits."
Subscribe

If you love broadcast audio, you'll love Telos Alliance's newsletter. Get it delivered to your inbox by subscribing below!