A Chat with Dave Collins as the Omnia Tour Rolls on
By Dave Sarkies on Aug 9, 2017 10:30:00 AM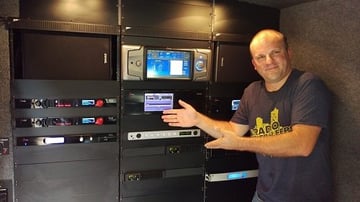 You've heard about the Omnia 'All about the Audio Tour' and seen the pics, but what's the inside story on bringing the Telos Alliance van out of mothballs and taking it out on the road to radio stations all across the country? We sat down with our tour guide and driver of the van, U.S. Omnia Sales Director Dave Collins.
So how is the tour going so far?
So far, so good. No flat tires, no speeding tickets, no drive-through incidents, and no animals injured. We've gotten a lot of positive response. It's been going very well.
The Telos Alliance first sent the 'Broadcast Audio Fanatics' van out on the road a few years ago. Why was it decided to take the van back out on the road this year?
The van was sort of hibernating since then. The idea might have been in the works when it was brought to my attention by Roger Bittinger, our jack of all trades maintenance man here. He said, "We've got this van that the guys took out about three or four years ago." So the idea was placed in my head back in April. There was talk about it at NAB, and in May, plans were in the works. Then it sort of lost steam, but then Frank came along and said, "Hey, what's going on with the van?," and that was the impetus to get it back on the road.
It took a lot of work to get it ready to go, but Roger, John Makley, and Jeff McGinley, who was in town on another assignment, all shed some blood, sweat, and tears, and the van was ready to go in no time.
So what's been the reaction to the van and all the Omnia gear it's loaded up with?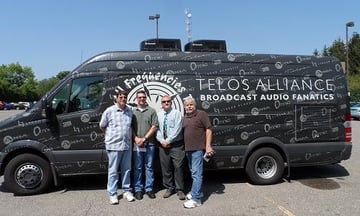 Think of it as like an ice cream truck rolling up for broadcast engineers. Whenever we pull in to a station's parking lot, they think they know what it's all about, but once they get inside, they say, "Wow, I wish I could have every one of these."
We've got one of almost every processor of the Omnia brand in the van that are functional and they're all connected with Livewire+ AES67, and also by a Fusion console, and we're hoping to add some more Axia gear and maybe some Telos equipment too—a couple phone systems.
Some of the engineers that I call ask if I can stop by. They're more than willing to have us at their studios or in their parking lot. But then they say, "I know the engineer across town at the competition, do you mind if he comes over and takes a look?"
Engineers are a bit friendlier with the competition than programmers, so if you can get everybody in a bunch, not only can they see the van three or four engineers at a time, they can also share some war stories. It's a good opportunity to get them together. If one station has some Omnia gear, maybe another engineer doesn't. If one tells the other, "Yeah, we have one of those... They work great. Maybe you should look into it," that advertising works for itself. I can just sit back and let those guys talk.
So you've only been out on the road for maybe a month now; what's been the most unique experience of the tour so far?
Well, seeing all the stations is unique because you never know what you're going to run into as far as people, places, and different kinds of equipment. As for the two trips, one of them was sort of spur of the moment. We had a trip scheduled to the western part of Michigan and we got a call from somebody in Green Bay who said, "Hey, I've got some Axia stuff and I want to see some Omnia stuff." I thought, "How am I going to get the van from Western Michigan over to Green Bay, Wisconsin?"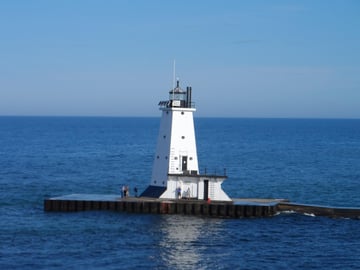 I looked at the map and saw that there was a ferry, the SS Badger, which goes from Ludington, Michigan, over to Manitowoc, Wisconsin. It's a four-hour ferry ride and that's the easiest way to get across to the Appleton/Green Bay area instead of driving around through Indiana and Illinois. So, the van took a ride on a boat for about four and a half hours.
I understand you had a pretty interesting stop here in Ohio as well.
One of the stops late last month was CD102.5, an alternative music station licensed to Baltimore, Ohio, a little outside of Columbus. There's a bar, a restaurant, a live performance stage, and a couple of studios all in one building, which is pretty cool to check out. They have up and coming bands. They had Foster the People there the night before I was there. They're a local independently owned radio station that's still chugging along that's very interested in some of our gear. That was really cool to see. I've seen a radio studio outside of a bus stop before, but I've never seen one with an actual bar.
That sounds like a fun stop! Back to processing… What have the broadcasters you've visited addressed as their primary concern relative to audio processing? Is there one issue engineers are most concerned with?
Yes… budgets. What they can afford and what they're allowed to spend. Since we released the VOLT a few months ago, that's gotten a great response. We've had a lot of interest in that as a primary processor for some of the smaller stations and some of the smaller towns and markets, and also as a processor in some of the bigger markets, for HD2/HD3 signals and some AMs.
Broadcasters want to sound big, they want to send clean. We've got the Omnia.11 and the Omnia.9 for that. We've had lots of interest, it seems like the Omnia.7AM is getting a little traction for AM revitalization. That's thanks in part to Saul Levine, who was featured in Direct Current recently, who's running an oldies format out in Los Angeles and raves about it.
"Think of it as like an ice cream truck rolling up for broadcast engineers. Whenever we pull in to a station's parking lot, they think they know what it's all about, but once they get inside, they say, 'Wow, I wish I could have every one of these.'"
So, how have you liked all the driving? Is the van comfortable?
The driving does not bother me, for the most part. For seven years, I drove town cars and 14-passenger shuttle buses from Vermont and New Hampshire down to Boston, so I'm used to the traffic, I'm used to the dimensions. I'm used to people seeing it in the rearview and they tend to get out of the way. You always have to be careful in parking garages and drive-throughs with clearance bars. It doesn't bother me… It's comfortable. There are a few times when I wish I had a copilot. If I really wanted to, I could turn the generator on and blast some music through one of the processors in the back.
The one thing I have to be aware of is the generator and the engine both run off the same tank of diesel. So, when I go to do a demo at a studio, I've got to make sure I have enough fuel in the tank. You don't want to go there with only a couple bars or a quarter of a tank left.
What do you do to kill the time between appointments?
If I have a few moments, I explore the town, figure out what's going on. As I arrive into town I flip around the dial, listen to the stations that I'm scheduled to visit, and even more importantly sometimes listen to the competition as well.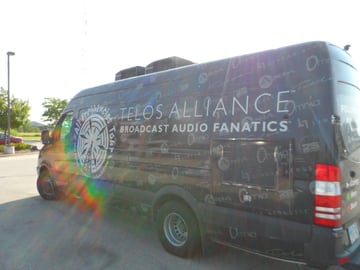 I also bring a portable AM/FM HD radio with me that I listen to in the hotel, just to see how all the signals are and see what I can get. It's all about sampling before you get to the customer. Lots of them are pretty impressed. They're always looking for input, not that I'm an expert… Listening is subjective. But if I have the tools in that van to make their processing better, then they're going to want to hear it once I get there the next day and tell them what I heard the night before.
Any closing thoughts?
A big thank you to everyone who's hosted us. They've been great. We provide them knowledge and a listening experience, and they fill me in on a lot of great radio history. A lot of these guys have great stories. It's great to hear those stories and be welcome to these different stations we've gone to.
Thanks Dave!
Further Reading (& Viewing)
For an introduction to this year's Omnia Tour, and more on the original Broadcast Audio Fanatics tour, check out these items:
It's All About the Audio Tour photo album
Topics: Omnia Audio, Audio Processing, Omnia Tour
Subscribe

If you love broadcast audio, you'll love Direct Current! Get it delivered to your inbox weekly!