Saul Levine: Omnia Is the Solution to AM Radio's Woes | Telos Alliance
By The Telos Alliance Team on Jul 12, 2017 11:30:00 AM
Saul Levine: Omnia Is the Solution to AM Radio's Woes
As one of the early believers in FM in the 1950s, Saul Levine is a pioneer in FM broadcasting. And as the owner of Mount Wilson Broadcasting in greater Los Angeles still today, he's been a major player in the industry for decades.
As an early proponent of FM, when many were skeptical of the new technology, it may seem a little like deja vu all over again for Saul these days – and yet, a bit of a role reversal at the same time – as he fights for a broadcast format many have grown skeptical of – AM.
To be sure, the future of AM radio has been a hot topic for some time now, and there are many schools of thought on the subject. So what's Saul's take? For one, improving the audio would be a big step forward. And to Saul, there's a relatively simple solution for that: the Omnia.7AM.
But let's get a little background first.
While AM has always been more susceptible to noise and interference, today the amount of noise AM radio has to contend with is much greater than what existed in the early days of radio. "In the old days you didn't have the noise levels that we have today," Saul notes. "It's just a huge difference."
Saul tells the story of where he grew up in Northern Michigan. "Where I lived in a small town near Mackinac Island, 300 miles north of Detroit, it was a rural area, there was no industry, no mechanical noise, no electronic noise – the only thing you turned on was either your light bulb or your radio." Additionally, cars at the time had noise suppressors, so did not cause significant interference with AM radio broadcasts coming over car radios.
"I used to be able to listen to WJR Detroit 300 miles away and I could hear them noise-free, static-free in the house, as well as stations from all over the Midwest - Chicago, Cleveland, and beyond," Saul muses. Those points beyond included Cincinnati, the home of WLW. WLW was a 50,000 watt station when they received permission in 1936 to go to 500,000 watts. "I was 500 miles north of them and I could hear them in the daytime as if they were a local station," he recalls. Though the FCC would later scale back WLW's power, Saul uses this story as an example of what can be done on the AM band with a little ingenuity and research.
Unfortunately, today he sees quite a contrast. "Today there's no interest in AM, there's no confidence in it," he laments. "The young people going into engineering are IT people and don't really understand RF. We don't have any interest to make AM work, so AM radio is denigrated." But, Saul insists, it doesn't have to be that way. "In my opinion, AM could be revitalized as a vital platform for entertainment, and we're just not doing it," he says.
Additionally, Saul feels that since many of the larger radio conglomerates have gone to talk formats on their AM stations, a lot of what's heard on AM radio these days isn't the most riveting content, and programmers and owners need to put more thought into what they're broadcasting over the AM airwaves as well. If the content isn't interesting, he notes, people aren't going to tune in.

But few would disagree that the biggest issue with AM radio is overcoming the noise floor, though Saul contends that proper AM processing could go a long way toward revitalizing the band and attracting more listeners. And he thinks there may be a relatively simple solution.
"I heard, fortuitously, about the Omnia.7AM, just about six months ago. We acquired it on a trial basis and put it in and I said 'We're never sending that back!' That thing changed the whole dynamic. It produced a density that overcame noise. What you have achieved with that processor, you have achieved density, and that density at all levels produces a sound that is just lovely."
"What you have achieved with that processor, you have achieved density, and that density at all levels produces a sound that is just lovely."

—Saul Levine, Owner, Mount Wilson Broadcasting
Case in point, Saul says there are power lines behind his office building which, when pulling out of the parking garage, would override the audio of Mount Wilson's 1260 KSUR on the car radio. But after installing the Omnia.7AM, "It was like going to a much higher powered station," Saul exclaims. "It just overcame all the noise." And following a recent format change at KSUR, the ratings began to climb, even challenging some of FMs in the competitive L.A. market. While the programming change played a part, Saul contends the change to the Omnia.7AM was a major factor in the ratings boost.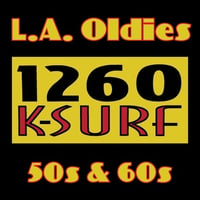 Saul believes that for a relatively modest investment, AM radio stations could sound much better, and many AM owners would feel like they're back in business. "This is not just my opinion - this is proof. This happened," Saul testifies, to emphasize his belief in the 7AM.
He summarizes, "The biggest problems facing AM radio are noise, lack of programming, and lack of modern equipment, and the Omnia.7AM eliminates a good part of that problem. If every AM station in America used an Omnia.7AM, AM radio would be saved, and the FMs would have some competition. It's one of the best investments I ever made."
"There's no advantage to do away with it," Saul says about the AM band. "We have nothing to lose to make AM radio great again. We can do it! And let's do it with the Omnia.7AM for starters!"
And we certainly like that sound of that!
Further Reading
For more information on Saul Levine, Omnia.7AM, and audio processing for AM, check out these blog posts:
Omnia.7AM is the Answer for WHK
Ted Alexander on AM Processing
Telos Alliance has led the audio industry's innovation in Broadcast Audio, Digital Mixing & Mastering, Audio Processors & Compression, Broadcast Mixing Consoles, Audio Interfaces, AoIP & VoIP for over three decades. The Telos Alliance family of products include Telos® Systems, Omnia® Audio, Axia® Audio, Linear Acoustic®, 25-Seven® Systems, Minnetonka™ Audio and Jünger Audio. Covering all ranges of Audio Applications for Radio & Television from Telos Infinity IP Intercom Systems, Jünger Audio AIXpressor Audio Processor, Omnia 11 Radio Processors, Axia Networked Quasar Broadcast Mixing Consoles and Linear Acoustic AMS Audio Quality Loudness Monitoring and 25-Seven TVC-15 Watermark Analyzer & Monitor. Telos Alliance offers audio solutions for any and every Radio, Television, Live Events, Podcast & Live Streaming Studio With Telos Alliance "Broadcast Without Limits."
Topics: broadcast audio processor
Subscribe

If you love broadcast audio, you'll love Telos Alliance's newsletter. Get it delivered to your inbox by subscribing below!