A Passion for Broadcast
Peter Passian is the Telos Alliance Director of Radio Sales, Eastern Hemisphere, a territory that includes Europe, Africa, and the Middle East. That's a lot of ground to cover! Through managing such a large territory, Peter has a unique perspective on the global state of radio. So who better to chat with to get an idea of what to expect at the upcoming IBC Show?
We talked with Peter from his home base in Germany recently to get his thoughts on this important international show, the current state of the broadcast world, and how the Telos Alliance is positioned to bring emerging technologies like virtual radio to the larger broadcast community.
How many times have you attended IBC? What do you enjoy about the show?
I've been to IBC over 10 times. IBC is the second biggest show and also second most important show where we exhibit. Europe is a very important market for us but also customers from outside of Europe attend. Apart from this, IBC is in Amsterdam, a very nice city, although I usually do not see much of it.
Any thoughts on what to expect at this year's IBC?
I expect that AoIP + AES67, studio workflow optimization as well as virtualization will be the dominating topics at IBC, and we are well prepared for this.
What are your thoughts on virtual radio and products such as the IP-Tablet? How do these place the Telos Alliance in an ideal position in the broadcast industry?
Because of AoIP becoming standard, virtualization is more and more requested by broadcasters. Users want to see the same GUI for outdoor (or remote) broadcasts as they use in the studio. Playout systems are trending toward the same HTML5 GUI interface as the Axia IP-Tablet software, making tablet control possible. The flexibility of the GUI together with the outstanding hardware technology of Axia leaves all customization open up to a virtual mixing console platform.
Instead of having physical faders and buttons, a touch screen will have virtual faders and buttons which take over the same functionality. This is a huge change for the user. They can use their gear over IP wherever they are—almost from everywhere around the word. The big advantage of the Telos Alliance is that aside from the ability of controlling third party hard- and software with the IP-Tablet software platform, we are also able to have direct virtual control over the products of the Telos Alliance such as xNodes, Omnia.9 and Omnia.7 processors, the Omnia VOCO 8 mic processor, Telos VX and VX Prime phone systems, Telos Z/IP ONE IP Codecs, and Axia Pathfinder Routing Control. None of our competitors offer this flexibility.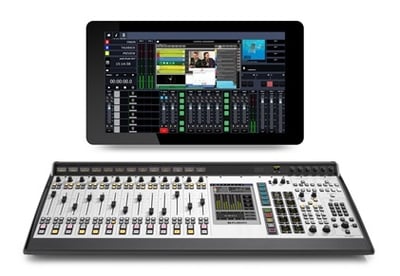 Europe often seems to be ahead of the curve when it comes to adopting new technology. Considering this, how is the Telos Alliance generally perceived across the continent with regard to how advanced our equipment is, and how our products work across the different broadcast and electronics standards in place in Europe?
Europe is an important market as European broadcasters are trendsetters for implementing and using new technologies. We are leaders with AES67 in the broadcast industry. AoIP and our capability to virtualize, being able to offer software solutions which can replace traditional broadcast studio hardware opens doors and makes the Telos Alliance a global player in this market. This is developing quickly right now and I am glad and proud that we at the Telos Alliance are not just keeping pace but also innovating new technologies and new workflows for the customers.
What is your history with the Telos Alliance?
I was a Telos, Omnia, and Axia dealer for Germany and Austria for more than 10 years, until I decided in 2010 to change sides from supplier to manufacturer and to be honest, I have not regretted it.
What is your background in broadcasting / broadcast engineering, if any? Tell us how you got into the industry.
During my studies back in the '80s, I was looking for a job for the semester breaks and helped with the wiring of one of the first private radio stations in Bavaria. At the end it was more or less me building this station as well as other stations and also the beginning of my own system integration company.
Any general thoughts on the current state of the broadcast industry?
The broadcast industry nowadays is in a state of permanent change. Transportation of signals is changing, the workflows are changing, a lot of products are changing from pure hardware to more software-driven products and the good thing is, we at the Telos Alliance are keeping pace with the times.
Any family details?
I've been married since 25 years—we just renewed our vows in Las Vegas during NAB. We have one daughter who is almost 18 years old.
When you aren't working, you're...
I absolutely love to cook – friends say if I am tired of what I am doing right now I should open a restaurant. Aside from that I try to keep fit and in shape with alpine skiing in winter and mountain biking in summer.
Further Reading
To learn more about some of the members of the Telos Alliance team, check out these profiles:
Meet Rob Dye, the Unsung Omnia Hero
He's a Jack of all Broadcast Trades... But we Call him Jim
The Man on the Front Lines of Telos IP Telephony
Telos Alliance has led the audio industry's innovation in Broadcast Audio, Digital Mixing & Mastering, Audio Processors & Compression, Broadcast Mixing Consoles, Audio Interfaces, AoIP & VoIP for over three decades. The Telos Alliance family of products include Telos® Systems, Omnia® Audio, Axia® Audio, Linear Acoustic®, 25-Seven® Systems, Minnetonka™ Audio and Jünger Audio. Covering all ranges of Audio Applications for Radio & Television from Telos Infinity IP Intercom Systems, Jünger Audio AIXpressor Audio Processor, Omnia 11 Radio Processors, Axia Networked Quasar Broadcast Mixing Consoles and Linear Acoustic AMS Audio Quality Loudness Monitoring and 25-Seven TVC-15 Watermark Analyzer & Monitor. Telos Alliance offers audio solutions for any and every Radio, Television, Live Events, Podcast & Live Streaming Studio With Telos Alliance "Broadcast Without Limits."
Topics: Telos Alliance, IBC 2017
Subscribe

If you love broadcast audio, you'll love Telos Alliance's newsletter. Get it delivered to your inbox by subscribing below!