Axia on a Roll in the Twin Cities
By Tom Vernon on Jun 21, 2017 12:00:00 PM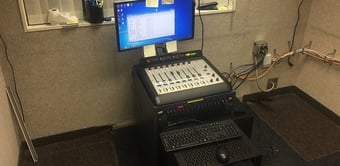 You can't take your Axia studio with you. Or can you? Some would say no, but Steve Smit, Director of Engineering for Salem Media's Twin Cities operation figured out a way to do just that, and it has made his job a lot easier. In the Minneapolis-St. Paul market, Salem Media operates five stations AM 1280 The Patriot, AM 980 The Mission, AM 1440 KYCR Wall Street Radio Network, The Fish Twin Cities, and Wellness Radio 1570. One station was recently added, and studio renovation/construction projects are ongoing. There needed to be an oasis of order in the midst of the temporary chaos that accompanies any studio rehab.
As Smit explains, "We already had an 18-RU roll around rack. We loaded it up with an Radius broadcast console, mic processors, Mika microphone arms, monitor speakers, and a PC with Enco automation software. Our office manager was able to keep up with traffic and production duties, and we were able to be relatively undisturbed as we were overhauling the studio."
The idea of self-contained studios in roll around racks is nothing new, but AoIP and Livewire+ connectivity makes the concept much easier. With an analog setup, the rack on wheels contained not only the console, but also source devices such as cart machines, CD players and DAT recorders. There were also external connections for AC power, program out and network audio in. Sometimes all the audio connections were made with an umbilical cord terminated with a cinch-jones connector.
With Livewire+, all of your sources and destinations are available on one Ethernet cable. Just plug in the power and network connector and go. Your roll around rack need only contain an AoIP console, monitor speakers, microphone arms, and possibly automation software. With this simple setup, you're good to go for voice tracking and most simple production projects.
The Salem Media's Twin Cities operation is a 100 percent Axia shop. The lineup includes two Element consoles with phone interfaces and one 15-channel iQ control surface, each with a QOR.32 Integrated Console Engine. There are also two Radius consoles powered by QOR.16 Integrated Console Engines.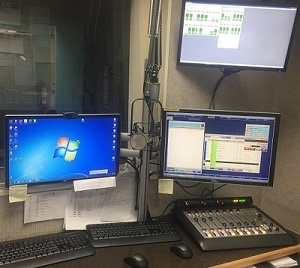 Much of the basic GPIO, such as consoles talking to automation systems, can be done with the logic built into Axia consoles. For more advanced functions, there's Pathfinder PRO. Smit used it to interface his ENCO automation system with Axia control surfaces, manage the main and backup satellite audio feeds and route Vmix feeds from each of the stations. He also created a wall of VU meters which monitor audio at critical points throughout the audio path of each station. It is used as a troubleshooting tool, so board ops can quickly identify the source of a problem without having to drill down through menus.
Along the way, Smit says he learned a lot about the inner workings of Pathfinder PRO. In order to get ramped up quickly, he recommends the three-part training videos with Bryan Jones on YouTube.
Smit emphasizes the value of an often overlooked aspect of an AoIP installation, the documentation. Signal flow diagrams, often created with Visio, were the norm with analog studios, but the near-limitless flexibility of an AoIP installation renders that type of record keeping useless. A different methodology is needed to keep track of an Axia installation and the Pathfinder PRO software that makes it all magical.
Writing code is as much a creative endeavor as a technical exercise. There can sometimes be long periods of stagnation followed by bursts of inspiration, when clever solutions to problems suddenly appear. As Smit explains, "When you get these great ideas, it's important to document them right away. Six months later, when something stops working, or you want to repurpose the code, you probably won't remember why you did what you did, and it may take a long time to reverse engineer it."
As Smit is creating code and stacking events in Pathfinder Core PRO he adds a description. Since there is only one line to do it in, he has to be succinct. A more comprehensive record of what was done may be preserved with a spreadsheet. It may contain fields including source and destination names, IP addresses, fader channel in/out info, device lists, firmware versions, etc. Regular updates of this spreadsheet are also important. Smit recommends standardizing on names and numbering for devices at the outset, so there is a consistency between studios.
For larger Axia shops, this type of record keeping might become daunting, so iProbe IP Audio Network Management Software can be helpful. It includes powerful auto-documentation features that generates configuration docs for every device, as well as an Organizer that enables grouping of networked audio devices into logical groups for easy management. iProbe also facilitates firmware upgrades to single or multiple devices, as well as recording device configuration backups.
Further Reading
For more great Axia user stories, check out these blog posts:
Problem-Free Studio Build a Different Experience
Spokane Public Radio Sets AoIP on Fire
Topics: Axia Audio, broadcast audio consoles
Subscribe

If you love broadcast audio, you'll love Telos Alliance's newsletter. Get it delivered to your inbox by subscribing below!