Axia User Offers a Free Utility to Aid Simple Livewire Routing
By Kirk Harnack on Jul 26, 2017 11:45:00 AM
Anthony Eden is a broadcast engineer and systems integrator in Australia. And, he's a big fan of Audio over IP technology, particularly Livewire+.
PathfinderPC and Pathfinder Core PRO provide powerful and flexible scheduling, routing, monitoring, and alerting for Livewire+ AoIP networks. However, Anthony Eden needed a bit less horsepower for a particular application. His client simply needed to select which studio would feed the station's air chain. So, Anthony wrote a Windows application in Python to do just that - and only that.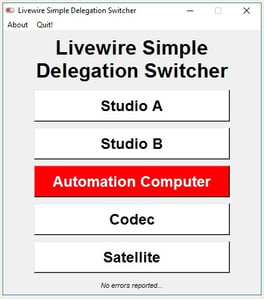 He calls it the "Livewire Simple Delegation Switcher."
Anthony is making the app available for free, and has already published a couple of updates with new features. Read about it and download the app here.
I recently imagined, then "realized" a backup STL system for my big FM transmitter site in Mississippi. We have 3 FM stations there, all fed by Livewire over a 13-mile IP-Radio link (here's a white paper I wrote about that when we installed it).
Even though the IP-Radio link is amazing, we had no backup STL in case of a failure. Just recently we got Public Internet to this very rural site via a Wireless ISP.
I built a PC to receive our stations' Public Internet streams, then convert them to AoIP streams. For various technical reasons, it turned out that I needed my local AoIP streams to be AES67 SIP Unicast. Livewire streams wouldn't work as well in this particular case.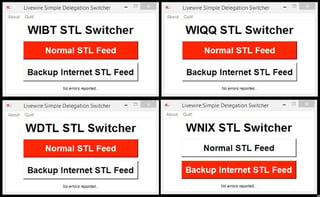 Great news! Our new Axia IP-Audio driver has AES67, including SIP Unicast!
Now I could (manually, with lots of typing) switch my transmitter feeds to a backup source by entering new subscription addresses in the Destinations section of our xNode.
We recently learned of Anthony Eden's Livewire Simple Delegation Switcher program. Using this program I have buttons that are programmed to do this route switching, if and when needed, saving a lot of typing in an off-air situation.
I made a techno-geeky video about this. Those already familiar with Axia will understand it right away. Still, I hope all engineers are inspired to see technically modern yet simple and reliable solutions if they have AoIP available. This solution is possible because of the flexibility of Livewire+ and AES67.
Further Reading
For more technical Livewire tips, check out these blog posts:
Make a Proper IP Address Scheme for Your Livewire Facility
Topics: IP Audio Network Routing & Control, Livewire, STLs
Subscribe

If you love broadcast audio, you'll love Direct Current! Get it delivered to your inbox weekly!