Jazzy Stream Routing & Processing with Z/IPStream | Telos Alliance
By The Telos Alliance Team on Jun 1, 2021 11:53:18 AM
Video: Jazzy Stream Routing and Processing with Z/IPStream 9X/2
In our latest Behind The Sound interview, we got a chance to speak with Ludwig Kugler. Ludwig is part of a jazz band in Munich, Germany. After the start of the pandemic, his band was unable to practice together in person. Through some creative thinking, Ludwig was able to find a way to conduct band practice virtually, as well as stream his band's performances online with the help of some Telos Alliance offerings!
While the band took advantage of Jamulus software to play together from different locations, they needed another solution to help stream to their audience. Through Telos Alliance Z/IPStream 9X/2 stream encoder and processor, the band was able to stream directly to their audience over the internet. The 9X/2 handled all of the audio processing and the transfer to their Icecast server, where it is published. They were able to control all of this using the Axia Pathfinder Core PRO. Pathfinder was able to monitor everything coming in and out of the 9X/2, and it also helped them connect with their website to keep track of their audience!
You can view the Behind the Sound - Jazzy Stream Routing and Processing with Z/IPStream 9X/2 interview below. You can also find a diagram that Ludwig put together for us of his setup, as well as a screenshot from his Pathfinder!


Hello everyone. My name is Justin Gelske and I'm the marketing coordinator here at Telos. Today we are joined by Ludwig Kugler of Broadcast Engineering Kugler, one of our partners in Germany. Thanks for joining us today.
Yeah, thanks for being part of it.

So we hear that you have a jazz band and you found a creative way to use some Telos Alliance solutions to conduct band practice from multiple locations, which has really become helpful during the pandemic. So to start us off, could you tell us a little bit about your jazz band and where you're located?
Yes. We are a jazz band with eight people. We have four wood and brass music playing guys and we have a rhythm section with four people and we are located in Munich here in Germany. And yeah, we do have the same problem as every band during the pandemic. We do not have the possibility to practice and so we try to find a way, first of all, to practice online and secondly, to possibly publish or stream or something like that on the internet for our fans to get our music and to be a little bit part of the music after, well, more than a year of problems.

So tell us, right when the pandemic hit, how did it affect you right off the bat? What was the mindset like trying to figure out how you're going to practice?
We normally practice once a month and then we also have a day where we play in a bar once a month. And the problem is that it all broke away last year in March. And so it took us a little bit to find some solutions to manage playing together without being together because it's only allowed here in Germany at the moment to be with one person of another household. And so for eight people, it's not really possible to meet within the room. Yeah. And that's the reason why we tried it out.

What solutions did you come up with to work around the lack of being able to practice or play live together?
Yeah, we heard from a friend that he had a software called Jamulus, which can be hosted in Amazon Cloud or wherever. And it's a Linux-based distribution and with this it's possible that you can, in a certain way, get rid of the latencies you normally have when internet is within the barriers. Well, I set it up on the Amazon Cloud and interestingly, it works quite perfect with the latency of about 30 to 40 milliseconds and it's a little bit of latency compensation within the software and it's not a problem at all to connect with eight people of different places together and do the music then.

That's really awesome. So with this situation, how did Telos fit in? And if you could explain specifically your use of Z/IPSTREAM and Pathfinder.
Yeah. Well, as you've said, we are using the Pathfinder and we're using the Z/IPSTREAM 9X/2 and the 9X/2 is software that we can stream our program on the internet, on our website for everyone who wants to listen to our practicing mode for one and a half hours every two weeks. And we arranged it like this, that we have a special computer as well, which is doing the mixing stuff. So my wife is sitting on the computer and is mixing our eight signals together so that we get a proper signal out to the Z/IPSTREAM and the Z/IPSTREAM then is doing the sound processing and also the transfer to the Icecast server where we publish it.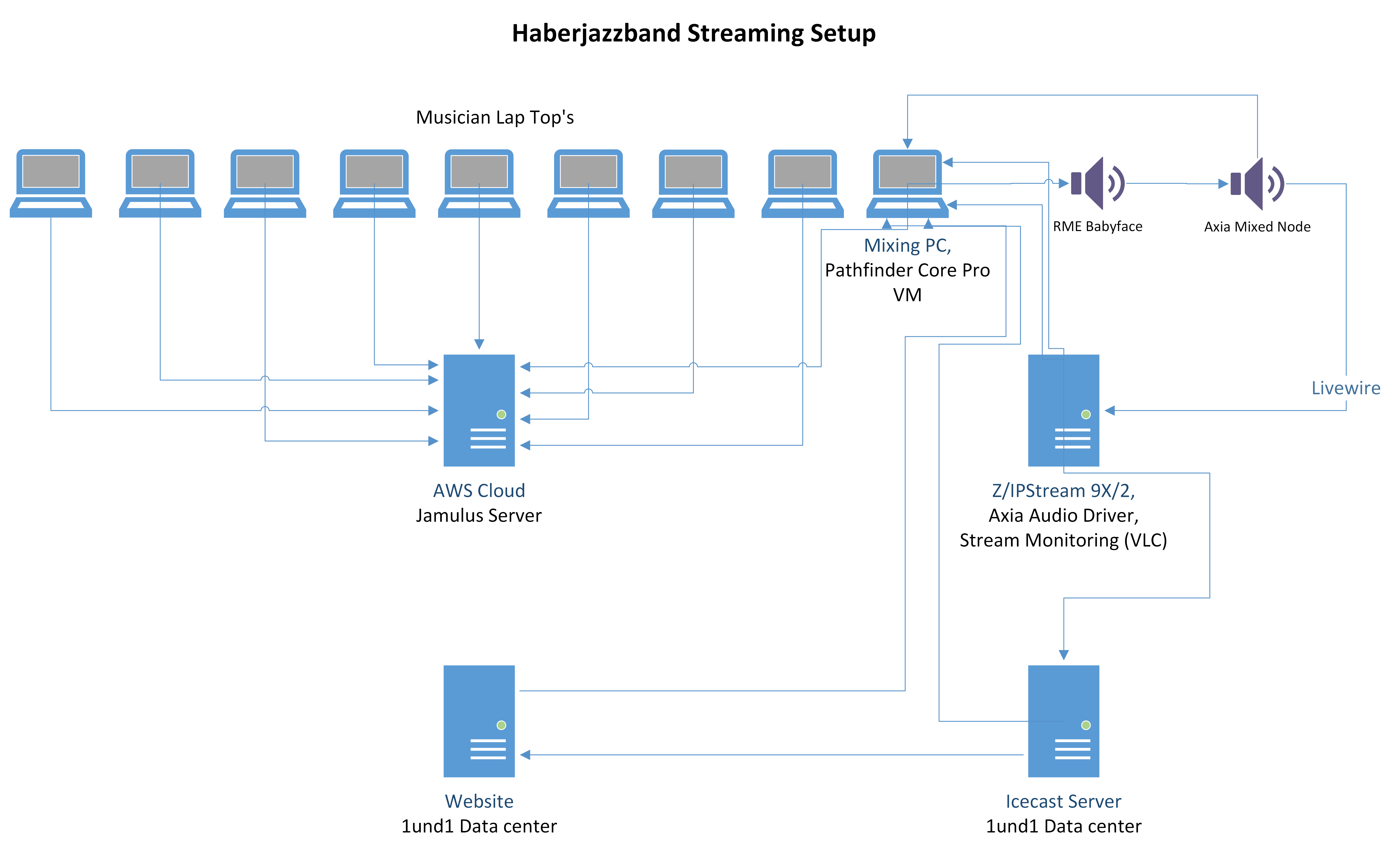 And I set it also up the Icecast server. And so I'm streaming it directly in there and then we do a mono 128 kilobytes MPEG-3 signal, and we all control it by Pathfinder. So I made a Pathfinder overview where you can see what's coming into the Z/IPSTREAM, what's coming out of the Z/IPSTREAM. Then I also monitor the stream, which anyone can hear outside and have a look on it where it's breaking down or not. And then all the beautiful lights are going on or off if there is a signal or not. And I also managed to put in some websites in the Pathfinder sites to see how many listeners we have, and also from our website where we have a commentary function in it, where the people can write something they want to, whether they like it, or whether they have a wish for the special music we should play. And then my wife is sorting that out and she is putting it into the chat of this Jamulus software and then we can directly interact with our listeners and it's absolutely fantastic because the people like it. It's better than playing live, to be honest.

Wow. That's amazing. So up through today, how is it still going? Are restrictions lessening over there? Are you continuing to practice and play virtually? Do you think you'll go back to the way things were or kind of stick to how you're doing them now? Or maybe a blend of both?
I believe that we will use both of that to be honest in the future, because it's not the same if you play together live and you have all the other guys in one room because then you have also all the emotions in there and you see when they are sweating or they played a little bit of not really good stuff and so you can laugh about it and so on. But on the other hand, if we have concerts around here in Munich, we also can publish them directly via stream, so especially for older people, they are not able to come and to see and to hear us what we are playing. And so we can do both of that. And we will also still try to do our practice together on Jamulus because it's much easier. You go into the cellar, you open up your laptop, you press the button and then everything works and you don't have to go anywhere so you save at least one or one and a half hours of traveling around.
Pathfinder Screenshot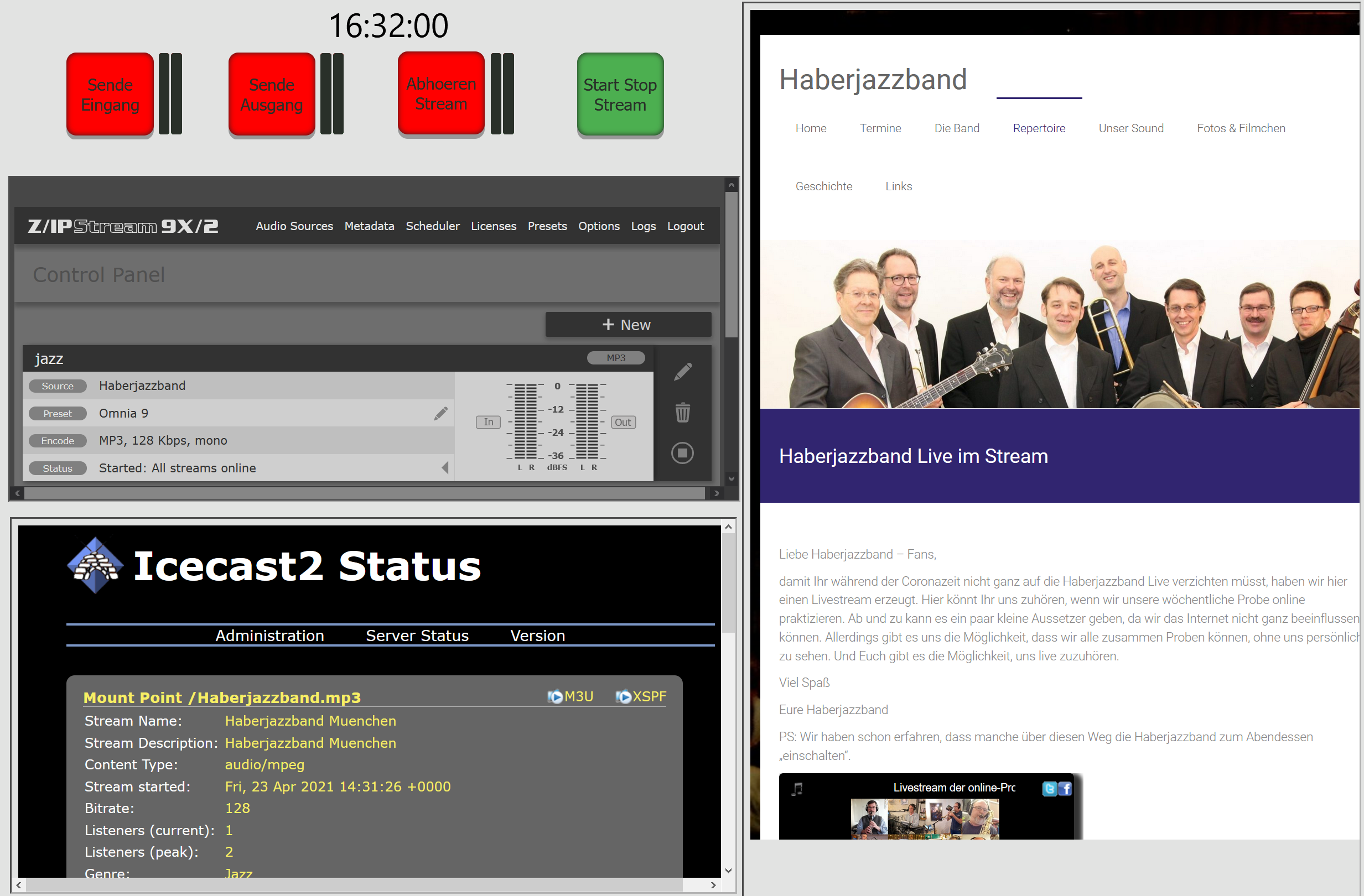 Yeah, absolutely. That could save you a ton of time and really make things easier in a way that most people wouldn't think to try and maybe wouldn't have to if we didn't go through this certain situation we're going through. Well, thank you so much for taking some time to speak with me today. This has been an awesome story to hear about and I'm glad you guys have been able to make these solutions work together for you in such a cool and creative way. And you get to continue playing music, which is awesome. Ludwig, thank you so much for joining us today.
You're welcome. And thanks for being part of it, as well. And yeah, it's only a help for anybody else to show that there are also possibilities with Telos outside the radio broadcasting stuff. That's the reason why I wanted to share the story because it's quite different to what you normally do with radio broadcasting and all that stuff and so that's the only reason.

Again, thanks for taking the time and we'll talk to you soon.
Yeah. Thank you. Bye-bye.


Are you ready to take the next step toward your virtual future? Send us a message and our team will help guide you in the right direction for your studio.
You Might Also Like

Behind the Sound - KFM Network Gains Complete Network Control from Anywhere with Axia iQs
Ask the Omnia Guy: How Can I Stream Identical to FM?
Video: Building the Virtual Airchain (Pro Audio and Radio Tech Summit 2021)
Telos Alliance has led the audio industry's innovation in Broadcast Audio, Digital Mixing & Mastering, Audio Processors & Compression, Broadcast Mixing Consoles, Audio Interfaces, AoIP & VoIP for over three decades. The Telos Alliance family of products include Telos® Systems, Omnia® Audio, Axia® Audio, Linear Acoustic®, 25-Seven® Systems, Minnetonka™ Audio and Jünger Audio. Covering all ranges of Audio Applications for Radio & Television from Telos Infinity IP Intercom Systems, Jünger Audio AIXpressor Audio Processor, Omnia 11 Radio Processors, Axia Networked Quasar Broadcast Mixing Consoles and Linear Acoustic AMS Audio Quality Loudness Monitoring and 25-Seven TVC-15 Watermark Analyzer & Monitor. Telos Alliance offers audio solutions for any and every Radio, Television, Live Events, Podcast & Live Streaming Studio With Telos Alliance "Broadcast Without Limits."
Subscribe

If you love broadcast audio, you'll love Telos Alliance's newsletter. Get it delivered to your inbox by subscribing below!