Support Through the Years
Following some recent technical issues that required a call to Telos Alliance Support, iHeart Phoenix Chief Engineer Scot McDougal had a glowing review for our 24/7 Support team. Scot, a broadcast engineer who also owns and operates McDougal Broadcast Services, surely knows his way around the rack room. But when questions arise from time to time, he knows Telos Alliance Support will rise to the occasion.
"Recently we had a couple questions regarding our Telos Zephyr Xstream. It was easy to get ahold of somebody and our issues were resolved quickly." Scot says the experience was the same as always. "Whenever I've had a question about any of the Telos products, they've always answered it quickly and thoroughly....They're always very prompt. That's essential, because radio never sleeps."
Over the years, Scot has referred to Telos Alliance Support for everything from Telos phone systems to the Omnia.11, and Omnia.6 audio processors. Not long ago, he experienced some issues with the desktop call directors on the Telos TWOx12 phone system. The Support team suggested he send the unit in for repair, the call directors were replaced, and the TWOx12 was quickly shipped back to Phoenix. Scot was pleased with the quick turnaround. "They made the repairs and the TWOx12 was back on the air in a matter of days."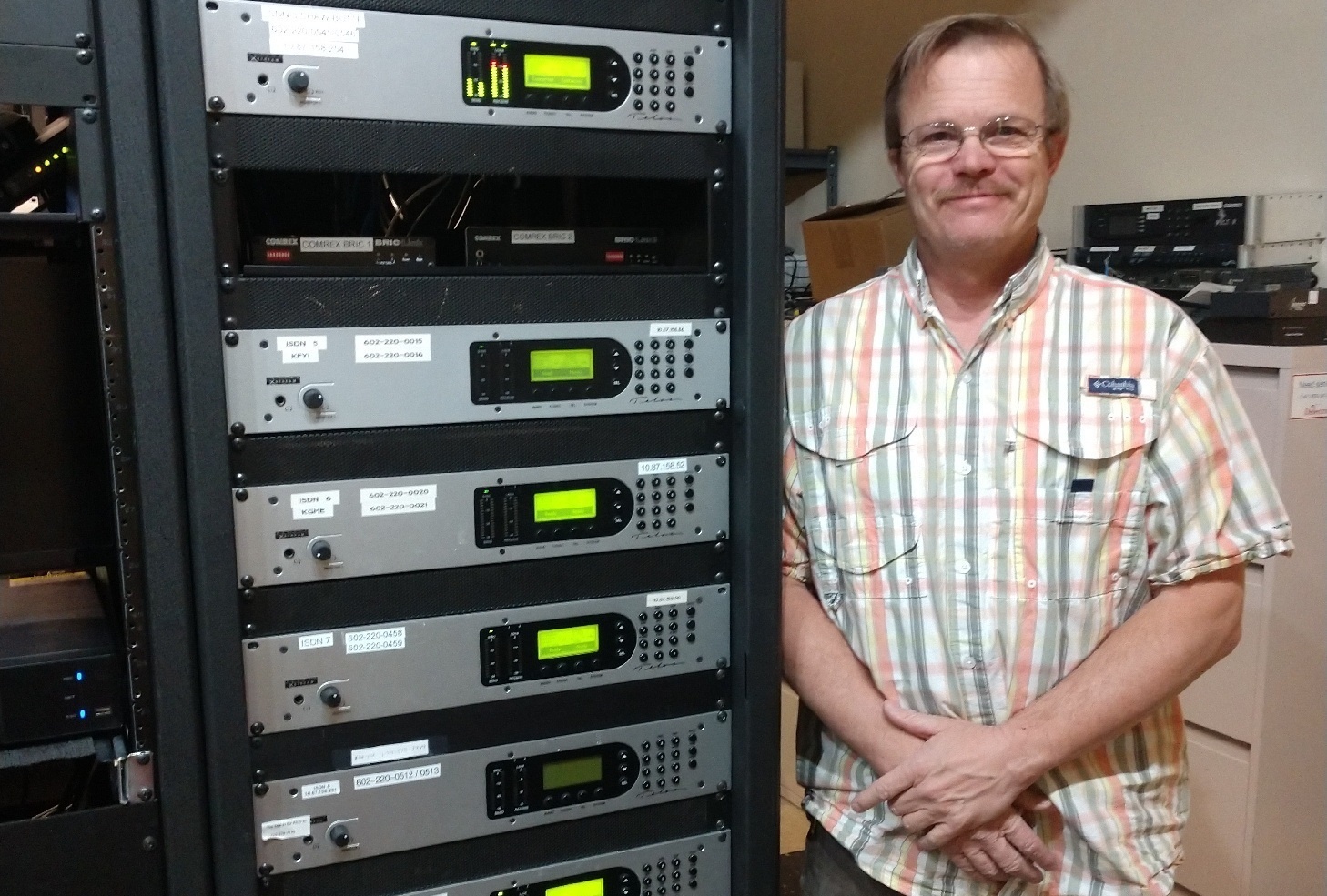 A broadcast engineer for more than 30 years, Scot has had opportunity to work with Telos Alliance Support on a number of occasions, and he's always been impressed. "Going back to the '90s, everyone always knew their products, and that seems to have been carried on. They know the products so thoroughly it makes it easy to deal with."
He points out that it's a reflection of the quality of the Telos Alliance family of products. "There seems to be a lot of attention to detail in features and functionality," he notes. "The reliability and ease of use is what makes Telos Alliance products stand out."
Of course, as much as Scot loves Telos Alliance products and support, not everything has always gone smoothly. We'd be remiss if we didn't admit that our team has occasionally had a hard time finding Scot in our customer database. "They always search for me by spelling my name with two Ts," he jokes. "They always ask to enter my information into the system and I think, 'Not again!' I finally realized the reason why so now I just say 'It's Scot with one T' so they can find me more easily."
Despite that bump in the road, Scot says no matter the reason for the call it's always been the same experience when reaching out to Telos Alliance Support. "It's easy to get ahold of somebody and either they have the answer or they can get it quickly. It's consistent across the board," he states. "It makes working with Telos Alliance equipment easy, knowing the Support team is always going to be there."
You Might Also Like
5 Tips to Rock Your Support Experience
Telos Alliance has led the audio industry's innovation in Broadcast Audio, Digital Mixing & Mastering, Audio Processors & Compression, Broadcast Mixing Consoles, Audio Interfaces, AoIP & VoIP for over three decades. The Telos Alliance family of products include Telos® Systems, Omnia® Audio, Axia® Audio, Linear Acoustic®, 25-Seven® Systems, Minnetonka™ Audio and Jünger Audio. Covering all ranges of Audio Applications for Radio & Television from Telos Infinity IP Intercom Systems, Jünger Audio AIXpressor Audio Processor, Omnia 11 Radio Processors, Axia Networked Quasar Broadcast Mixing Consoles and Linear Acoustic AMS Audio Quality Loudness Monitoring and 25-Seven TVC-15 Watermark Analyzer & Monitor. Telos Alliance offers audio solutions for any and every Radio, Television, Live Events, Podcast & Live Streaming Studio With Telos Alliance "Broadcast Without Limits."
Topics: Telos Alliance 24/7 Support
Subscribe

If you love broadcast audio, you'll love Telos Alliance's newsletter. Get it delivered to your inbox by subscribing below!