Telos Alliance Welcomes Justin Gelske as Marketing Coordinator | Telos Alliance
By The Telos Alliance Team on Mar 7, 2019 4:41:38 PM
Telos Alliance Welcomes Justin Gelske as Marketing Coordinator
Do you ever wonder who the face is behind our social media efforts? Then meet Justin Gelske, our new marketing coordinator! We sat down with him to get to know a little bit about him, and invite you to do the same. Welcome Justin!
Where did you grow up? Where did you attend college? What did you study?
I grew up in Strongsville, Ohio, and went to school at Kent State University, where I achieved my Bachelor's of Business Administration in Managerial Marketing.

What industries have you worked in before?
I have worked in several different industries in the past, covering everything from data recovery, to windows and doors, to clothing, to beer!

What attracted you to the Telos Alliance marketing team?
What attracted me to the marketing team here is how interconnected everybody is. Everything here is a complete team effort and the people here are genuine. You can't really ask for anything more.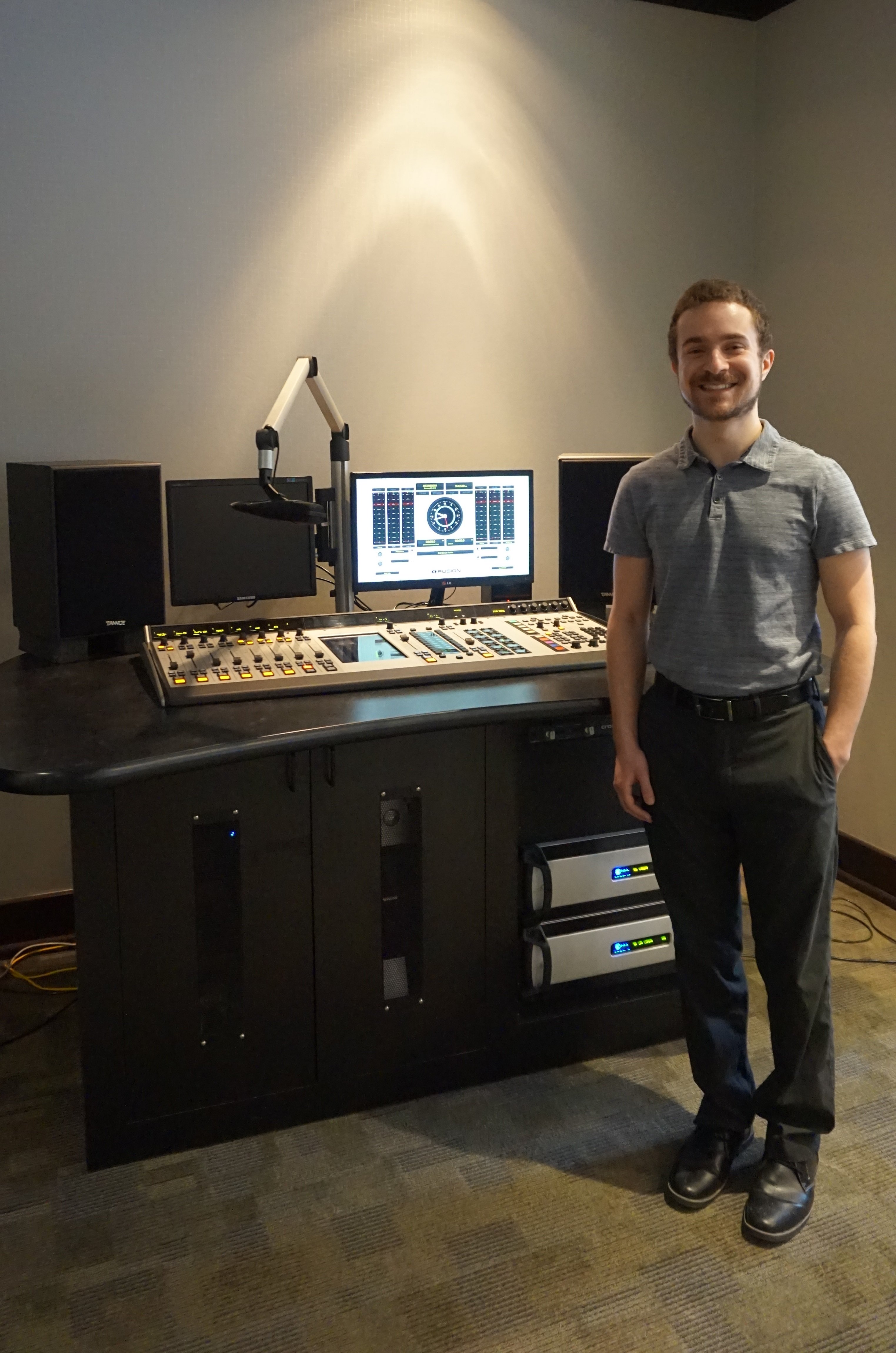 What is your favorite radio station to listen to? As a millennial, do you find that you are listening more to streaming/podcasts? If so, what?
My favorite radio station is definitely 100.7 WMMS here in Cleveland. I've always had a love for rock music and I really enjoy The Alan Cox Show when I need a laugh. As far as music goes, I do typically stream it, but I'm in the minority when it comes to podcasts. I don't really have any that I'm actively listening to, so if you have any suggestions, definitely let me know!

Like many of us at the Telos Alliance, you have a love of music. Tell us about that? What kind of music do you like and play?
Music has always been one of the most important things in my life. I started playing drums when I was 10 years old, and I eventually picked up the guitar and some piano by the time I was in high school. I listen to (and play) music all across the board. You can find just about anything on my music playlists. While rock and metal music are generally my favorite, going from Avenged Sevenfold, to Kendrick, to Zac Brown Band, to Post Malone, to Ed Sheeran is a pretty regular occurrence.

When you aren't working, you're...
When I'm not working, I spend a lot of time writing music (go figure). I'm currently working on an album where I'm going to play all of the instruments (including vocals), so working on designing artwork/logos, trademarking a name, developing a Kickstarter campaign, etc. take up a lot of my time. Besides that, I love going out to new bars and restaurants, going to concerts, traveling, playing basketball, and hanging out with friends. Catch me at your local karaoke bar.

What is your favorite sports team?
I'm a Cleveland sports fan for life. I'm partial to the Cavs since basketball is my favorite sport. Having LeBron James back those last few years really reignited my love for basketball and the NBA as a whole. I'm really excited about the future for the Browns, as well. It's about time!
Any family details?
I grew up with both of my parents and a younger brother, Jereme. My parents have been together for close to 30 years. My brother just recently moved to Atlanta, where he accepted a job at a VFX company that works on some of the biggest movies in the industry. We're all pretty close.
Anything you'd like to add?
I just want to say that I'm really excited to be a part of the Telos Alliance family. Everyone here has been so open and inviting, and I'm really looking forward to the future that we're going to create. Cheers.
YOU MIGHT ALSO LIKE
Telos Alliance Welcomes Lindsay Fogle as Trade Show Manager
Telos 24/7 Support Welcomes Devin Higgins
Telos Alliance has led the audio industry's innovation in Broadcast Audio, Digital Mixing & Mastering, Audio Processors & Compression, Broadcast Mixing Consoles, Audio Interfaces, AoIP & VoIP for over three decades. The Telos Alliance family of products include Telos® Systems, Omnia® Audio, Axia® Audio, Linear Acoustic®, 25-Seven® Systems, Minnetonka™ Audio and Jünger Audio. Covering all ranges of Audio Applications for Radio & Television from Telos Infinity IP Intercom Systems, Jünger Audio AIXpressor Audio Processor, Omnia 11 Radio Processors, Axia Networked Quasar Broadcast Mixing Consoles and Linear Acoustic AMS Audio Quality Loudness Monitoring and 25-Seven TVC-15 Watermark Analyzer & Monitor. Telos Alliance offers audio solutions for any and every Radio, Television, Live Events, Podcast & Live Streaming Studio With Telos Alliance "Broadcast Without Limits."
Topics: Telos Alliance, Marketing, Team
Subscribe

If you love broadcast audio, you'll love Telos Alliance's newsletter. Get it delivered to your inbox by subscribing below!