Telos 24/7 Support Welcomes Devin Higgins
At Telos Alliance, our 24-Hour Support Team is here to serve you every day should you need assistance. But sometimes, it's nice to know who you're talking to on other end of the line. We took a few moments to sit down with Devin Higgins, who joined the Telos Alliance 24/7 Support Team in March, to get to know a little bit more about his diverse broadcast background. Here's what he has to say about the future of radio, news media, and the recipe for great support.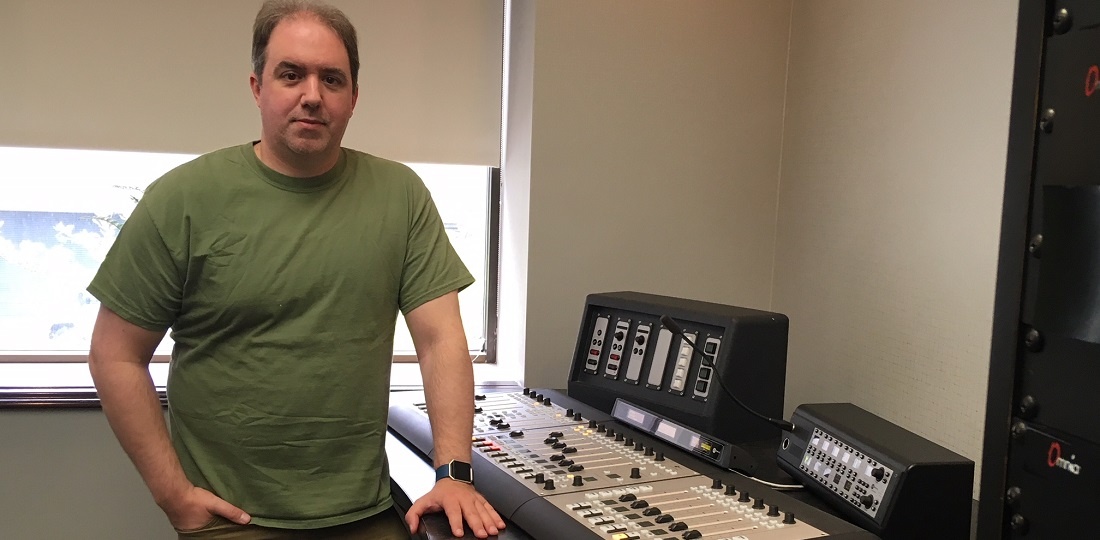 Welcome to Cleveland! What are your thoughts on Greater Cleveland so far?
I am a born-and-raised Bostonian, and I ask that that not be held against me. I've been in Cleveland for a few months and it has a lot of similarities to Boston when it comes to neighborhoods, culture, ethnicity, diversity, and history. It also can't make up its mind where winter ends and spring begins, so they share that too.
How did you get into broadcasting?
I started out in radio broadcasting in Portland, Oregon, as an intern for ESPN Sports Radio 1080AM 'The FAN.' After I got my journalism/media degree, they hired me on as a producer and on-air talent, and I spent five years there producing local and national radio content every day.
Where engineering came into it was mainly in terms of troubleshooting whenever technical snafus arose. I got my introduction to Telos Alliance equipment, as well as support maestro Jeff McGinley, on those days where no one else was available to make sure the programming remained on the air.
What attracted you to the Telos Alliance Support team?
I had been working in Boston as a copy editor for the Boston Herald when I suddenly found myself out of a job a few weeks prior to the Herald's ownership declaring bankruptcy.
After 10 years of trying to build, sustain, and advance my career in an industry that seems to be consuming itself, I realized it was time to shift into another sector. Fortunately for me, Telos was looking for someone to step in and help with customer support and the opportunity to remain in the media industry, albeit on the other side of the spectrum, with a company specializing in bleeding-edge production technology was an appealing prospect.
How do you define quality support / customer service?
My approach may seem simplistic to some, but at its core, customer service means identifying the problem, solving it in the most efficient way possible, and making sure the customer is satisfied that their needs were met. Having worked in various support roles over the years, you'd be amazed how many companies either overthink that equation or don't figure it out.
"Customer service means identifying the problem, solving it in the most efficient way possible, and making sure the customer is satisfied that their needs were met. Having worked in various support roles over the years, you'd be amazed how many companies...overthink that equation..."—Devin Higgins, Telos Alliance Support
What do you see as the biggest challenge facing radio broadcasters today?
After a decade in the broadcasting business, there's a whole lot of challenges I see in the industry, but the primary one is curbing the turnover of both talent and engineering staff.
When I was in college, my media professor warned me about getting into radio vs. television or even print media, saying that even before the onset of the Great Recession, it was a dying culture. Once I got into it, I began to see that firsthand with on-air talent being swapped out at an exponential rate every year and engineers becoming an endangered species due to a lack of younger stock taking the place of older veterans who were ready to retire.
I realize it's a complex equation involving budgets, ratings, advertising, automation, technological advances, etc., so there's no easy answer that'll solve everything. But until station ownership recognizes the reality that both talent and engineers have to be cultivated and developed, then in the next five to 10 years, we may see markets closing stations down because no one has the interest and/or experience to be in radio anymore.
What is your favorite local radio station?
Though I'm still new to Cleveland, I'm partial to WMMS because without their discovering a three-piece band out of Canada in the mid-70s, I wouldn't have become the lifelong Rush fan that I am.
When you are listening to the radio, what will you always turn off?
I have no interest in political talk radio because, having been a journalist for as long as I was, I know how that proverbial sausage gets made. It ain't pretty. I do catch the New York Times podcast 'The Daily' every morning, as it offers as close to non-editorialized news as you can find in a program these days, but that's about it.
On the music front, I find I don't have much of an ear for 21st Century pop music by comparison to what came out from the 1960s-1990s. To me, the greater majority of current music is overmodulated, autotuned and very cookie-cutter in both sound and design.
What do you turn up?
The playlist on my iPod, which consists of more than 600 tracks ranging from Miles Davis and Dave Brubeck to Pink Floyd, Rush, Queen, Bowie, Billy Joel, the Police and almost every '80s track I grew up with.
I regret nothing.
When you aren't working, you're...
Playing games, creating video essays or recording podcasts, reading books, watching movies, petting cats, sweating at the gym, or I'm out and about with my camera trying to find cool things to photograph.
What is your favorite sports team?
Being a native New Englander, I proudly hang the banners of Red Sox, Celtics, Bruins, Patriots and Boston College Eagles.
Any family details?
My 7-year-old son, Daniel, lives back in Portland, OR, and he LOVES trains, so when I told him that our esteemed executive chairman Frank Foti likes them so much that he owns one, Danny started asking me and his mother when he can come to Cleveland to take a ride on it.
Anything else you'd like to add?
I'm very grateful for the opportunity to join a company like the Telos Alliance, and I'm looking forward to what comes next for this chapter in my life. Cheers!
You Might Also Like...
For tips from Devin's new colleagues, check out these posts, each from a different member of the Telos Alliance 24/7 Support team:
5 Tips to Rock Your Support Experience
Thunderstorm Season (Yes, That's a Thing)
Jake's Take: The Importance of Documentation and Backups
Get Your Signature Sound with Omnia.11
Telos Alliance has led the audio industry's innovation in Broadcast Audio, Digital Mixing & Mastering, Audio Processors & Compression, Broadcast Mixing Consoles, Audio Interfaces, AoIP & VoIP for over three decades. The Telos Alliance family of products include Telos® Systems, Omnia® Audio, Axia® Audio, Linear Acoustic®, 25-Seven® Systems, Minnetonka™ Audio and Jünger Audio. Covering all ranges of Audio Applications for Radio & Television from Telos Infinity IP Intercom Systems, Jünger Audio AIXpressor Audio Processor, Omnia 11 Radio Processors, Axia Networked Quasar Broadcast Mixing Consoles and Linear Acoustic AMS Audio Quality Loudness Monitoring and 25-Seven TVC-15 Watermark Analyzer & Monitor. Telos Alliance offers audio solutions for any and every Radio, Television, Live Events, Podcast & Live Streaming Studio With Telos Alliance "Broadcast Without Limits."
Topics: Telos Alliance 24/7 Support
Subscribe

If you love broadcast audio, you'll love Telos Alliance's newsletter. Get it delivered to your inbox by subscribing below!