Leif's Got Something Up His Sleeve for IBC 2017!
By Krissy Rushing on Sep 7, 2017 11:38:25 AM
Audio processing guru Leif Claesson may have been quiet the last several months, but that's only because he's been extremely busy making Omnia processing better than ever. And he's definitely got something up his sleeve for Omnia at IBC 2017.
For those of you who don't know Leif, he has been a part of the Telos Alliance family for 14 years. His many accomplishments include various proprietary technologies incorporated into the products of Telos Alliance's Linear Acoustic, the worldwide leader in television loudness control, as well as Omnia products with the creation of the popular Omnia.9 audio processor, the Omnia.7 line of audio processors, and the Omnia.9sg stereo generator. Leif also contributed to the Z/IPStream 9X/2 streaming software. All of these products include acclaimed features created and engineered by Leif. He designed Omnia's proprietary "Undo" technology, which removes distortion from poorly mastered source material. His legendary Psychoacoustically Controlled Distortion-Masking Clipper restores life to music, adding extra loudness and further reducing distortion.
Here, I sit down with Leif to get his take on some of the upcoming reveals he'll be making at IBC 2017 in this short Q&A.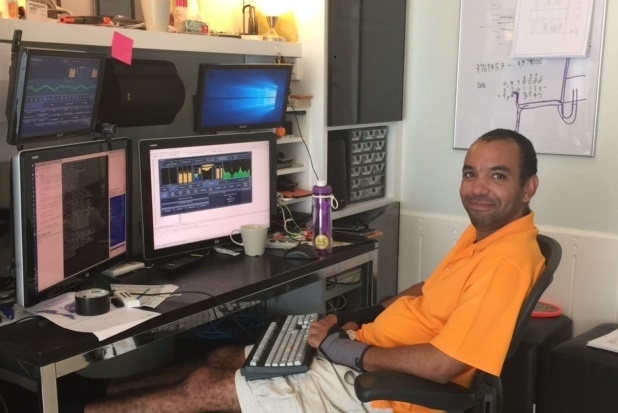 Leif in his home lab in Hua Hin, Thailand
How many times have you been to IBC?
It's got to be my fifth time, at least. Not as many times as I've been to NAB, for sure. It will be good to be back in Europe!
What do you expect from this year's IBC, and what can visitors to the Telos Alliance stand expect from you?
I don't get a whole lot of time away from the booth, and this is probably because, of course, I'm always showing something new and there are always people coming to look at things. This year is no exception. We've got a major update to the Omnia.9. It's the biggest update so far . . . We have so many new features, including Livewire+ AES67 support, but in particular, a brand new clipper.
We're replacing my clipper with processing developer Hans van Zutphen's, which is an improvement in both audio quality and offers a decrease in latency. So it's a no-brainer. That's why I went for it. When the 9 was first introduced, it was revolutionary in terms of how clean it could sound . . . the audio would remain pristine, even when you were pushing for loudness. Nothing else came close. But Hans' clipper takes that even further.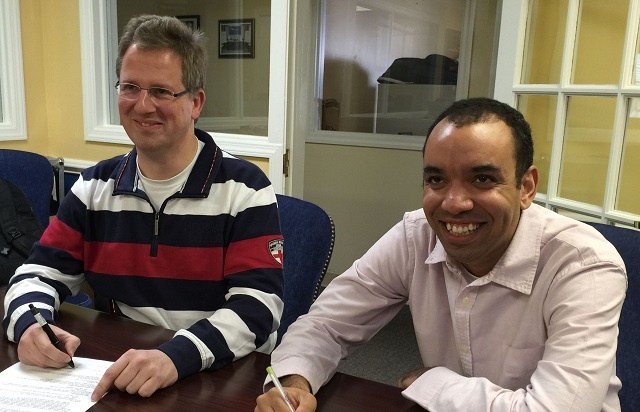 Hans van Zutphen and Leif Claesson collaboration brings the best of both worlds to Omnia.9.
So rather than competing, I realized that there are certain things that I do better and certain things that Hans does better, so by cooperating on the Omnia.9 now, you have the best of both worlds and we're not reinventing each other's wheels.
How significant are the updates to the clipper?
The new clipper cuts the total latency through the box in half. It's half a second versus one second. And it's even a little bit cleaner, especially when pushed beyond where it probably should be pushed. That's when you'll notice the difference between the previous clipper and the new clipper. Let's put it this way. If I set the 9 up previously, then you probably wouldn't hear the difference with the new clipper because I would never push it hard enough to where the difference becomes apparent on the air. But for those that do, and certainly many customers do, then this will be a major improvement.
IBC is a truly international show. How is Omnia at the forefront of processing from an international standpoint?
Well, that's a hard one. Because the 9 hasn't changed that much since it was introduced, but then again, neither has anything else. The 9 was way ahead of the curve when it was first released, in that it contains an 'unprocessor' to undo some of the damage done in mastering so you can start with a cleaner signal and bring detail back into the music. In the 9, maintaining that detail with competitive loudness was better than ever was possible before.
In Europe, loudness wars are kind of a thing of the past as one by one, countries are adopting the ITU BS.412 recommendations. The last country to do so was Sweden, which did it just this year, I believe. And suddenly they're noticing a huge uptick, like a major improvement in ad sales for commercial radio since they adopted ITU BS.412 and drastically reduced modulation. So now suddenly you can hear that radio sounds OK again.
France, England, Netherlands have not adopted ITU BS.412 yet, and I don't think Belgium has either, nor Spain or Italy. Once you have the BS.412 regulations, it means you can't be louder than any other station because you can't fool a power meter the way you can fool a peak meter by clipping.
Because you can't fool a power meter, all that remains is the texture of the audio. And this is important because other manufacturers in Europe process audio the same way they always have and then reduce the level after the clipper, which is completely backwards. Because it means that you will have imposed these completely arbitrary peak restrictions on the audio, essentially beating the audio to smithereens, and then reduce the level of it so it doesn't go over power.
The basic design philosophy of the 9 fits much better with the BS.412 regulation because it's always tried to create a punchy, clean, and dynamic soundstage, which fits very well into multiplex power limiting, because then you end up sounding better than if you were pushing for loudness, instead of just sounding quieter.
So I guess the world is catching up with the 9 in a good way, where more and more of the features that have always been there are coming to fruition and becoming useful.
We didn't invent the BS.412 scheme, of course, but we are unique in how we handled it, and how the processing works to tailor audio for it.
What makes Omnia different from the other leading brands of audio processing?
We're doing what makes sense. We're listening and we make sure that what we're doing works and actually sounds good, and if it doesn't we go back to the drawing board.
"We're doing what makes sense. We're listening and we make sure that what we're doing works and actually sounds good, and if it doesn't we go back to the drawing board."

—Leif Claesson
Are there any other features you're working on for the Omnia.9?
Well, let's see . . . µMPX (Micro MPX) support, which is kind of a big deal. Traditionally, to get the cleanest, best, biggest sound on the air, you have to have a lot of the processing—the entire clipper—at the transmitter sites, as in you could do it by putting your main processor at the transmitter site or you could use something like an Omnia.9sg at the transmitter site. But if you put the Omnia.9 at your studio without having a proper link to the transmitter site, then you lose loudness, you lose on-air presence.
µMPX is a way of moving as much as possible away from the transmitter sites while using a minimal amount of network bandwidth to transport the signal to get to the transmitter sites.
For example, if you were to transport a pure composite signal, you'd be using something like 2 megabits of internet bandwidth. µMPX can do the job with around 400 kilobits instead. So it's a way of reducing the data of a composite signal so that you can leave your processor at your station without losing anything from it. So now the Omnia.9 becomes the first hardware processor that can generate that signal.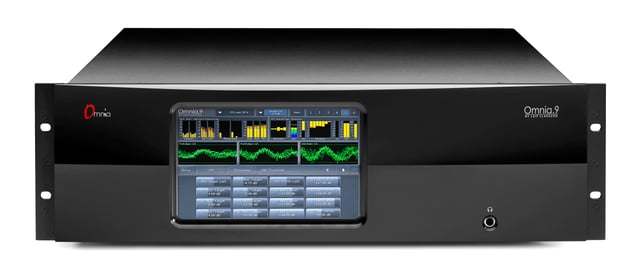 Omnia.9
Any other plans for the 9?
Well, we now support Shoutcast 2. Previously we supported only Shoutcast 1 and Icecast 2. The new streaming engine supports Shoutcast 2 as well. It also supports FLAC lossless streaming. AM stereo has never been a big thing, so I omitted it from Omnia.9AM previously, but you better believe some people wanted it. So it's in there.
How did you get into audio processing?
I never had a broadcast background. I got into it as a teenager after I heard what certain commercial radio stations in my hometown sounded like and figured I could do better. That was about it. And I didn't have any resources or know anyone, but I did have a computer and I knew how to program. So I used the tools at hand. And writing audio processing algorithms on CPUs turned out to be the way of the future. Obviously, I didn't know that at the time, it was just what I had available. I got started because it seemed like fun.
How long have you been in Thailand and what's it like working and living there?
I've been here 10 years now. My 10-year anniversary passed without fanfare. I realized that I'm 39 years old now and I was 29 when I first moved here. It just occurred to me one day that wow, I've been here for a while!
Overall, it's great. It really helps productivity that I'm 12 time zones away from Cleveland and Lititz, because my phone doesn't ring during the day. When I wake up there are some emails from the day before to answer, but then I can work all day. Late in the evening is when I get responses and can have live phone conversations. When I take a break and step outside, I'm in Thailand. I'm only a couple of miles from the ocean and I've learned the language fluently, and so I can talk to anyone and everyone. You've got to live somewhere, so why not here?
So when you aren't working, what are you doing?
Mostly spending time with my dogs. You know, hanging out with friends, I listen to a lot of music, and I travel occasionally. But really, most of my time is spent working because I love what I do, so it's difficult to put it down.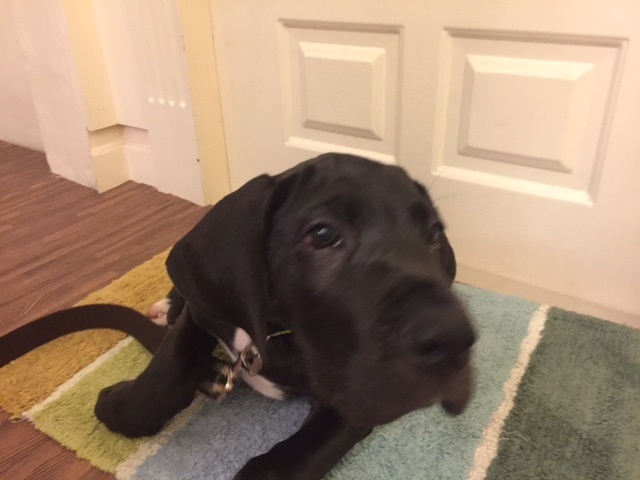 One of Leif's two Great Danes fights for camera time.
If you love what you do, that's a bonus. But it'll be time to travel soon. You'll be making the trek from Thailand to the Netherlands for IBC, so anyone who's curious about the Omnia.9 updates can check them out and hear them for themselves.
Absolutely. And there is more to come, some other developments that we can't talk about just yet. Being a part of such an innovative company as the Telos Alliance gives me the opportunity to create the best possible audio processors broadcasters can buy. I hope everyone will come by the Telos Alliance stand 8.D47 at IBC and see the Omnia.9 developments, which will be ready sometime after IBC, and get a sneak peek at some other exciting projects! I'm thrilled to be back at IBC!
Further Reading
To learn more about Omnia.9, check out these blog posts:
The Telos Alliance at IBC 2017
The Seaworthy Streamin' Sound of Omnia.9
Omnia.9 Undo - A Cease Fire in Radio's Loudness Wars
Telos Alliance has led the audio industry's innovation in Broadcast Audio, Digital Mixing & Mastering, Audio Processors & Compression, Broadcast Mixing Consoles, Audio Interfaces, AoIP & VoIP for over three decades. The Telos Alliance family of products include Telos® Systems, Omnia® Audio, Axia® Audio, Linear Acoustic®, 25-Seven® Systems, Minnetonka™ Audio and Jünger Audio. Covering all ranges of Audio Applications for Radio & Television from Telos Infinity IP Intercom Systems, Jünger Audio AIXpressor Audio Processor, Omnia 11 Radio Processors, Axia Networked Quasar Broadcast Mixing Consoles and Linear Acoustic AMS Audio Quality Loudness Monitoring and 25-Seven TVC-15 Watermark Analyzer & Monitor. Telos Alliance offers audio solutions for any and every Radio, Television, Live Events, Podcast & Live Streaming Studio With Telos Alliance "Broadcast Without Limits."
Topics: Omnia.9, IBC 2017, Leif Claesson
Subscribe

If you love broadcast audio, you'll love Telos Alliance's newsletter. Get it delivered to your inbox by subscribing below!