New World of AoIP a Welcome Change at KCPR
By Dave Sarkies on Aug 2, 2017 12:00:00 PM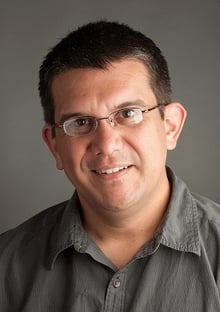 Having spent a majority of his career on the TV side of the broadcast industry, when Thomas Morales moved into the role of Broadcast Engineer for KCPR radio and Cal Poly TV (CPTV), a non-FCC licensed cable TV station at Cal Poly-San Luis Obispo in 2012, he hadn't worked in an AoIP facility. But as a part-time emergency hire brought on to maintain both stations while filling in for a staffer on sabbatical, Thomas quickly learned the benefits of AoIP. Once he did—and the job became full time—he was grateful to be in an all-Axia facility.
"The majority of my career had been spent in broadcast television. I had my hand in just about everything, from the creative side to news to engineering and technical, but I hadn't done radio since my college days. When I graduated in 1996, we were still learning how to splice audio tape," Thomas jokes. "My frame of reference for radio was still analog plants with massive cabling and a web of patch bay wires. Coming to Cal Poly and KCPR was a real eye-opener in terms of how modern a radio station could be."
The world of source and console profiles, creating and deleting sources and destinations, virtual mixers, and automated stack events was entirely new and forced Thomas to think differently. "Once I got over the hump of learning the virtual world of source routing and selection, it all made sense… Why would anyone want to have a patch bay anymore when they could configure and route whatever they needed from their desk? And the desk could be anywhere in the world!"
Five years earlier, Thomas wouldn't have been too far off in his expectations. Prior to 2007, KCPR was a completely analog plant with various vintages of gear from a wide variety of manufacturers. After experience a slew of problems that come with an aging hodgepodge of gear, an effort was made to modernize. The first step was moving into new, custom-built studios. Next, Milos Nemcik—a Cal Poly contractor at the time and an alum who's now an Axia engineer—saw what was to be the future of radio broadcast facilities, and the forward-looking decision was made to ditch traditional analog and move to Audio over IP with Axia.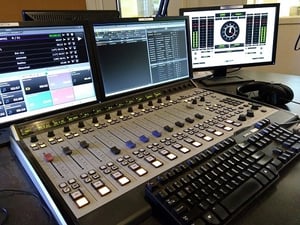 All the Axia gear at KCPR when Thomas came on board was purchased for the relocation in 2007. After he came on five years later, he quickly realized how much simpler his job would be as a result. "AoIP just makes things much easier to manage and is flexible to meet just about any need you could have," he notes. "With the consoles, you're not just stuck to maybe two sources per fader. Need that remote on one fader? Done! Need the VMix from the automation on another? Done!"
But as with all gear, it's good practice to replace critical infrastructure items with new, updated versions when you can. In January, Thomas made a switch to replace an older analog node. "The node was functioning just fine after 24/7 operation for over 10 years, feeding our STL with great, clean audio," he points out. "However it had begun to show signs it wanted to retire, so I replaced the still-functioning, venerable node—which is the critical node in our air chain—with a new Mixed Signal xNode. In doing so, I was able to update the signal path to be completely AES digital up to the STL, something that had been analog in the past."
As with all Axia gear, configuration was straightforward. "I set up my sources and destinations exactly as the old analog node, then set the IP address identical to the old one." This last step is optional, but Thomas had his IPs memorized, so it was easy to get in and configure things. "Once I had all the parameters set in the new xNode, it was a matter of pulling the power from the old unit, applying it to the new one, and moving over the network and audio connections. Total off air time was less than 30 seconds. If I had made the option to give it new source and destination assignments, and a new IP address, the off-air time would have been less than that—just a matter of moving the cable from one node to the other.
The simplicity makes Tom a big Axia fan. But at KCPR, they don't just love Axia; they've got a full complement of Telos Alliance gear, including the following: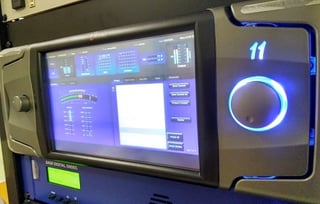 Everything runs out of an Axia-approved Cisco switch, with a hot swap Cisco switch standing by in case one fails. They also use the Axia IP audio driver on multiple machines throughout the facility, including their automation system. Thomas says it "simply works."
"All of our Axia and Telos equipment has worked flawlessly. The only issues I've had have been yours truly—operator error!" But Thomas knows he can rely on Telos Support if there's ever an urgent need. "Being broadcasters themselves, they get exactly what I'm going after and guide me quickly to a solution," he notes. "I wouldn't be me without them!" Thomas admits though that he has a slight advantage with one of the Axia engineers right there in San Luis Obispo. "When my back is really up against the wall, I have an ace in the hole ready to bail me out!"
"Once I got over the hump of learning the virtual world of source routing and selection, it all made sense… Why would anyone want to have a patch bay anymore when they could configure and route whatever they needed from their desk?"

—Thomas Morales, KCPR Engineer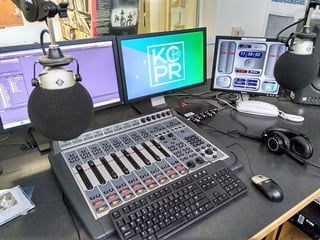 KCPR 91.3 FM is a completely student-run radio station; a learning laboratory that's part of the Journalism Department at Cal Poly. Known for being on the cutting edge of college radio, the station has moved beyond being just a radio station over the years, branching out into multimedia content, producing a quarterly magazine, and featuring regular, in-studio performances that are broadcast live via both audio and video.
With their 50th anniversary coming up next year, Thomas is confident the Telos Alliance will be around to help them celebrate the historic event, and for many years to come. "Axia Audio and the Telos Alliance really are the future of broadcast audio. Livewire marries all the disparate parts of radio broadcasting and it all coalesces into a beautiful system that has the flexibility, ease of use, and familiarity that is expected of a broadcast radio facility. No rigging, no patching, no Rube Goldberg solutions. Just plug a network cable in, do some configurations, and you're on the air."
Further Reading
For more stories of AoIP studios, check out these blog posts:
Problem-Free Studio Build a Different Experience
Spokane Public Radio Sets AoIP on Fire
Topics: Audio over IP, aoip, AoIP networking
Subscribe

If you love broadcast audio, you'll love Telos Alliance's newsletter. Get it delivered to your inbox by subscribing below!