Omnia Provides Xtra Listener Satisfaction
When the owner of Spain's XtraFM 92.7 decided to sell, he wanted the buyer to be someone with 'Radio DNA'—someone familiar with the industry who really cared about the station, and wouldn't buy it simply as a money-making venture. Otherwise he was going to take it off the air. Enter Patrick van den Hoek, broadcast engineer at XtraFM for seven years. When the offer to buy the station was extended, Patrick didn't have to think it over for too long.
As a fan of XtraFM and having been involved in radio in some form or other since childhood, including at the Netherlands' WILD FM Hitradio, Patrick cringed at the idea of the station going dark, so along with his business partner Joep Maenen, he jumped at the chance.
Being already familiar with Costa Blanca's Feel Good Music station, Patrick's only concern was with the processing. With previous processors we had problems with female vocals, pianos, saxophones, and other difficult to process sounds. Voices sounded like mud and there was no solution."
So Patrick talked with a friend, Max Pandini, an Audio Designer for several European radio stations, who recommended the Omnia.11. Though he tried several processors, for Patrick, the choice quickly became clear. "Only the Omnia.11 sounded like high-definition radio," he says. "With the Omnia.11 in combination with the Omnia.9SG at our transmitter site, we no longer sound crackly or over-compressed. The clarity and punch in the on-air sound is back."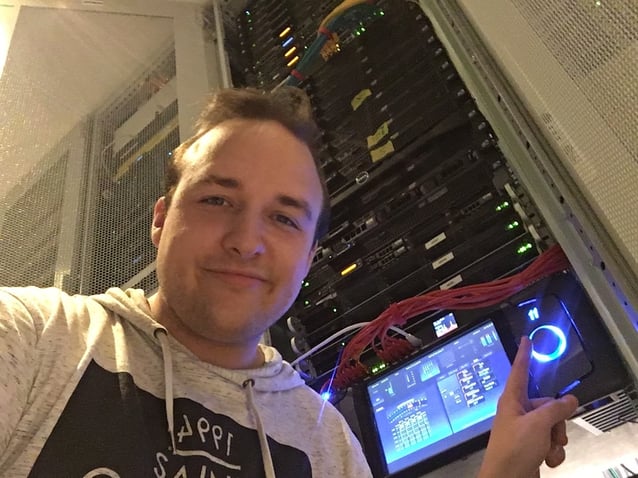 Patrick shows off the Omnia.11 at XtraFM
Patrick says the overall sound of the station is greatly improved. "We've achieved an open and consistent on-air sound with the Omnia.11. It handles music from the '70s to the present and eliminates the listener fatigue that comes with other processors. Music comes to life, as it should."
He adds the clipping and compression many European broadcasters do isn't necessary with the 11. "European broadcasters want loudness, but with other processors, loudness comes with less quality. That's where the power of the Omnia.11 comes in; it stays clean when you want to burn a hole in the dial. You don't have to squeeze all the dynamics out of the source material."
"That's where the power of the Omnia.11 comes in; it stays clean when you want to burn a hole in the dial."

—Patrick van den Hoek, Owner & GM, XtraFM
After only about six months on the air with the Omnia.11, XtraFM is seeing positive results already. The station has surveyed listeners about the format and sound, and while previous surveys showed an average score of 6 out of 10, the latest surveys show an average score of 9 out of 10. Additionally, recent ratings showed XtraFM at #3 in the Costa Blanca Area, and Patrick is hopeful the 11 will help the station move to #2 spot or #1 spots. "Listeners have commented that we sound better, and that's great."
XtraFM recently added a repeater on 88.4 in Calpe-Denia in the North of Spain on 88.4 to increase their listening audience, though even before this, the Omnia.11 helped to enhance their signal in the mountainous areas closer to Costa Blanca.
In addition the Omnia.11, XtraFM is using Z/IPStream 9X/E streaming audio software, included with the Z/IPStream 9X/2. Patrick says bandwidth is a big issue in Spain, but with 9X/E, they're able to sound HD on lower bitrates.
What's more than just the great sound with Omnia, Patrick used Livewire to resolve an issue with an old STL device to connect the transmitter site. "It's really stable," Patrick notes. "No more buffering or restarting of devices stuck on an error!"
And Patrick knows that should there ever be a concern, he can count on the Telos Alliance team. "I sent an email to Support regarding a technical issue at about midnight Cleveland time, and I got response in seven minutes! That's remarkable."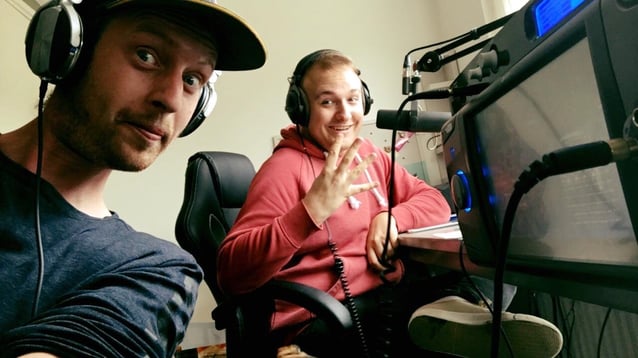 Patrick and fellow engineer Dirk van Ewijk test Omnia.11 presets
But it's not just his Support experience he's so impressed with—it's the whole ball of wax. "The way the Telos Alliance does business, it's like you're talking to a friend. They talk with so much passion about their products—you can tell they really believe in what they do. That says something about the product and the company behind it."
This passion has turned Patrick into a believer too. "I believe in Omnia. The music sounds great!"
Further Reading
To learn more about Omnia in Europe, check out these stories:
Omnia.9sg Sounds Harder in Tilburg
The Seaworthy Streamin' Sound of Omnia.9
Bringin' the Funk (to Germany) with Omnia Audio
Telos Alliance has led the audio industry's innovation in Broadcast Audio, Digital Mixing & Mastering, Audio Processors & Compression, Broadcast Mixing Consoles, Audio Interfaces, AoIP & VoIP for over three decades. The Telos Alliance family of products include Telos® Systems, Omnia® Audio, Axia® Audio, Linear Acoustic®, 25-Seven® Systems, Minnetonka™ Audio and Jünger Audio. Covering all ranges of Audio Applications for Radio & Television from Telos Infinity IP Intercom Systems, Jünger Audio AIXpressor Audio Processor, Omnia 11 Radio Processors, Axia Networked Quasar Broadcast Mixing Consoles and Linear Acoustic AMS Audio Quality Loudness Monitoring and 25-Seven TVC-15 Watermark Analyzer & Monitor. Telos Alliance offers audio solutions for any and every Radio, Television, Live Events, Podcast & Live Streaming Studio With Telos Alliance "Broadcast Without Limits."
Topics: broadcast audio processor
Subscribe

If you love broadcast audio, you'll love Telos Alliance's newsletter. Get it delivered to your inbox by subscribing below!