Telos, Axia a Ray of Light for Virginia Broadcast Engineer
By Dave Sarkies on Aug 23, 2017 9:15:00 AM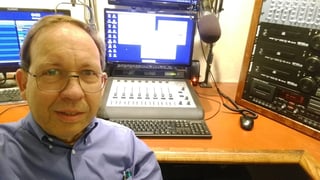 Ray Lenz is a Senior Radio Engineer for WHRV / WHRO, NPR affiliate stations in Norfolk, VA. With an extensive family of repeaters across the region, the stations serve Eastern Virginia with NPR programming and a variety of music on WHRV, and classical music on WHRO. A consortium of local school districts own and operate the stations, along with a TV station.
Though he'd been a Telos Zephyr user for some time, when a studio was added in Williamsburg and the possibility arose of remote broadcasts from the new facility—and with the phasing out of ISDN—Ray turned to the Telos Z/IP ONE for remote broadcasts from the Williamsburg studio or otherwise originating outside Norfolk. "We hit the button on the Z/IP ONE and voila—the remote is on the air," says Ray. But while it's great the Z/IP ONEs come in handy for remote broadcasts, Ray explains that his bevy of Z/IP ONEs are used for a variety of purposes - one of them a somewhat ingenious purpose.
"One of our classical music announcers at WHRO lives in the William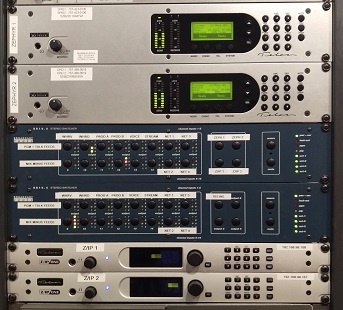 sburg area," Ray says. "He's semi-retired, and with the Z/IP ONE is able to do his show from our Williamsburg studio. We've set up an extension of our Rivendell automation system up there, and he can do a complete radio show—and he does—playing classical music back to the Norfolk studio, all over the Z/IP ONE. His wife says since he's just going to sit around and listen to classical music anyway, he may as well get paid for it," Ray jokes. "He loves doing it, and the listeners can't tell he's not in the Norfolk studio."
Ray says he chose AAC for its ability to carry metadata for the GPIO signals on the Z/IP ONE because he wanted to be able to select what he was listening to. To achieve this, he built a button panel that's connected to the GPIO, which sends a signal to the studio to play specific program content. This works great for the announcer in Williamsburg, who can then select the appropriate button to have the network audio sent back to the main studio when it's time for the news.
Ray notes that the first time he used the Z/IP ONE was for a remote broadcast at a concert hall in Virginia Beach, and he's been impressed with it ever since. He decided to experiment a little on that remote, just to see what the Z/IP ONEs limitations were. "I cranked it all the way up to 24-bit PCM and was able to run that back to the station, and it worked quite well." Moreover, Ray was confident he could run the Z/IP using nearly any parameters and still get quality live broadcast audio. "It's reliable enough that just doing it over the internet, I seldom have any difficulties making a connection, and getting good audio back. Listeners can't tell that the announcer isn't in the studio."
Ray says WHRO / WHRV also utilizes the Telos Z/IP ONE and Telos iPort Plus as STLs for some of their outlying transmitters, something that's becoming more common. Currently they have a Telos iPort Plus in a rack at the studio pushing AAC-encoded streams out across the public internet to a Telos Z/IP ONE at a transmitter site on the other end. Pretty slick!
In addition to his favorable feelings toward the Telos Z/IP ONE and iPort Plus, Ray points out that when it comes to consoles and audio networking, he's all about Axia. It's a full Axia / Audio over IP facility at WHRO / WHRV, despite that fact that when Ray joined the staff nearly a decade ago, he wasn't familiar with Livewire at all. Since then, he's fallen in love with Axia and how much easier everything is with AoIP and Pathfinder.
"It's just such cool technology. If I need to change a route somewhere, I go to the computer and say 'Change the route' and it says 'OK' and it's done. No extra wire pulling… All I have to do is turn the knob on the router and bring that into the console. Basically, I tell Pathfinder to do it," Ray muses.
"It's just such cool technology. If I need to change a route somewhere, I go to the computer and say 'Change the route' and it says 'OK' and it's done. No extra wire pulling… Basically, I tell Pathfinder to do it."

—Ray Lenz, Senior Radio Engineer, WHRV / WHRO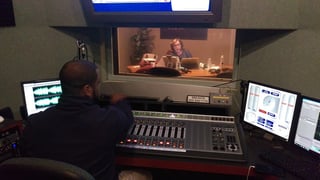 The Axia Element console is in use in the bigger studios in the facility, while the iQ console with a QOR.32 mixing engine are in use in one of the smaller studios. Ray added a button panel to the smaller studio that integrates with Pathfinder such that the studio can be set up to go live with programming from the WHRO / WHRV HD channels, then switch back to automation as needed. "The button panels that interface with Axia hook right up and you tell Pathfinder what to do and it does it."
As if all the Telos and Axia gear weren't enough, WHRO and WHRV use Omnia processors as well, and a Program Delay Manager from 25-Seven. As the engineer in charge of studios, he doesn't play with audio processing much, as they're largely placed at transmitter sites and managed by a separate engineer. One thing he knows for certain is that all of the Telos Alliance gear is reliable. In fact, he jokes that the equipment is so reliable that he sometimes feels like the Maytag repairman. When he first started there were regular concerns about hum and various pieces of equipment not working properly, but as he puts it, 'It's all working now.' In addition, he knows that if something does go wrong, he can rely on Telos Alliance Support. "They're always friendly and always prompt to respond," Ray notes.
Coming up in September Ray will be using the Z/IP ONE for a remote broadcast at the Norfolk Botanical Gardens. "I'll roll my case out there, plug it in to their internet, and we'll go." That's a nice feeling for a broadcast engineer. "I'm getting used to computers these days as opposed to turntables and tape recorders. I appreciate the reliability of today's technology."
Further Reading
For more about the Telos Z/IP ONE and Axia Pathfinder, check out these stories:
Telos Z/IP ONE IP Codec Helps to Lay Down the Law
Topics: Axia Audio, Telos Systems, Livewire, Telos Z/IP ONE
Subscribe

If you love broadcast audio, you'll love Telos Alliance's newsletter. Get it delivered to your inbox by subscribing below!