Telos Z/IP ONE IP Codec Helps to Lay Down the Law
By Tom Vernon on Oct 19, 2016 1:05:00 PM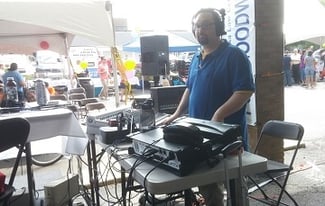 Sadly, not long after this interview was completed, the engineer featured in this story, Joe Huk, passed away suddenly. Joe was a talented engineer and will be greatly missed. We extend our condolences to his friends and family.
* * *
It's been a yearly tradition at WMUZ since the late '80s. During the first week in June, Crawford Broadcasting's Detroit operation partners with Goodwin & Scieszka for the annual Law Day remote, where the client provides free legal advice and gives away safety helmets and bicycles to children in the community. It's an event that requires a lot of planning and preparation from chief engineer Joe Huk, along with a dedicated team at the station. It also involves the Telos Z/IP ONE broadcast IP codec.
"Most of our remote radio broadcasts require three site visits," explains Huk. "In the case of the Law Day remote broadcast, we made the initial visit to plan the logistics about a month out." Huk went to the site with production director Pete Presnel, where they met with a PR representative from the law firm. It was an important meeting because things were going to be done in a different way than previous years, both from an aesthetic and engineering perspective.
"Pete noted that Law Day and been set up the same way for years, and had gotten a bit stale. The new arrangement that he envisioned centralized all the activities around one location, and added a tent so the public was protected from the elements. It also moved our equipment into the shade, an added plus," notes Huk.
WMUZ had been using the Telos Zephyr, and later the Z/IP ONE broadcast IP codec, since 2009. This year, Huk decided to streamline the setup so it would take a lot less time. "Every year we had to Gaffer about 350 feet of data cable from the law office on the 3rd floor of the complex to the parking lot below in order to provide an internet connection to our Z/IP ONE and computer. It was unsightly, and took about four hours to complete."
This year, Huk set up a wireless Ethernet bridge using a pair of Ubiquiti NanoBridge NB-5G25 radios, essentially a point-to-point microwave link. The site survey located a spot where the window of the law office lined up with the parking lot where the broadcast would take place.
During this initial visit, Huk also plugged in his laptop to determine if the law firm's router used static, dynamic, or a combination of both protocols as part of its IP addressing technology. It looked like dynamic. Ideally, if the AP is plugged in first, it will obtain an IP address from the router and establish the AP portion of the bridge. Then it should link to the station portion of the bridge and obtain an IP address from its router as well. So it looked like dynamic IP addressing was the way to go.
At least, that's the theory. Not leaving anything to chance, Huk made a second site visit the next day to test the Ubiquiti setup w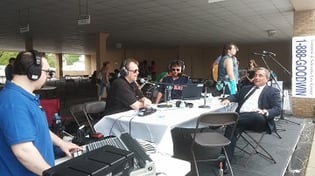 ith the law firm's router. It worked perfectly. No more wrestling with Gaffers tape for four hours.
WMUZ, with its 'bright music-bold talk' format, could be described as a power user of Zephyr and Z/IP equipment. Huk estimates the station does about 35 remote broadcasts every year with the Z/IP ONE broadcast IP codec, and that number seems to be increasing. But the most frequent use for Z/IP is by station talent, as Huk explains. "Many of our hosts do their shows from home or work locations, and we have a few weekly church remotes as well. Most of them have purchased Z/IP ONEs to use at their locations. We are making several IP remote connections every day with our Z/IP ONEs."
Which brings up one of the reasons Huk loves the Z/IP. "Most of our talent isn't technically inclined, but with Z/IP ONE, they don't need to be. The front panel menu is simple and intuitive, and the Z/IP Server directory service allows them to easily connect to other Z/IP ONE devices, including the one at WMUZ, without knowing or having to enter the IP address."
Another feature of the Z/IP ONE that Huk likes is the ability to configure it to work with LUCI Live Lite software. This setup allows a live, good-quality audio backhaul and IFB feed from anywhere with a WiFi, 3G, or 4G mobile network connection. Now, any iOS or Android smartphone or tablet can be used as a mobile broadcast platform.
Using the broadband internet as an audio transport medium is great – when it works. And Telos' exclusive Agile Connection Technology (ACT) automatically senses network conditions and adapts codec performance to provide the best possible audio.
"Most of our talent isn't technically inclined, but with Z/IP ONE, they don't need to be."

—Joe Huk, Chief Engineer, Crawford Broadcasting Detroit
There are still occasions when a bit of human intervention is necessary. Huk adds, "At times when the bandwidth can get a bit squeezed, I use the front panel menu to prioritize the send audio, ensuring the best signal to the station. I'm usually willing to sacrifice the quality of the return path in order to do that."
Finally, the big day arrived. All of the advance preparation for Law Day paid off. The third site visit, to set up equipment the day before the event, was uneventful. All the time that was saved by using the wireless bridge was spent providing better quality production. The station set up a 24-channel mixer, two wireless mics, five cabled mics, an equalized PA system, and other production equipment. A power glitch during last year's event reminded Huk to bring a few UPSs to back up critical gear this time around.
In addition to Huk, Steve Cuchetti assisted with the setup, and ran the mixer during the remote. Back at the studio, Vito Faletti ran the board and kept things on track.
The Law Day remote isn't just about lawyers talking law. I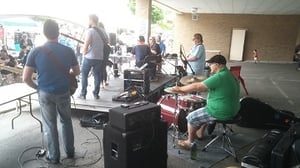 t's a family-friendly event with lots of live entertainment. Throughout the day, the WMUZ hosted a gospel choir, a contemporary Christian rock band, as well as the station's home improvement show, the Inside Outside Guys. The balance of the remote programming consisted of interviews with the bands and the executive members of the Goodwin & Scieszka law firm.
Huk concludes by noting that a successful remote broadcast involves not only great equipment like the Telos Z/IP ONE, but also a great team. "You've got to have a good mix of people for it all to come together, ones who communicate well and take a collective pride in the outcome. I'm blessed to have such a great group to work with."
Further Reading on Z/IP ONE
Want to do learn more about the Telos Z/IP ONE and see how others have had success with our popular broadcast codec? Check out these stories for some examples.
The JOY FM: Z/IP ONE Power User
Topics: Remote Broadcasts, Telos Systems, Telos Z/IP ONE, broadcast codec
Subscribe

If you love broadcast audio, you'll love Telos Alliance's newsletter. Get it delivered to your inbox by subscribing below!