The Bisset Brief: xSelector in Action at WAMU | Telos Alliance
By The Telos Alliance Team on Feb 21, 2018 12:00:00 PM
The Bisset Brief: xSelector in Action at WAMU
I first met Rob Bertrand over a decade ago, when he was working with his college radio station. Since then, he has accepted positions of increasing responsibility for a number of major players, and is now the Senior Director of Technology for American University's WAMU in Washington, DC.
Rob writes, "I just stumbled across your 'xSelector as Butt Set' (The Bisset Brief: A Network Butt Set) analogy on the Telos Alliance blogs. Yes indeed, it's a must-have!" Not long after Rob arrived at WAMU, he realized there was virtually nowhere in the building where one could reliably hear the full scope of what was going on–whether it be the program feed to the transmitter, the analog off-air feed, the HD off-air feed, or either of the remote repeater stations–not to mention the station's streams and HD sub-channels.
To further compound things, in his new role as head of technology, Rob realized that if he was going to really learn how the station was performing, it would be very important that he have this monitoring capability in his office, and elsewhere in the facility.
Thankfully, Rob knew an Axia xSelector would deliver what he required for the price of a data drop to his office. A call to U.S. Axia distributor Broadcasters General Store and some minor cable pulling later, Rob had his entire audio world immediately at his fingertips, at the push of a button.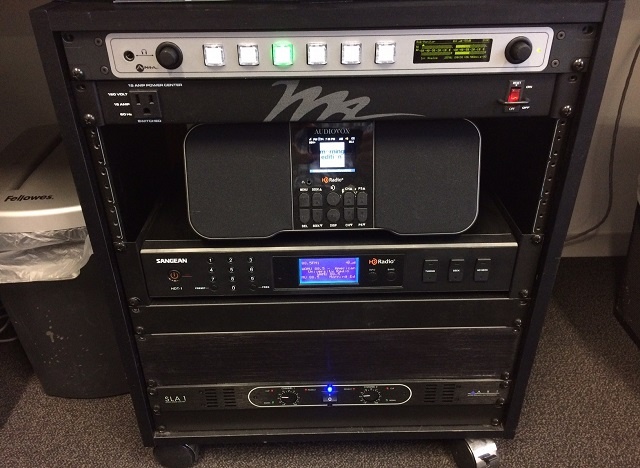 Rob Bertrand's xSelector in the rack (top unit) at WAMU.
While there are certainly ways to accomplish similar functionality from the comfort of one's desktop, Rob has found that in an emergency it's a huge benefit to be able to just push a button and hear the audio come out of the reference monitors.
The built-in VU meters and onboard I/O are also a real plus. You can see in the picture that Rob's xSelector is a critical part of his office monitoring setup for RDS, PAD, and now Artist Experience (better known in the Public Radio world as "Meta Pub" from NPR).
Got an idea that made your Axia and Livewire+ System more efficient? Share your thoughts with other engineers! Send your tip and get a Telos Alliance t-shirt if we use it. Email submissions to john.bisset@telosalliance.com.
Further Reading
For more from John Bisset, check out these recent installments of the Bisset Brief:
The Bisset Brief: The Little Console Engine that Could
The Bisset Brief: Great Plains Spreads the Word with AoIP
The Bisset Brief: Planning Your AoIP Radio Installation
Telos Alliance has led the audio industry's innovation in Broadcast Audio, Digital Mixing & Mastering, Audio Processors & Compression, Broadcast Mixing Consoles, Audio Interfaces, AoIP & VoIP for over three decades. The Telos Alliance family of products include Telos® Systems, Omnia® Audio, Axia® Audio, Linear Acoustic®, 25-Seven® Systems, Minnetonka™ Audio and Jünger Audio. Covering all ranges of Audio Applications for Radio & Television from Telos Infinity IP Intercom Systems, Jünger Audio AIXpressor Audio Processor, Omnia 11 Radio Processors, Axia Networked Quasar Broadcast Mixing Consoles and Linear Acoustic AMS Audio Quality Loudness Monitoring and 25-Seven TVC-15 Watermark Analyzer & Monitor. Telos Alliance offers audio solutions for any and every Radio, Television, Live Events, Podcast & Live Streaming Studio With Telos Alliance "Broadcast Without Limits."
Subscribe

If you love broadcast audio, you'll love Telos Alliance's newsletter. Get it delivered to your inbox by subscribing below!