Time Spent Listening - Getting the Most TSL from Smart Speaker Listeners | Telos Alliance
By The Telos Alliance Team on Nov 2, 2018 9:00:00 AM
Time Spent Listening - Getting the Most TSL from Smart Speaker Listeners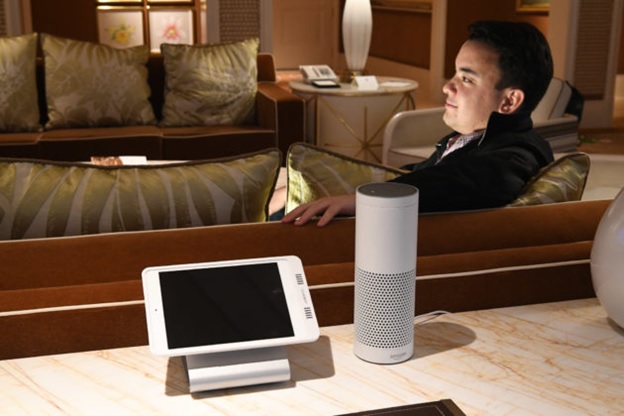 Terrestrial radio is facing a real challenge: Listeners are besieged with ever-increasing audio entertainment options. The bedside clock radio is fading fast. The kitchen radio has been replaced by a tablet or a TV. In fact, the percentage of households with no radio at all has zoomed from 4 percent to 29 percent in 10 years, according to Ryan Higbie, writing for xapp media. He continues, "The rise in homes with multiple televisions and the popularity of streaming services have materially impact radio listening in the home."
Though the reduction of in-home radios—and radio listening—is troubling for broadcasters, Higbie concludes from the latest survey research, "Smart speakers have changed this dynamic. OC&C Strategy estimated that 13% of U.S. households owned at least one smart speaker at the end of 2017. That accounted for a 19.7% reach among U.S. adults according to a Voicebot.ai survey and the expectation is that adoption will grow by up to 50% in 2018."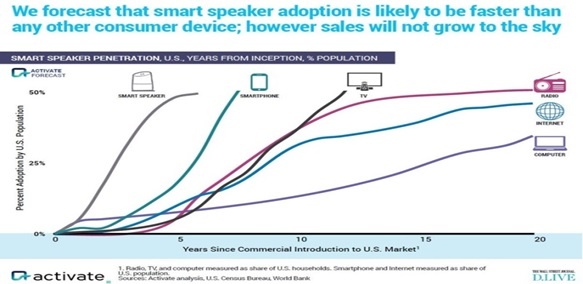 Home radio listening is not dying; it's moving to Internet-connected devices that are fun to use and easy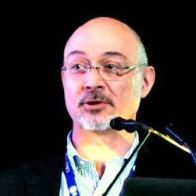 to, well, "tune." This interaction fosters engagement, and it's this engagement that dovetails perfectly—both with radio content and with audience measurement strategies. Indeed, Leigh Jacobs (right), Co-Founder at NuVoodoo Media, agrees. "When we model through the research respondents most likely to say "yes" to a meter offer from Nielsen, we routinely see respondents who are more interested and more engaged with radio and other media. In this case, we see significantly higher smart speaker ownership among those likely to accept a meter or a diary—nearly half. As we see it, the numbers are too big to ignore. If you don't have a strategy for smart speakers, you risk being left out as people become habituated to what they ask their smart speakers to do for them."

Radio listenership is quantified by several metrics, but the two most often quoted are Cume and TSL (Time Spent Listening). Cume is the total number of different persons who tune to a radio station during the course of a daypart for at least five minutes. TSL is an estimate of the amount of time the average listener spent with a station during a particular daypart, expressed in hours and minutes. While large Cume numbers may be impressive, most of us are concerned with TSL. We want listeners to stay tuned in. We'd like them to listen all day. This way they'll be sure to hear our advertisers along with our music, news, and weather updates.
Absent other factors, what are the leading things that drive listeners away? What makes them push a different station's radio button, or nowadays, prompts them to tune away from our stream by saying, "Alexa, play Pandora"?
Jacobs warns, "It's also a good time to review what your stream sounds like. With these new devices, if you're not making the listener happy, she can ask Alexa to switch to Spotify, Pandora or Amazon."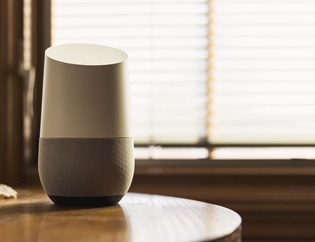 Playing the "wrong song" or anything that the typical listener didn't want to hear is one reason for tune-out. Another reason is if the station sounds "bad"—sonically irritating. You've probably experienced this first-hand when some audio has just "gotten on your last nerve" prompting you to turn it down or tune away. Distorted voices, shrill highs, or muddy bass are each tune-out factors. Volume-level changes are annoying as well, and can even prompt listeners to leave by saying, "Alexa, play my favorites from Spotify."
Radio broadcasters are well-equipped to provide excellent audio quality to smart speaker users. We broadcasters have both the opportunity and expertise to assure excellent audio throughout our facilities.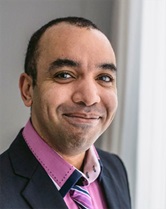 Leif Claesson (right), designer of the Omnia.7 and Omnia.9 audio processors, agrees and adds, "There's a misconception that we have to compress more when the listener is hearing a small speaker. What we do want is a consistent volume in the long-term, but we really want to let short-term dynamics get through."
"So much music is mastered inconsistently, and most modern tracks are way over-processed," Claesson continues. "That's why our Undo and Perfect Declipper are so popular with both engineers and program directors. When we get the audio clean again, prior to our own, tailored audio processing, the result on audio streams is dramatically better. Consistent, pleasant-sounding audio that's always at the right level is absolutely conducive to listening longer."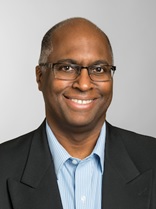 Cornelius Gould (left), Chief Algorithm Developer at Omnia Audio, points out, "When listening for good audio processing, if you get tired of listening, then you're overdoing it. As terrestrial broadcasters we're accustomed to a maxed-out sound on either AM or FM. Streaming audio doesn't have to be that way. In fact it should not be that way. Give the audio "lift" and low-level support, plus some multi-band energy, but don't lay into the look-ahead limiters. Just let them hit the loudest peaks. If you're into the limiters all the time you'll produce a fatiguing long-term sound. We're looking for the highest TSL; indeed, we'd like for people to listen all day!"
Gould advises to listen to your audio processing on the most typical smart speaker models. This will include both the original Amazon Echo (1st generation) and its successor, the Amazon Echo (2nd generation), as well as the Echo Dot. The Google Home Mini is the most widely deployed in Google's stable. The biggest difference in the smaller (Dot and Mini) models is their lack of bass response. Their larger stablemates (the Amazon Echo and Google Home) have larger speakers and bass ports.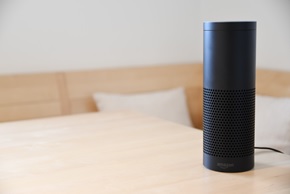 Claesson sums up the goals for maximizing TSL: "If your stream isn't sounding better than your over-the-air (FM) transmission, you're doing something wrong. Try processing a bit less, but use the great tools that Omnia processors provide. Condition and clean up the audio providing long-term consistency and loudness while giving a very dynamic feel to the audio moment by moment."
There's one further concern for broadcasters in Nielsen PPM markets—making sure the streaming audio is properly encoded for PPM devices. For 27 years Rob Sidney (left) was Director of Programming and Operations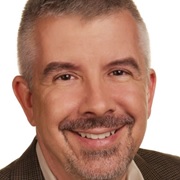 at WLYF-FM (101.5 LITE FM), Miami. During that time WLYF-FM was highly rated, usually tops in their target demographic. Sidney points out, "In electronic-measurement markets, the audibility of the PPM code through smart speakers is no small concern."
We agree with Rob. Allowing the Nielsen PPM encoder to function optimally means it needs consistent audio levels at its input. Pre-processing is key here; the PPM encoder must have frequent periods of audio energy in the midrange audio band in order to watermark the audio. Some audio processors can be configured to provide a "patch point" so the PPM encoder will receive consistently good audio levels, thus assuring frequent watermarking on your Internet streams.
Audio processors from Omnia—both hardware audio processors and those included with most Z/IPStream encoding hardware and software—provide such patch points to optimize PPM watermarking opportunities. As Internet streams and smart speaker listening are now making measurable improvements in stations' ratings and share numbers, we cannot overemphasize the importance of watermarking optimization through proper audio processing. The good news is that processing for best long-term listening (TSL) and for optimal watermarking effectiveness are thoroughly compatible; the audio quality and loudness goals are virtually the same.
Takeaway Points
Make sure you get consistent audio levels and quality from your automation playout systems.

Adjust levels—even on intro and outro portions—on songs by using a digital editor. The best-sounding stations actually do this.

Set and enforce company standards for basic levels when audio is dubbed or ingested.

Listen for multi-generation artifacts on commercials or other audio tracks, and reject those that suffer from it.

Use a digital signal path from beginning to end. Upgrade to Audio over IP mixing and signal routing.

Use only audio processing that's intended for bit-rate-reduced encoding.

Adjust audio processing for very consistent long-term audio, but allow short-term peaks and valleys. Go for an open sound that's consistent over time.

Listen to your own stream(s) on several popular smart speakers. Listen for over-processing of the instantaneous dynamics.

Don't over-boosting bass or treble, causing the audio processing built into (some) smart speakers to reduce your stream's volume.
Keeping listeners hanging on when their favorite song isn't playing or the current DJ chatter isn't compelling is always a challenge. Maintaining pristine audio quality on your Internet stream should be less difficult. Maintain high standards for your source material, of course, and use the best of today's audio processing technology to automatically present consistently clear and listenable audio programming to your smart speaker listeners.
Alexa, send this article to the publisher!
---
About the Author
Kirk A. Harnack is a 40-year veteran of radio and audio engineering practice. His contract engineering business and part-ownership in over 20 radio stations beginning in 1993 have led and informed his journey toward his current position at the Telos Alliance. Kirk regularly facilitates large broadcast projects by connecting equipment capabilities, innovative implementations, and broadcasters' operational requirements.

---
FURTHER READING
Get More Listeners with Audio Processing for Smart Speakers
Trending: Optimize Your Streams for Smart Speakers with Telos Z/IPStream R/2
Smart Speakers 101 for Radio Broadcasters: Get out of Radio and Get into Audio
Telos Alliance has led the audio industry's innovation in Broadcast Audio, Digital Mixing & Mastering, Audio Processors & Compression, Broadcast Mixing Consoles, Audio Interfaces, AoIP & VoIP for over three decades. The Telos Alliance family of products include Telos® Systems, Omnia® Audio, Axia® Audio, Linear Acoustic®, 25-Seven® Systems, Minnetonka™ Audio and Jünger Audio. Covering all ranges of Audio Applications for Radio & Television from Telos Infinity IP Intercom Systems, Jünger Audio AIXpressor Audio Processor, Omnia 11 Radio Processors, Axia Networked Quasar Broadcast Mixing Consoles and Linear Acoustic AMS Audio Quality Loudness Monitoring and 25-Seven TVC-15 Watermark Analyzer & Monitor. Telos Alliance offers audio solutions for any and every Radio, Television, Live Events, Podcast & Live Streaming Studio With Telos Alliance "Broadcast Without Limits."
Topics: smart speakers
Subscribe

If you love broadcast audio, you'll love Telos Alliance's newsletter. Get it delivered to your inbox by subscribing below!