Trending: Optimize Your Streams for Smart Speakers with Telos Z/IPStream R/2 | Telos Alliance
By The Telos Alliance Team on May 2, 2018 12:00:00 PM
Trending: Optimize Your Streams for Smart Speakers with Telos Z/IPStream R/2
"Some broadcasters aren't paying enough attention to their streams," says David Bialik, Director of Stream Operations for Entercom. "Broadcasters want to make a product advertisers want to sponsor, so delivering a quality product with quality audio is a must. We want to make sure the listener does not want to change the stream, or even adjust the volume for that matter."
How to achieve this? David, who's something of a streaming audio authority, having worked on a variety of streaming projects over the years, suggests the Telos Z/IPStream R/2.
Of course, the Telos Alliance implemented a number of David's suggestions into the design of our flagship streaming processor and encoder, so he's admittedly a little biased. David tells us how joining the R/2 design team came about. "I chaired a number of sessions at the Audio Engineering Society convention one year. After a session on streaming, I pulled aside some of my Telos Alliance friends and explained what was needed for a top-end streaming audio platform. From that conversation, the Z/IPStream R/2 was born."

Smartphones, Smart Speakers Enhance Need
With more people listening to streaming audio via computers and smartphones there was a need for a device to help broadcasters optimize their audio streams to sound as good as a radio station's terrestrial signal. With the more recent proliferation of smart speakers, which hadn't yet arrived on the scene when the R/2 was in the design stage, that need is growing.
Telos streaming audio engineers knew David could provide essential input based on his years of experience with streaming audio, including six years with CBS and work on streaming projects for other companies. "I knew what was out there. When I was at CBS Radio we determined we needed something better and more reliable if streaming was to become a transmission of the future. We needed something of broadcast caliber," he notes.
David says the R/2's broadcast quality audio is what makes it such an ideal streaming audio solution. "How your stream sounds is as important as how your on-air signal sounds," he stresses, "and the R/2 has built-in audio processing to help your stream match your over-the-air audio. It has some reliable audio cards in there."
"How your stream sounds is as important as how your on-air signal sounds, and the R/2 has built-in audio processing to help your stream match your over-the-air audio."

—David Bialik, Director of Stream Operations, Entercom Communications
Sound and Stability
Additionally, the R/2 includes features that make it a more stable platform than other stream processing and encoding boxes. "It was designed to have redundant power supplies. There are two NICs in there. It has field visibility into everything that is going on in the box," David raves. "I can't think of a bad thing on the box, really. At CBS we put them in and for two years they were basically worry-free."
It's important to note though that worry-free doesn't necessarily mean 'set it and forget it.' "You can't just plug it in and leave it alone," David insists. "A stream cannot be plug-and-play." While the R/2 makes it easy to ensure the highest quality audio streams possible, it's important to tune into the stream regularly to ensure the audio sounds appealing.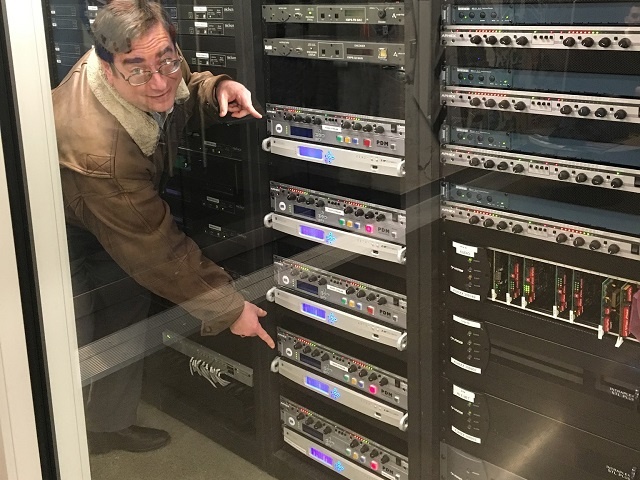 David Bialik with ZIPStream R/2s
One aspect of appealing audio is volume—or more accurately, loudness—which is a common issue when it comes to audio streams. But, David says, one that's easier to manage with the R/2.
Likewise, another common streaming audio challenge is easily handled via the Z/IPStream R/2. "The problem with queue point management is addressed in the R/2 where you can adjust your queue point delay timing, so you can better inject that," he notes. "The listener doesn't even hear they're missing something or being cut off of the terrestrial broadcast from the stream."
But perhaps most important to David when it comes to the R/2 is that he knows the people behind it, and knows the expertise they possess. "I've been friends with folks from the Telos Alliance for years, and they've been doing streaming audio since 1997. I know that I'm dealing with broadcast engineers and people who know streaming and understand my needs."

Further Reading
For more about Z/IPStream stream processing and encoding solutions, check out these stories:
Are You (Adaptive) Streaming Like You Mean It?
Amazing Sound Quality for BestRadio Brasil with Z/IPStream
Streaming University: The Complete Broadcast Streaming Audio Resource
Telos Alliance has led the audio industry's innovation in Broadcast Audio, Digital Mixing & Mastering, Audio Processors & Compression, Broadcast Mixing Consoles, Audio Interfaces, AoIP & VoIP for over three decades. The Telos Alliance family of products include Telos® Systems, Omnia® Audio, Axia® Audio, Linear Acoustic®, 25-Seven® Systems, Minnetonka™ Audio and Jünger Audio. Covering all ranges of Audio Applications for Radio & Television from Telos Infinity IP Intercom Systems, Jünger Audio AIXpressor Audio Processor, Omnia 11 Radio Processors, Axia Networked Quasar Broadcast Mixing Consoles and Linear Acoustic AMS Audio Quality Loudness Monitoring and 25-Seven TVC-15 Watermark Analyzer & Monitor. Telos Alliance offers audio solutions for any and every Radio, Television, Live Events, Podcast & Live Streaming Studio With Telos Alliance "Broadcast Without Limits."
Topics: Streaming Audio Processing Encoders, Streaming Audio, Z/IPStream R/2, Z/IPStream
Subscribe

If you love broadcast audio, you'll love Telos Alliance's newsletter. Get it delivered to your inbox by subscribing below!