WABE 2017 Conference Is Medal-Worthy
The Telos Alliance has long had a strong relationship with Canadian broadcasters. This was reflected at this year's conference of the Western Association of Broadcast Engineers (WABE), held recently in Edmonton. WABE represents broadcast engineers across Western Canada, including the provinces of British Columbia, Alberta, Saskatchewan, and Manitoba.
WABE President Bill Stovold says it was a successful convention. "We had great attendance, better than expected," Bill noted, adding that Cornelius Gould and Jeff McGinley of the Telos Alliance, who both presented at the convention, were well received. "Cornelius and Jeff have been supporting us for years. Jeff's up here quite often—he's our Canadian Support guy," Bill jokes. "When we put a support ticket together, nine times out of ten it's Jeff calling us back. We know him so it's easier to deal with him, and he does a fantastic job. Likewise with Cornelius; when he's here he deals with engineers with questions about their sound. It's a great relationship."
Plans were for more sound discussion from Cornelius, on the topic of Omnia.11 with G-Force, but plans changed. He explains, "It became apparent that there was a lot of interest in TVC-15 from 25-Seven. Several attendees had seen TVC-15 demonstrated in the Pippin booth, where they had it hooked up to a tuner and were able to see the PPM performance on various radio stations."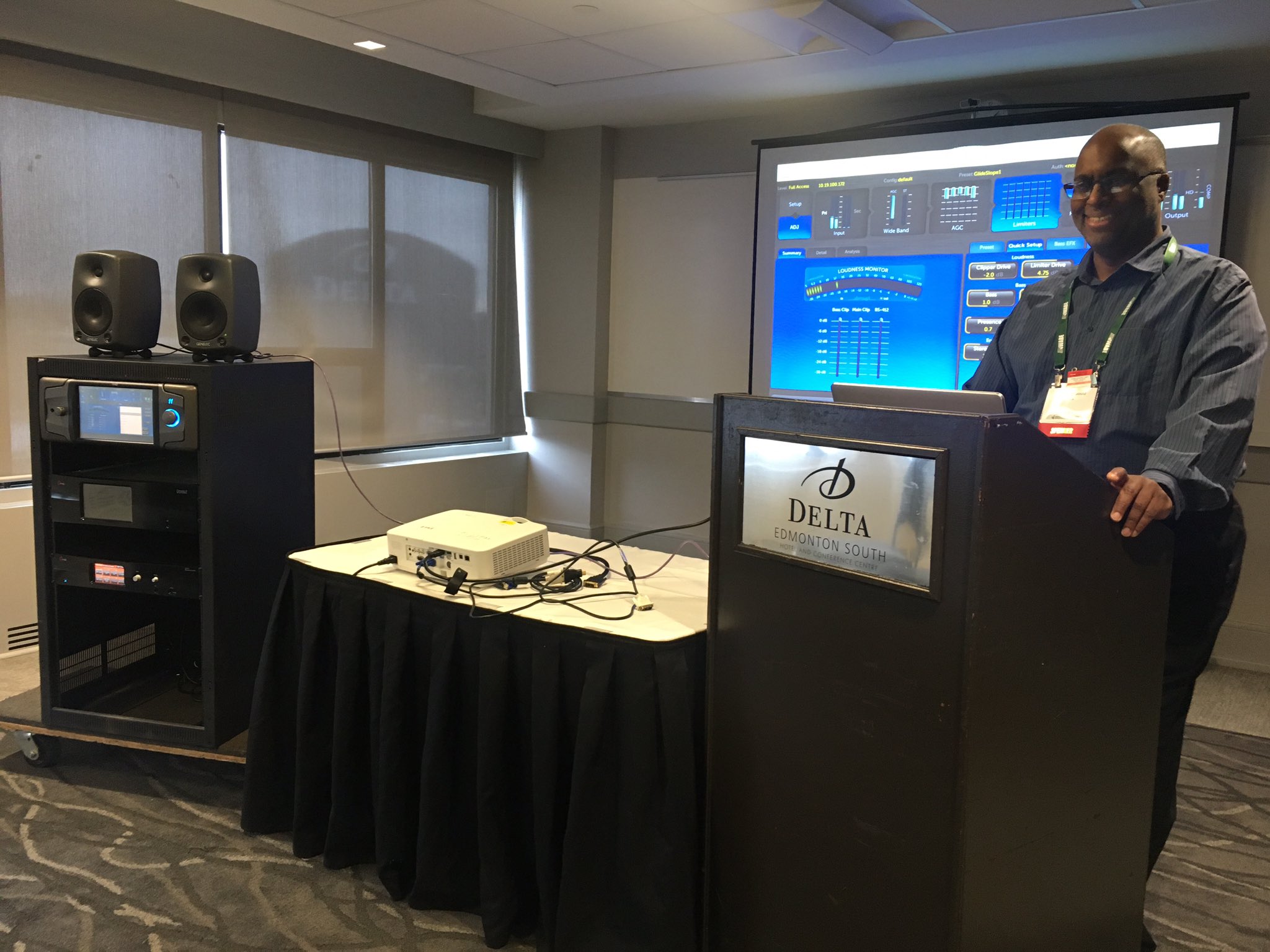 Cornelius Gould presents at WABE 2017
Specifically, attendees wanted to learn more about PPM insertion points. "Some stations are seeing a huge performance gain using insertion points, in particular where there are a lot of dry voices in commercial spots," Cornelius notes. "For stations that aren't using insertion points, we're seeing a ratings drop, while for their competitors who are using insertion points, they're essentially getting ratings where their competitors are not." Attendees had questions about why this works the way it does. "As I started talking about it at the booth one night, a small crowd gathered around, so I gave a 15-20 minute monologue about it. I had no slides or anything."
Fellow Telos Alliance presenter Jeff McGinley noted, "Cornelius was the big brain everyone wanted to talk to." But with three presentations of his own on the schedule, Jeff drew some attention as well.
Jeff presented on integrating broadcast quality networks for TV and Radio, AES67, and Axia Pathfinder. "I didn't really tell them how to do it so much as I told them what the right questions are to ask and how to start planning for it," Jeff says of his presentation on integrating broadcast quality networks. "It's about how to merge the networks while taking into account that it's not just ones and zeros; it's the finished audio product on your radio or TV station."
"The AES67 presentation was kind of unnerving," he adds, "because all the other manufacturers were there, including some people I met at the recent AES67 Plugfest in Houston. I had to make sure the information I was giving was correct, because these guys know their stuff. It's one of those topics where we're kind of all in it together."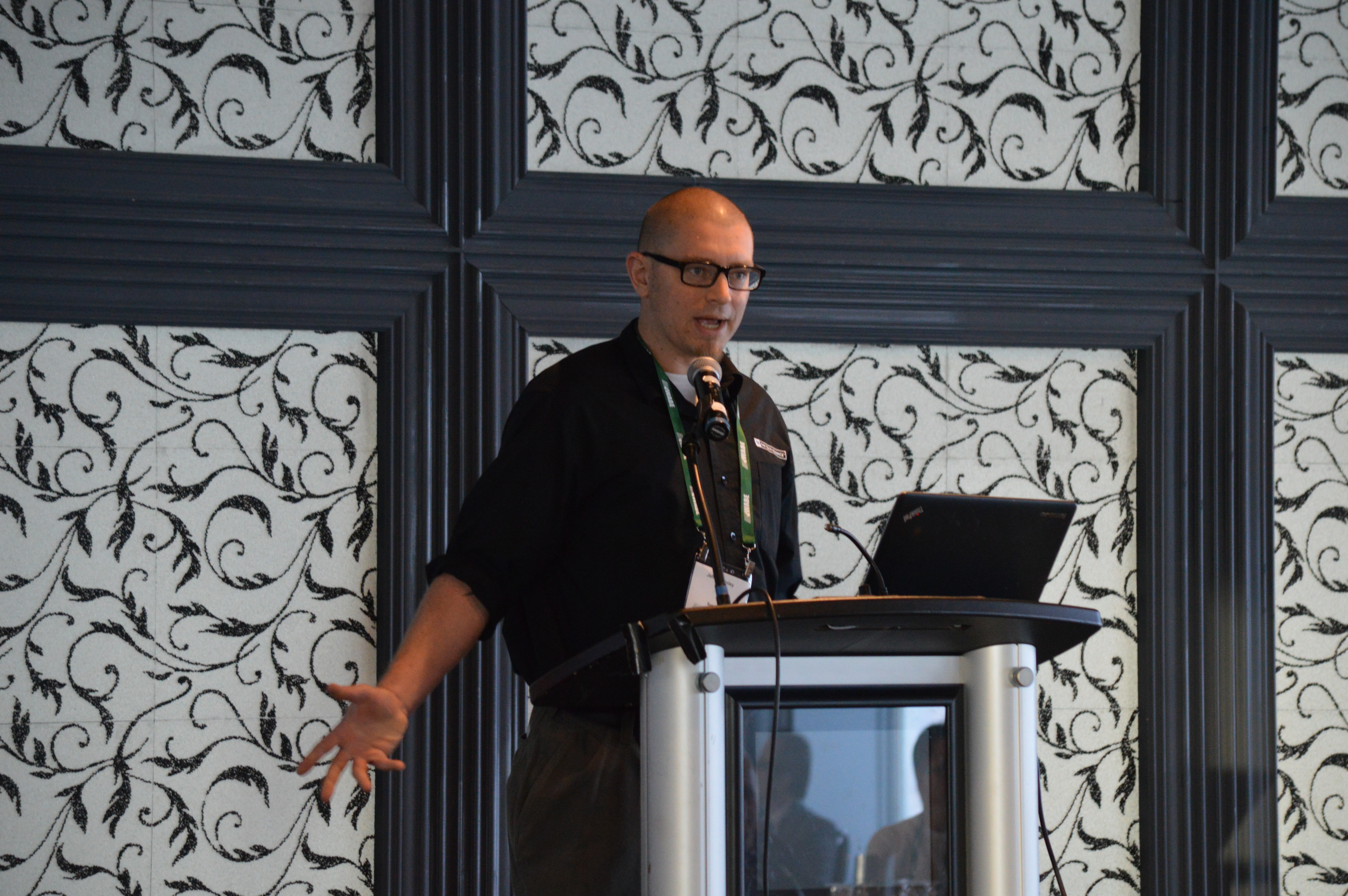 Jeff presents at WABE 2017
Finally, Jeff was asked to redo his Pathfinder presentation from two years ago, which was very popular. Bill shows why by way of a story about the first time Jeff presented on Pathfinder at WABE. "The room was full of engineers who use Pathfinder and Axia, and about an hour into the presentation I looked around the room and noticed they were all on their laptops, logged in to their Pathfinder servers. Jeff showed a couple things you can let Pathfinder do and it was like a light bulb came on."
Bill adds that when Jeff presents, attendees know what they're going to get. "With Jeff it's a given. We know what caliber he is and what he does. His presentations are always enlightening. He's really good with the actual presentation, but more importantly, when the presentations are done, the guy spends hours with everybody who comes to him with questions. He's just available and great to work with."
"

When the presentations are done, the guy spends hours with everybody who comes to him with questions. He's just available and great to work with."

—Bill Stovold, President, Western Association of Broadcast Engineers (WABE) on Telos Alliance Support Engineer Jeff McGinley
Along those lines, this year WABE bestowed a very special honor upon Jeff. "A couple of the engineers got together and got him a medal. They got it engraved because of all the help he's provided and what he's done for them, and for WABE itself over the past several years. I think for him to get something like that is really nice. He really enjoyed it—I saw the grin on his face when they gave it to him!"
Jeff was honored and surprised, although, truth be told, he jokingly encouraged the recognition a couple years back. "A couple years ago Bill told me I was one of the most popular presenters to speak at WABE, so I joked with him that I wanted a trophy! So this year, the WABE 2017 board approached me to thank me for presenting, including nine talks over four years, and gave me a medal!"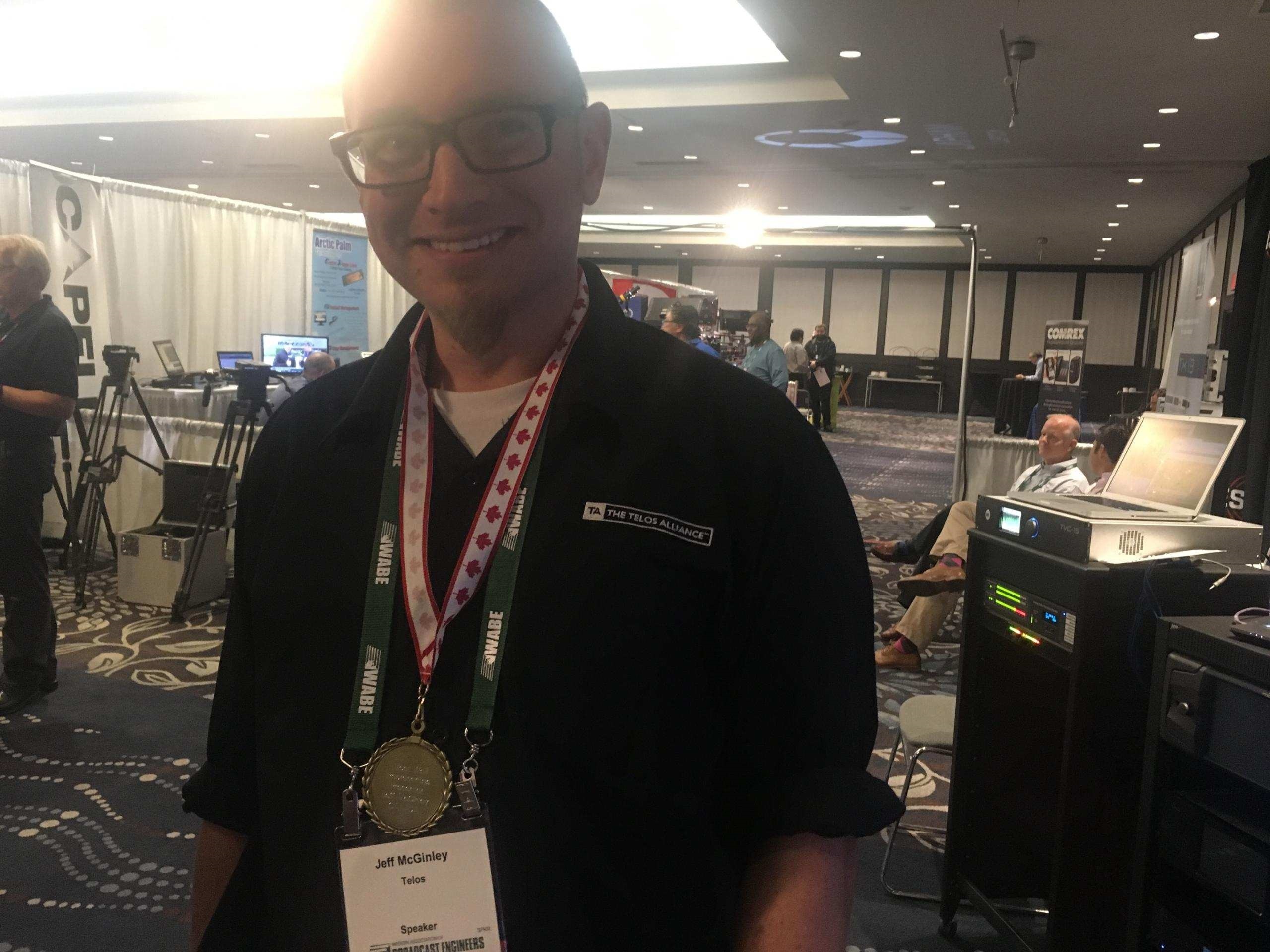 Jeff shows off his medal
Jeff was so proud he had to wear his medal for the rest of the convention. "It was a really touching thing that they recognized me for going up there and continuing the education and supporting what they do." He adds that some of his colleagues have teased him, calling it a participation award. Jeff jokingly fires back, ''Hey, I don't see you with a medal!"
But WABE 2017 was successful not just for Jeff and Cornelius, but all attendees. Bill says the annual convention is a great opportunity for broadcast engineers to get together and share stories. "In this industry, the programmers and sales teams are very competitive, but engineering people tend to work together, and these meetings help facilitate that. More importantly we get to include the vendors, suppliers, and support people. We have a small show so you can spend quite a bit of time with the vendors, which is what makes it such a value to the engineers."
Bill says the involvement of the Telos Alliance is a big plus to the organization and annual convention. "We really appreciate Telos Alliance. They've been an extremely large part of our shows for a number of years now and we hope to continue that relationship."
We look forward to it!
Further Reading
For more about WABE and Jeff McGinley, as well as TVC-15 and Pathfinder, check out this content:
Jeff McGinley Finds the Path to Calgary for WABE 2015
25-Seven Launches TVC-15 Broadcast Audio Watermarking Monitor
Guide Your Audio Home with Pathfinder
Telos Alliance has led the audio industry's innovation in Broadcast Audio, Digital Mixing & Mastering, Audio Processors & Compression, Broadcast Mixing Consoles, Audio Interfaces, AoIP & VoIP for over three decades. The Telos Alliance family of products include Telos® Systems, Omnia® Audio, Axia® Audio, Linear Acoustic®, 25-Seven® Systems, Minnetonka™ Audio and Jünger Audio. Covering all ranges of Audio Applications for Radio & Television from Telos Infinity IP Intercom Systems, Jünger Audio AIXpressor Audio Processor, Omnia 11 Radio Processors, Axia Networked Quasar Broadcast Mixing Consoles and Linear Acoustic AMS Audio Quality Loudness Monitoring and 25-Seven TVC-15 Watermark Analyzer & Monitor. Telos Alliance offers audio solutions for any and every Radio, Television, Live Events, Podcast & Live Streaming Studio With Telos Alliance "Broadcast Without Limits."
Subscribe

If you love broadcast audio, you'll love Telos Alliance's newsletter. Get it delivered to your inbox by subscribing below!