Jason Wisnieski: Renaissance Man
As he nears the 20 year mark with the company, we sat down with Telos Systems Product Manager Jason Wisnieski for his career backstory, his view of the industry, and what it means to be part of the Alliance. Hear what the Telos veteran, wearer of handlebar moustache, and resident renaissance man has to say.
What is your history with Telos?
I started with Telos in 1999, straight out of university, where I majored in Electrical Engineering and focused on embedded systems programming. The Telos TWOx12 was the first product I worked on, and would be followed closely by the Zephyr Xstream, Series 2101, Nx12, Hx6, iQ6, and Z/IP ONE. I was involved with the VSet Console Controller as well as some incidental contributions to other projects—and some future products I'm not allowed to tell you about yet!
I focused on software development, but I have always liked to dabble in other areas. As I grew familiar with the larger picture of our products, our company, and the customers and industries we serve, this naturally drew me into a leadership role. I have found great joy in applying engineering principles to our process design as well. These days, my title may say Product Manager, but I view myself as a system architect and general facilitator.
What is your background in broadcasting / broadcast engineering? Tell us how you got into the industry.
I am one of what feels like very few people at Telos with no broadcasting background. I played an instrument in school, and got deeply into music and radio throughout high school and college, as so many do. Telos and I found each other almost by chance. This lead to my favorite interview question. Sitting down with Steve Church, he asked me basically this same question, and I gave a similar answer, but ended along the lines of "There's simply always a radio playing in my room; I don't know if that counts." Steve just smiled, and nodded, "Yes, of course."
"...does it?"
What followed was a great conversation about creativity and engineering. Not that the goal is simply to make a thing of beauty, but that you can know all the formulas and principles, but if you don't have that spark of creativity to innovate, it all accounts for nothing. However, until then I had never considered that there was an industry designing specialized equipment for broadcast!
"Not that the goal is simply to make a thing of beauty, but that you can know all the formulas and principles, but if you don't have that spark of creativity to innovate, it all accounts for nothing."

—Jason Wisnieski, Telos Systems Product Manager
What do you like about working for the Telos Alliance?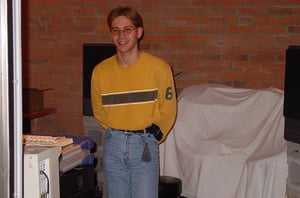 I grew up in a small town, and for much of my young life, my parents ran their own small business. I've come to recognize the values that this has instilled in me - that you tend to know people, and people tend to know you. That service is important, cooperation is better than competition, you do what you need to do to get the job done, and the job's not done until the tools are put away.
Though Telos—now the Telos Alliance—has grown considerably since I joined, it has thankfully managed to keep much of that small business feel. Every position remains very close to the customer, and I feel that tight relationship helps breed respect and understanding. The industry we are a part of—electronics engineering—in our locations is like a small town. In Cleveland, they say that the people you work with are the same, the name on the building just changes, and it's true; many of our engineers have worked together at multiple companies before landing at Telos. And the industries we serve—broadcast and broadcast engineering—are also much like a small town. Everyone seems to know everyone, and we take care of each other. It's refreshing.
What's it like working with Kirk and "the Joes"?
Kirk Harnack, Joe Mauk, and Joe Talbot are all great customer advocates. Between deep industry contacts and extensive experience planning, building, and running stations, they understand what our customers need and the challenges they face. Having that perspective is critical to what we do.
In fact, I feel privileged that my position encourages me to collaborate with people from all over the Alliance. Though I am in research and development, I work daily with our manufacturing, repair, and support departments. This broad contribution to the daily discussion helps keep the entire process focused on the customer, from product inception, to design, release, and support.
When you aren't working, you're...
A jack of all trades. I find that I like to keep at a hobby for a few years until I've gotten a real handle on the basics, then find what catches my eye next. I spent a long time sewing (which reminds me that I have to get back to a necktie pattern that I never quite perfected...), learning classic cocktails and tending bar. In the summer, I put a lot of effort into gardening (sometimes vegetables, sometimes flowers). Increasingly, though, I find I like to just kick back for a couple hours and relax in a book. I am the eldest of three, with one brother and one sister. Fifteen years ago, I was fortunate enough to marry my wife Ann, the keeper of my love and my sanity.
Further Reading
For other employee profiles, check out these blog posts:
Meet Rob Dye, the Unsung Omnia Hero
He's a Jack of All Broadcast Trades... But We Call Him Jim
The Man on the Front Lines of Telos IP Telephony
Telos Alliance has led the audio industry's innovation in Broadcast Audio, Digital Mixing & Mastering, Audio Processors & Compression, Broadcast Mixing Consoles, Audio Interfaces, AoIP & VoIP for over three decades. The Telos Alliance family of products include Telos® Systems, Omnia® Audio, Axia® Audio, Linear Acoustic®, 25-Seven® Systems, Minnetonka™ Audio and Jünger Audio. Covering all ranges of Audio Applications for Radio & Television from Telos Infinity IP Intercom Systems, Jünger Audio AIXpressor Audio Processor, Omnia 11 Radio Processors, Axia Networked Quasar Broadcast Mixing Consoles and Linear Acoustic AMS Audio Quality Loudness Monitoring and 25-Seven TVC-15 Watermark Analyzer & Monitor. Telos Alliance offers audio solutions for any and every Radio, Television, Live Events, Podcast & Live Streaming Studio With Telos Alliance "Broadcast Without Limits."
Topics: Telos Systems, Telos Alliance
Subscribe

If you love broadcast audio, you'll love Telos Alliance's newsletter. Get it delivered to your inbox by subscribing below!