Radio Solutions for Streaming Audio: How to Create the Stream of Your Dreams
By Dave Sarkies on Mar 21, 2018 1:00:00 PM
According to the Recording Industry Association of America (RIAA) and Radio Advertising Bureau (RAB), streaming audio revenue has grown by more than 1,000% over the last decade. With the popularity of smart speakers and similar devices, the expectation is for streaming revenue to continue to climb, opening up a great opportunity for broadcasters.
You wouldn't think of sending out an over-the-air signal without first processing your audio, so why would you stream unprocessed audio? Likewise, you wouldn't process FM audio with an AM processor. Ensure optimal audio for your stream with dedicated stream processing specifically geared toward maximizing bitrate-reduced audio.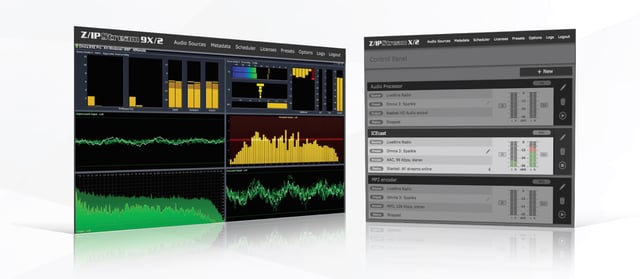 Optimize Your Streams
If you're serious about your audio stream, don't go the easy route with a low-budget stream encoder or cheap stream processing software. Stream encoding and processing tools from Z/IPStream are what you need. The Telos Alliance Z/IPStream line of software and hardware stream encoders and processors is the broadcast stream leader.
Most stream encoders stop at encoding, but Z/IPStream products include audio processing from Omnia, the leader in broadcast audio processing, giving broadcasters with Omnia processors on their terrestrial signals consistent sound across the board.
Additionally, Z/IPStream features real Fraunhofer (MP3 and AAC) codecs for the best possible sound; something you won't find in low-cost stream encoders using open-source knock-offs. They also don't include convenient Z/IPStream features designed specifically for stream encoding and processing. Whether it's hardware or software, the Telos Alliance gives you options.

Reliability and Support
Additionally, with Z/IPStream software, you get reliability. While most software needs to be open to run, Z/IPStream runs in the background as a Windows Service and need not be open on your desktop to work.
Moreover, with Z/IPStream you have access to Telos Alliance 24/7 Support for the life of your product—something you won't get with iffy stream encoder software you downloaded for free. The Telos Alliance has helped broadcasters with their streams for over two decades; we understand the challenges you face.
For more information on Telos Alliance's innovative and industry-leading stream processing and encoding products, visit the Radio Solutions Streaming Page.
Further Reading
Learn more about Z/IPStream stream encoding and processing here:
Z/IPStream Stream Encoders & Processing
Streaming University: The Complete Broadcast Streaming Audio Resource
Topics: Streaming Audio, broadcast streaming, Z/IPStream
Subscribe

If you love broadcast audio, you'll love Direct Current! Get it delivered to your inbox weekly!