The First Olympics on Television
With the Winter Olympics in full swing in PyeongChang and many of us watching a 1080p picture with beautiful surround sound (shameless plug: courtesy of Telos Alliance's Linear Acoustic division), we might want to spend a moment to take a look at the first Olympics ever to be televised, the 1936 Berlin Olympics.
Several cameras were used at the 1936 Berlin Olympics, mostly older image dissectors and the more modern iconoscopes. The most impressive was the Fernsehkanonen (translation: television cannon) which was 6 feet long. Three of these massive cameras, made by Telefunken with some American components from RCA and Philo Farnsworth, were used.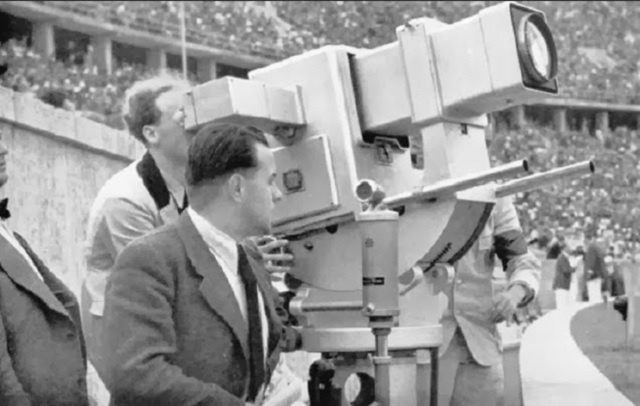 The "Television Cannon"
Also used was the "intermediate film system" which was a motion picture camera placed atop a truck photographing on film, which would be immediately developed and transmitted from inside the truck (the film still wet, believe it or not) via video pickup in just a matter of about 30 seconds. Since reportedly, the electronic cameras were somewhat unstable and not very good at handling variable lighting conditions, the filmed segments were used to fill in the blanks.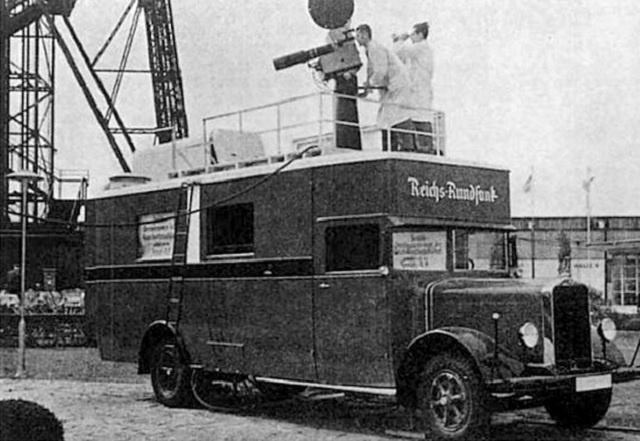 Intermediate Film Truck
There were 75 television sets in and around Berlin, most of them in 27 public television viewing rooms, where people would pay an admission charge to view the broadcasts. There were two other viewing centers in Potsdam and Leipzig. At the Olympic Village, where all of the male athletes lived, a large recreation building known as Hindenburg Hall had a TV room where they could watch live competitions.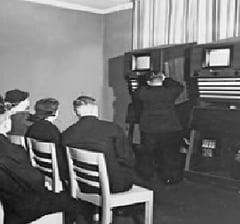 According to authorities, over 162,000 people saw the televised events, an average of 10,000 per day. The Berlin television station (Fernsehsender Paul Nipkow, named after the famous German inventor) transmitted live/semi-live coverage from 10 AM to noon and 3 to 7 PM, and then a series of filmed clips from 8 to 10 PM.
At the time, the television broadcasts were sensational events, but they are barely comparable with today's public viewing: the screens on the television sets were barely larger than a modern tablet PC display and the black and white images were of quite low definition.
This was all broadcast on a 180-line system which gave a mediocre image at best, but it was live (or almost live) television transmissions of a major sporting event and it was revolutionary.
Postscript
At the time of German reunification some years ago, a treasure trove was found in East German storage: About 280 rolls of fully developed, 35mm film used decades earlier for the old, intermediate film television broadcasts and never disposed of after transmission, along with specially made films for broadcast on the medium, spanning the history of German television under Nazi control from the 1930s until the last transmissions in 1944. There is a fascinating documentary about these films called "Television under the Swastika," a copy of which appears on YouTube. I will only say that scenes of the smiling, snake-like, Nazi announcer saying "dissenters will be convinced otherwise" are truly chilling.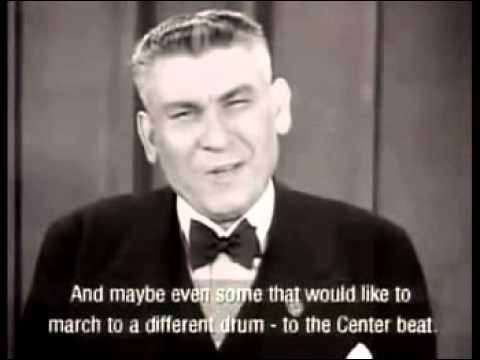 Further Reading
For more broadcast history from Denny, check out these blog posts:
Magnetic Tape and Emergence of High-Fidelity Recording
John Vassos: Celebrating a Visionary Broadcast Industrial Designer
The Empire State Building: Where it All Began
Telos Alliance has led the audio industry's innovation in Broadcast Audio, Digital Mixing & Mastering, Audio Processors & Compression, Broadcast Mixing Consoles, Audio Interfaces, AoIP & VoIP for over three decades. The Telos Alliance family of products include Telos® Systems, Omnia® Audio, Axia® Audio, Linear Acoustic®, 25-Seven® Systems, Minnetonka™ Audio and Jünger Audio. Covering all ranges of Audio Applications for Radio & Television from Telos Infinity IP Intercom Systems, Jünger Audio AIXpressor Audio Processor, Omnia 11 Radio Processors, Axia Networked Quasar Broadcast Mixing Consoles and Linear Acoustic AMS Audio Quality Loudness Monitoring and 25-Seven TVC-15 Watermark Analyzer & Monitor. Telos Alliance offers audio solutions for any and every Radio, Television, Live Events, Podcast & Live Streaming Studio With Telos Alliance "Broadcast Without Limits."
Topics: Television, Broadcast History
Subscribe

If you love broadcast audio, you'll love Telos Alliance's newsletter. Get it delivered to your inbox by subscribing below!