Radio Free Asia: Axia Early AoIP Adopters
By Tom Vernon on Oct 5, 2016 1:30:00 PM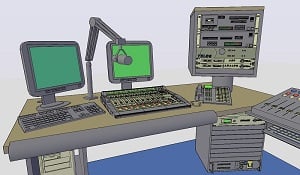 As Axia celebrates the 13th anniversary of our invention of AoIP audio, we like to look back and acknowledge some of our early adopters, those brave souls who purchased Axia gear at a time when breaking from AES3 or analog and going with IP audio represented some serious risk taking. One of those was Radio Free Asia (RFA), a nonprofit international broadcaster with its headquarters in Washington, DC and satellite studios throughout the Pacific Rim. RFA broadcasts in nine languages, via shortwave, satellite transmissions, medium-wave, FM, and streaming online. Most of the broadcasts are in Mandarin Chinese, which is broadcast twelve hours per day. We spoke with RFA's CTO, David Baden, who has recently returned from India, where he set up the remote equipment for Radio Free Asia's live coverage of the Tibetan elections.
Baden came to RFA at the time of its launch in March of 1996. From the outset, Radio Free Asia was an innovator with new technologies. As Baden recalls, they started out with digital consoles. "We had first generation boards with AES3 connectivity. What we really needed was the ability to network the studios together without a lot of cabling. The next generation of digital consoles was coming out at the time, and we did look at a couple of other brands. The problem was, they required additional hardware to connect the studios together. This took the form of more hubs. When the IP consoles from Axia came out with Livewire connectivity, they simplified wiring by eliminating cable runs between studios and master control. When you needed new services, you just put an I/O node somewhere on the same network and go."
Livewire+ (formerly Livewire) is the foundational technology in all Axia products, a patented AoIP protocol that enables high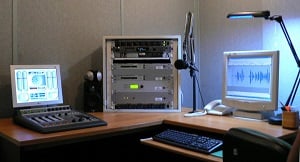 -reliability, low-delay uncompressed digital audio over Ethernet. Axia Livewire+ has built-in compliance with the AES67 standard. Every Axia product is networked using Ethernet—including audio, logic, control, and program associated data, or PAD. Devices connect together using standard Ethernet cables; audio and control routing is accomplished with off-the-shelf Ethernet switches.
"When the IP consoles from Axia came out with Livewire connectivity, they simplified wiring by eliminating cable runs between studios and master control."

—David Baden, Radio Free Asia CTO on Axia Livewire connectivity
RFA was not only an early adopter of Axia's consoles and Livewire technology, they also tested the gear in extreme environmental conditions, as Baden recalls. "We made our first test in Asia at RFA's Bangkok office. This location gave us the opportunity to test it for environmental durability."
At the four Bangkok studios, the Axia Element consoles saved cabling, added flexibility on the fly, and survived in a marginally stable environment. It was hot, not too dirty, and the electricity was fairly stable. What we learned from this experience is that in an environment that was more prone to power outages, unreliable AC, and higher dust levels, there could be occasional equipment downtime."
Today, Element is the world's most popular IP-Audio broadcast console, with more than 5,500 in service around the world. It is completely customizable in sizes from 4 to 40 faders.
RFA continued testing in a more stable environment—first, Hong Kong. Axia Smart Surfaces were installed in four studios. Then, Elements went into three studios in Seoul. "All of these Asian installs are up and still r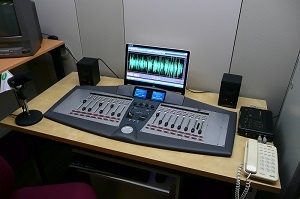 unning well," adds Baden.
After the successful trials in Asia, RFA made a much larger commitment to Axia and IP audio technology. They installed Element consoles in 21 small studios and 13 production studios at their Washington, DC headquarters. They too, continue to give RFA great service, 24/7/365.
We've come a long way from those humble beginnings in 2003. Today, Axia mixing consoles, digital audio routers, broadcast intercom systems, and routing control software are the world's standard in networked broadcast studio technology, with more than 5,500 mixing consoles and over 50,000 networked audio devices—not only from Axia itself, but also from our Livewire+ Partners—powering broadcast studios around the globe.
Further Reading on AoIP
Want to do learn more about Audio over IP and see how other broadcasters have implemented Axia Audio into their facilities? Check out these stories for more examples.
Studio Move in Four Days? No Problem!
Newfound Simplicity with Axia, AoIP at Canada's Newcap
Axia in the Townsquare or We Get Buffalo'd in New York
Catching the "Spirit" of Audio over IP
Topics: Axia Audio, Audio over IP, Livewire, aoip, Radio Free Asia
Subscribe

If you love broadcast audio, you'll love Telos Alliance's newsletter. Get it delivered to your inbox by subscribing below!