Talkin' Telos with Talk Productions
Sean Martin is Managing Director at Talk Productions, a UK company behind WTOR HD (Torbay's Big T), an online station that's been operating for several years with thousands of listeners tuning in each week.
It's a small company with a largely volunteer staff, but with big plans for the future; they're currently in the process of applying for Community FM and DAB licenses for the city of Torbay (hence the name 'Torbay's Big T') in Southwest England. Torbay currently has no station, so Talk Productions would fill that void, and as a community station, would offer their studios to community groups that would not normally have access to broadcast facilities. Sean says Talk Productions would also like to one day establish a school of radio in Southwest England.
So who does Sean rely on for his broadcast audio gear? Sean drops a few hints...
"We have the Axia iQ, the QOR.32, and Z/IPStream 9X/2 Streaming software, with an Omnia 9 FM+HD processor and a Telos VX Broadcast VoIP Telephone System next on our shopping list," he says. In addition, the Torbay facility is already a fully Livewire+ AES67-enabled studio.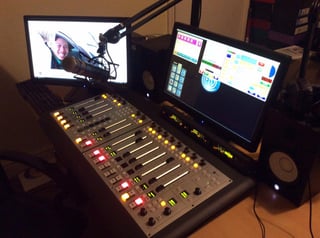 Sean is a big supporter of Telos Alliance radio gear across our multiple brands. "It's great stuff," he adds. "We spent a lot of time looking at equipment a couple years back and I was pointed toward you guys, had a look at it and just loved Livewire. It's a phenomenal way of doing stuff." Since then it's been a no-brainer for Sean anytime funding comes along for Talk Productions to purchase equipment. "We made a conscious decision to go completely Telos Alliance."
Sean says one primary reason for Talk Productions' preference for Telos Alliance is how easily it integrates with that of other manufacturers, which has made things much easier than what Sean was used to previously in his radio career. "Livewire+ AES67 has made things so much simpler. It's just a matter of pushing a couple of buttons and there it is, unlike the old days when it would take hours of patching studios." Sean says everything in the Talk Productions facility is over Livewire but the microphones. "It's made life so much easier," he adds.
But Sean says it's more than just the quality of the equipment and ease of use. One of the things that encouraged him to buy from the Telos Alliance is the reliability of our Support team, always at the ready and responsive when Sean's team has been in need of technical assistance. "Telos Alliance Support is second to none. I can put a request in and your guys are right on it. I've made silly mistakes where I've been looking at the screens and obviously clicked on something, not realizing it, and your guys have phoned me up saying they've logged in remotely and fixed it in like two seconds."
"Telos Alliance Support is second to none. I can put a request in and your guys are right on it. I've made silly mistakes... and your guys have phoned me up saying they've logged in remotely and fixed it in like two seconds."

—Sean Martin, Managing Director, Talk Productions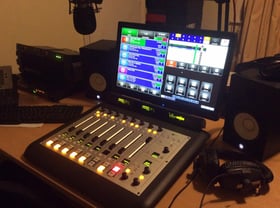 Importantly, when the issue has been more urgent, Sean points out, the result has been the same. "We had an issue with one of the latest Livewire drivers which caused complete chaos, but it was no trouble for the Telos Support team to take care of. They remotely logged in, took a look, and tweaked a few things and it wasn't long before we received an email indicating they'd sorted it out and we were good to go."
It's that kind of support that provides an extra layer of security and confidence. "It doesn't seem like there's anything that's too much trouble for you guys," Sean asserts. "Nothing's too much trouble."
"I certainly won't be going anywhere else when it comes to equipment," Sean adds enthusiastically. "Our wish list is growing."
Further Reading
If you'd like to read more rave reviews of the Telos Alliance Support team, check out these blog posts:
The Support Team with the Most, from Here to the Coast
TOTAL Support - 24/7 and Beyond
Telos Alliance has led the audio industry's innovation in Broadcast Audio, Digital Mixing & Mastering, Audio Processors & Compression, Broadcast Mixing Consoles, Audio Interfaces, AoIP & VoIP for over three decades. The Telos Alliance family of products include Telos® Systems, Omnia® Audio, Axia® Audio, Linear Acoustic®, 25-Seven® Systems, Minnetonka™ Audio and Jünger Audio. Covering all ranges of Audio Applications for Radio & Television from Telos Infinity IP Intercom Systems, Jünger Audio AIXpressor Audio Processor, Omnia 11 Radio Processors, Axia Networked Quasar Broadcast Mixing Consoles and Linear Acoustic AMS Audio Quality Loudness Monitoring and 25-Seven TVC-15 Watermark Analyzer & Monitor. Telos Alliance offers audio solutions for any and every Radio, Television, Live Events, Podcast & Live Streaming Studio With Telos Alliance "Broadcast Without Limits."
Subscribe

If you love broadcast audio, you'll love Telos Alliance's newsletter. Get it delivered to your inbox by subscribing below!