Frank's Magical Mystery Tour of Abbey Road
By Frank Foti on Oct 4, 2017 11:25:00 AM
Have you ever experienced something surreal? Recently, I had reason to visit and work at Abbey Road Studio in London, and it still seems surreal!! My colleague Jayson Tomlin, Gary Katz (producer of Steely Dan), and myself were there to do testing and evaluation of some new technologies we've been working on for broadcast and consumer applications.
We spent a full day working in one of the mix-down studios, along with members of the BBC, Scotland Yard, Abbey Road, David Perreau, Felix Konrad, and some of Gary's record producer 'buddies"…Hugh Padgham (Genesis, Phil Collins, Police, Sting, XTC), and Elliott Randall (studio guitarist for Steely Dan).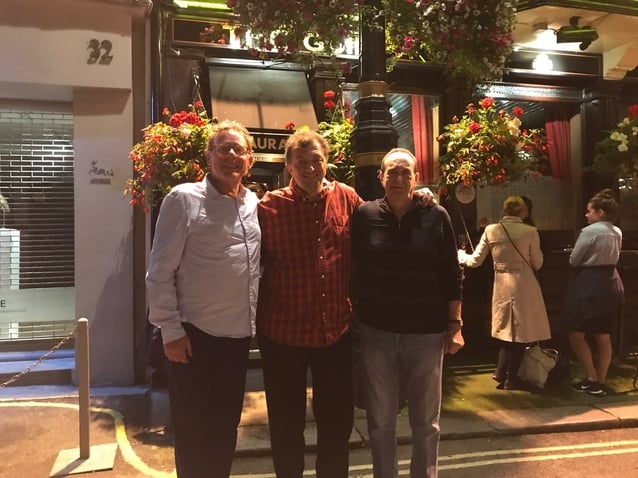 Frank with Hugh Padgham (left) and Gary Katz (right)
Our connection with Gary has enabled us to connect with key members of the music production world, which in turn has enabled us to further evolve technologies for broadcast, and soon the consumer markets. Our work at Abbey Road was another step along this process, and it raised the bar for us, on what is expected of our products.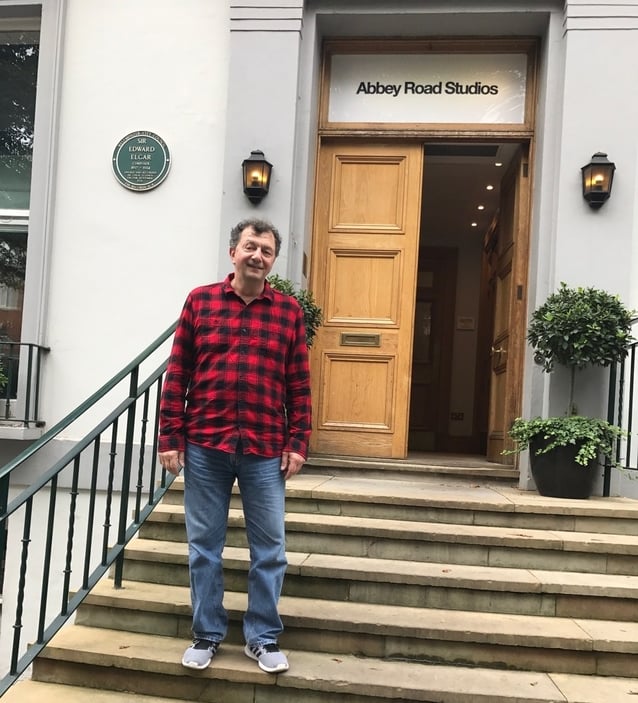 Frank on the steps of Abbey Road Studios
Being able to set foot into the building and studio where the Beatles recorded and produced all of their material was breathtaking. I'll never forget, as we were wrapping up the events for the day, the studio engineer, whom we were working with, said "hey guys come with me, two is now open!" In my mind I'm thinking "this is where all the 'magic' happened." So, off we went, and sure enough we walk into studio #2, and it's still pretty much the same as if John, Paul, George, and Ringo were there the day before. Getting chills—again—as I write this!!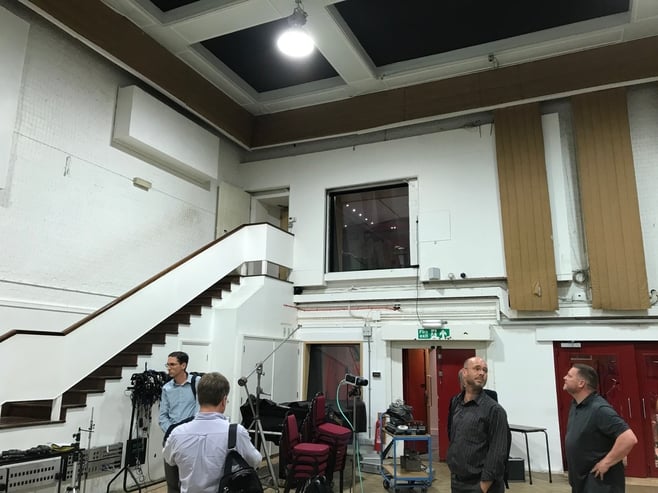 Jayson Tomlin and others take in Studio #2
Probably the most gratifying moment that day was towards the end. Hugh Padgham had been listening to some tech I'd developed, and told me how he'd done work with the late George Martin. His comment was how he had a good sense about how George produced the Beatles, and could we apply my 'gizmo' to their music.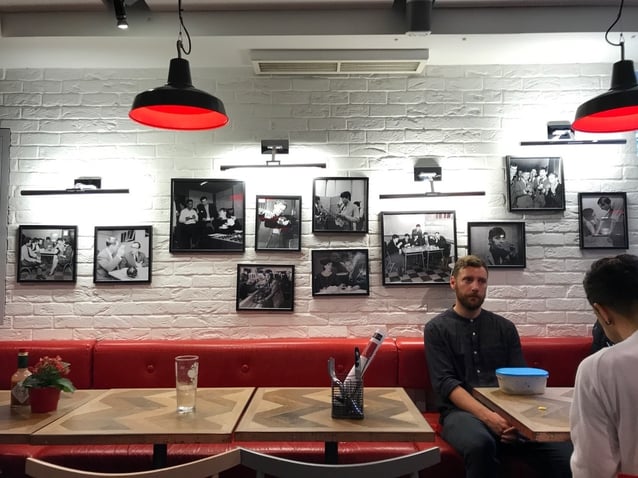 Abbey Road Cafeteria
So…in the building they recorded the album Abbey Road, we added some treatment to the song "Golden Slumbers." Together, all of us were in awe to hear the Beatles music, with some treatment from our efforts, done at Abbey Road!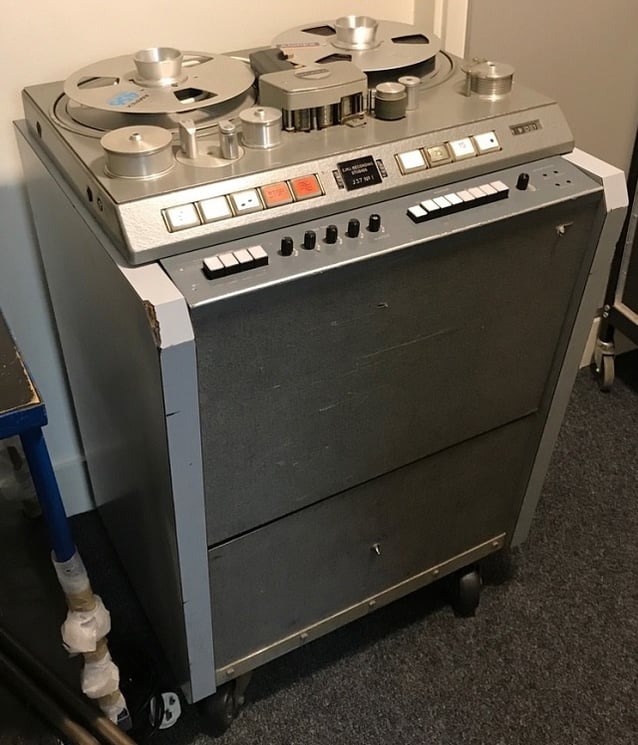 Tape deck used in the recording of Sgt. Pepper's
There's a skylight in the ceiling of the studio we were working in. While listening, I looked upward through the skylight, and thought, "if Mr. Martin, Mr. Lennon, and Mr. Harrison are listening, my hope is you won't feel I let you down." I felt a tear trickle down upon having this thought. Quite possibly one of the coolest occurrences in this boy's life!!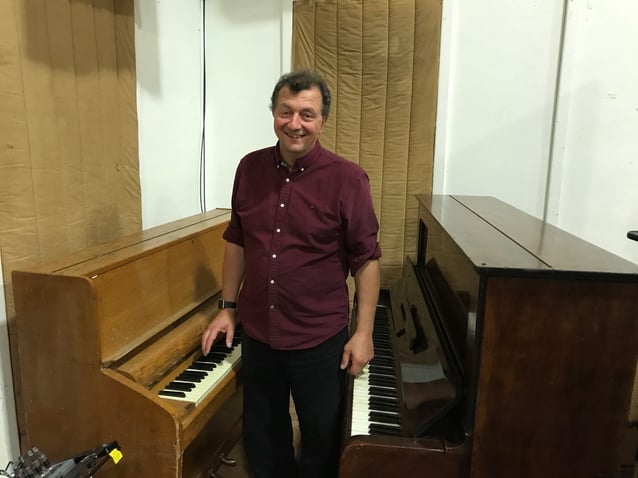 Frank

between pianos used for the Beatles' "Get Back" and John Lennon's "Imagine"
Modestly, it was reassuring when each of our well-known music industry guests gave us the "thumbs up' for our efforts. Further indication of how our little organization keeps growing and raising the bar! In closing, my sincere thanks to Jayson Tomlin, Gary Katz, Hugh Padgham, Andrew Scheps, and Elliott Randall for your feedback and friendship!!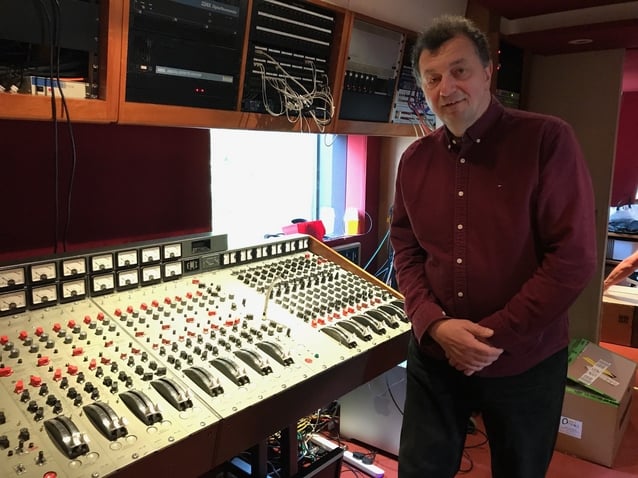 Recording mixer used to record Pink Floyd's The Dark Side of the Moon
Additional Content
For more international highlights from 2017, check out these items:
A Visit to London's RAK Studios
Dubai DJ Gets in Over his Head for Record-Breaking Broadcast
IBC 2017: Big Announcements, Big Awards
Omnia Provides Xtra Listener Satisfaction
For more from Frank Foti, and our connections to the music industry, check out these stories:
Topics: Audio Engineering, Abbey Road, Telos Allilance
Subscribe

If you love broadcast audio, you'll love Telos Alliance's newsletter. Get it delivered to your inbox by subscribing below!