Recent Posts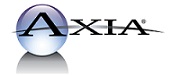 In a recent blog post, Pathfinder developer Dan Bays gave us a little background on the history of Axia Audio's routing control system, and explained a bit about virtual routers and protocol translators along the way. Now Dan's back with a still more detail on this essential software suite, and explains how Pathfinder stacks the odds of proper routing of quality audio in your favor.
Read More
Topics: Axia Audio

Remember that old Craftsman toolbox in your basement? Some of you may break it out every day or every weekend. For others you have to wipe off the dust and break out the manual when that construction task comes due. Axia has its toolbox too: the PathfinderPC Routing Control system. And after 15 years of projects our toolbox has grown to the audio version of the New Yankee Workshop.
Read More
Topics: Axia Audio
Subscribe

If you love broadcast audio, you'll love Telos Alliance's newsletter. Get it delivered to your inbox by subscribing below!